Are you looking for the simplest way to get your hands on a Saudi Arabia eVisa for Spanish citizens? Then you came to the right place because on iVisa.com you'll be able not only to apply for it but also to learn more about it. For your convenience, Spain is one of the 34 countries that can already apply for a Saudi Arabia eVisa quickly and effortlessly.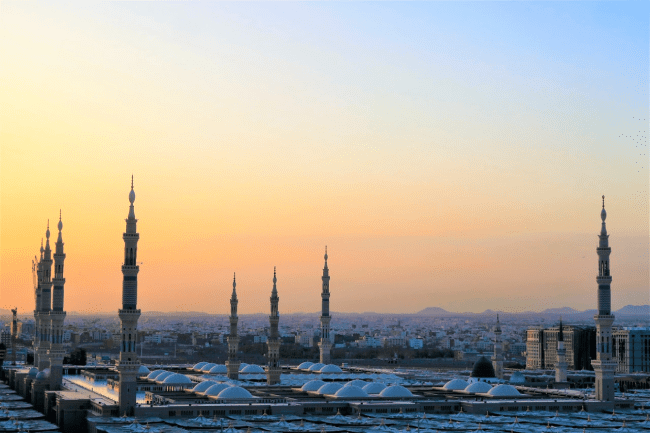 Saudi Arabia decided to issue electronic visas to enhance tourism. It's logical if you think about it. Since the application process will be more accessible, more people are likely to visit Saudi Arabia. Thus, the country's economy will flourish.
Frequently Asked Questions (FAQs)
What is a Saudi Arabia eVisa?
The Saudi Arabia eVisa is an authenticated travel document that allows you to enter Saudi Arabia. By using this document, you won't need to make an appointment at the Embassy or Consular Office. The process is completely online.
Do I need a Saudi Arabia e-Visa if I'm from Spain?
You have to apply for a Saudi Arabia e-visa for Spanish citizens if you have a Spanish passport. The good news is that this eVisa is available on iVisa.com. With your Saudi Arabia eVisa, you can stay in that country for 90 days in Total, and you enjoy the advantage of having Multiple Entry benefits (you can enter as many times as you like). Just remember that this eVisa is valid for 1 year after issued.
What items do I need to apply for a Saudi Arabia eVisa?
Before applying for your Saudi Arabia eVisa, you must have all the necessary items to complete the process successfully. These items are easy to get, especially if you apply with iVisa.com:
Valid passport: the passport is a common thing that you should not overlook. Of course, check that it's not expired.
A passport scan: for this, it's only important to have a copy of the information page.
E-mail address: email is very important to receive your eVisa and any other news about the process.
Means of payment: as for the payment, you can do it with a Paypal account or a debit or credit card.
If you want to read other useful tips about the Saudi Arabia e-visa for Spanish citizens, click here.
What are the processing times and prices for this document?
An essential detail when completing your application is to choose a processing time that suits what you need. In other words, a processing time that allows you to have your eVisa at hand when you travel to Saudi Arabia.
The processing time is what will influence the final price of your document. Keep in mind that the more urgent your eVisa is, the faster you'll need it, so you will have to pay a little more. The options we have available are the following:
Standard processing: you'll get your eVisa in

5 days

, and the total price will be

USD $205.99

.
Rush processing: you'll have to wait only

3 days

, but that's why you'll pay

USD $235.99

.
Super rush processing: this processing time is great if you're in a rush because it allows you to get your eVisa ready in only

24 hours

. However, that's why you'd have to pay

USD $286.99

this time.
We invite you to apply for your Saudi Arabia e-Visa for Spanish citizens here. Remember that the prices shown above include all the fees, so you won't have to pay any extra at the airport unless it's related to your personal circumstances.
How does the eVisa system work?
As the name implies, the eVisa system is a digital system, which allows you to get what's commonly known as 'eVisas'. The eVisas are similar to paper visas, with the difference being that they work with this electronic system that's linked to your passport. This way, you don't have to get a stamp on your passport by visiting the embassy.
Thanks to this system, you can apply for a Saudi Arabia e-Visa from anywhere in the world.
After you submit your application and the government accepts it, you get the eVisa via email. Then, you just have to show it to the immigration officers upon arrival.
Can I update my application form if I make a mistake?
It depends on certain circumstances. If you notice that you made a mistake while applying, then reach out to our customer service team as soon as possible to get help.
But, remember that your Saudi Arabia eVisa is connected to your passport number. Therefore, if we've already submitted your application, then you won't be able to update the information or change any typo. In that case, you'd have to apply again. To get more information about it, we recommend you to contact us via chat online.
How can I apply for the Saudi Arabia e-Visa?
You don't need to do many things to get your eVisa on your email as soon as you want. The only thing you have to do is to complete these steps:
First, answer the questions you see on the online form. These questions aren't hard, so it shouldn't take much time. Once you complete the questionnaire, choose your processing time.
Second, double-check the spelling of the information written and review it carefully. Then, pay for iVisa.com's service with your ideal method of payment (Paypal or debit/credit card).
Third, make sure to attach the documents carefully, especially the passport scan. After that, you can click the 'submit' button to finish.
If you want to apply as soon as possible for your Saudi Arabia e-Visa for Spanish citizens, click here.
Is it safe to use iVisa.com to get my Saudi Arabia e-Visa?
We constantly ensure the security of our service because we have a stable and reliable system that safeguards our database. We won't allow any personal details you offer us to be accessed by anyone else.
Where can I find more information about the Saudi Arabia e-Visa for Spanish citizens?
You don't have to worry about other doubts you could have. In that case, you can contact us here. You can also read more useful tips here.