Sweden is one of the 35 countries that will be able to apply for a Saudi Arabia electronic visa. As a result, if you have a Swedish passport, you'll have access to a Saudi Arabia eVisa for Swedes, which is quite easy to get a hold of in comparison to the traditional process for a paper visa. This process is entirely online, so you'll be able to save a lot of effort. No more trips to the embassy, and no more wasted time.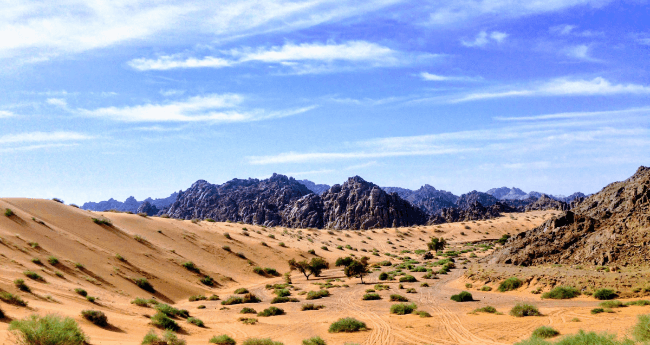 The idea of an eVisa for Saudi Arabia is not new. Its government first started talking about it in 2006, but they thought that it was finally time to implement it. But, what changed to make it possible years later? Some commentators suggest that the price of oil could have played a part. It went down, and alternative sources of revenue needed to be found. Hence the enhancing of tourism in the region. Or perhaps the Saudis just want to show the world what they have to offer.
You can see other important details about the Saudi Arabia e-Visa for Swedes in the list of questions we wrote below.
Frequently Asked Questions
What is a Saudi Arabia eVisa?
The Saudi Arabia eVisa is an official document that gives you permission to enter Saudi Arabia multiple times. By applying for this document you don't need to make an appointment or present original documents to the Embassy or Consular Office.
Do I need a Saudi Arabia e-Visa for Swedes if I have a Swedish passport?
Yes, If you have a Sweden passport you must apply for a Saudi Arabia Tourist eVisa, which is available on iVisa.com. Travelers carrying an eVisa can enter Saudi Arabia for 90 days in Total with Multiple Entry. Keep in mind that this eVisa is valid for 1 year after issued.
What do I need to apply for the Saudi Arabia e-Visa for Swedes?
To apply for your Saudi Arabia eVisa with us, you'll need only this short list of items:
Valid passport: this is the most important item on this list. Don't forget to make sure that it's valid for three months after the date of arrival.
A passport scan. we only need the information page of your passport. Here you'll find instructions on how to make the best passport scan for your application.
E-mail address: when applying with iVisa.com, your eVisa will be sent via e-mail, which is why you have to ensure that you enter a valid e-mail address.
Means of payment: iVisa.com accepts multiple methods of payment, including credit and debit cards or Paypal.
If you want to see more information about the Saudi Arabia e-Visa for Swedes, click here.
What are the processing times and prices for this document?
With iVisa.com, you'll be able to select one of these three processing options:
Standard processing: your eVisa application form will be processed in

5 days

, and the price you'll have to pay will be

USD $204.99

(service fees included).
Rush processing: you'll get your eVisa in

3 days

, but that's why you'll have to pay

USD $254.99

(service fees included).
Super rush processing: since this is the fastest processing option, you'll only have to wait

24 hours

, and you'll be charged

USD $293.99

(service fees included).
Get ready to explore Saudi Arabia with us and apply for your Saudi Arabia e-Visa for Swedes here.
Why is the eVisa system easier than the traditional one?
This system is easier because all the steps are carried out online, and not by visiting a local embassy or consulate.
The Ministry of Foreign Affairs of Saudi Arabia introduced the Tourist eVisa for citizens of over 50 countries a few years ago. This Tourist eVisa permits travelers to enter the country for recreation purposes. The eVisa application process doesn't require much effort on your side, which is why we recommend you to take advantage of it if you want to relax when it comes to your travel arrangements.
Once the application is submitted and accepted, you'll receive an electronic visa via email that must be shown to the immigration officers upon arrival. Yes, it's that simple.
The eVisa system is an online application method that can be done from anywhere in the world. Some advantages of this system are that you can get your visa quickly at any time, from any location, and pay online at the time of the application.
How can I apply for the Saudi Arabia e-Visa?
You have to follow these steps to apply for your Saudi Arabia e-Visa:
First, complete the questionnaire you see on screen with basic details. These questions aren't difficult, so it shouldn't take you much time. After you complete the questionnaire, select your processing time.
The second step will ask you to review step one and pay for iVisa.com's service with your chosen method of payment (Paypal or debit/credit card).
The last step will be to make sure that you attach your documents carefully, especially the passport scan. Once you're ready with that, you can click the 'submit' button.
If you're ready to get your Saudi Arabia e-Visa for Swedes, click here.
Can I update my application form if I make a mistake?
It depends on the mistake and when you made it. If you realize you made a mistake while entering your information, then contact our customer service agents as quickly as possible via online chat to get help.
Your Saudi Arabia eVisa is connected to your passport number, so if we already submitted your application, then you won't be able to make an update. In that case, you'd have to apply again, but you could avoid an extra fee. However, we suggest you contact us for any emergency.
Is it safe to use iVisa.com to get my Saudi Arabia e-Visa?
We always guarantee the safety of our service because we have a strong and reliable system that safeguards our database. We won't let your personal information fall into the wrong hands at any time.
Where can I find more information about the Saudi Arabia e-Visa for Swedes?
You don't have to stress out if you have more questions to ask us. In that case, you can contact us here. You can read other useful tips at iVisa.com as well.