Umrah is a small, non-mandatory holy pilgrimage for people of the Muslim faith residing anywhere in the world. This event takes place in Saudi Arabia. If you are performing Umrah, you must have an Umrah visa.
This pilgrimage is completed by visiting the holy city of Mecca in Saudi Arabia and performing a series of religious rituals. The trip is open to all Muslims worldwide, as mentioned above. So, if you are a citizen of India who wants to participate in this event and visit Saudi Arabia, you can too! You need to have a valid Umrah visa on hand to enter the country.
You can get the Umrah Visa by applying online in just a few minutes with iVisa. Then, we will send it to your email, and you can use it at borders and airports to enter Saudi Arabia for your Umrah.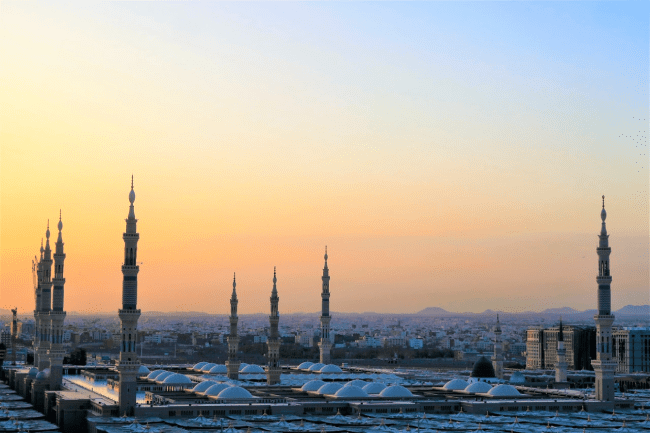 Get Your Saudi Umrah Visa Online Now!
What is an Umrah Visa?
The Umrah visa package is a travel document issued by the Kingdom of Saudi Arabia that allows foreign tourists to enter the country to perform the Umrah pilgrimage. Most pilgrims prefer to perform it during the holy month of Ramadan, which is counted as having completed Hajj, a meaningful ceremony for Muslims.
During this trip, you can also take the opportunity to visit the Masjid al-Haram and participate in various rituals such as the Tawaf around the Ka'bah and the Sa'i between the hills of As-Safa and Al-Marwa. This is not a tourist visa, although you can do some tourism activities.
Who needs an Umrah visa?
All foreign pilgrims must apply for an Umrah e-visa or visa, except for citizens of Bahrain, Kuwait, Oman, and Qatar.
In addition, as of April 2022, the Government of Saudi Arabia announced that anyone possessing a valid Schengen, US, or UK visa could perform Umrah without applying for a separate Umrah visa.
How long is an Umrah visa valid?
The e-visa for Saudi Arabia is a multiple entry visa with a maximum stay of 90 days in total. Therefore, you can enter and leave the country as often as you want within 90 days.
You should also know that this e-visa expires one year after its issuance.
Travel requirements and required documents for the Umrah visa?
For you to apply for the Umrah Visa requirements for Indian citizens are the following:
Valid Passport: Make sure your passport is valid for at least six months.

Digital photo: You need one recent passport photograph. This photo must meet all guidelines. iVisa offers this service too.

Additional information: You also need to present a non-refundable airline ticket, proof of the relationship between the pilgrims and their "mahram," medical insurance that also covers Covid-19 infections, and finally, evidence of vaccination against meningitis at least ten days prior to travel.

Email: An email address is needed so that iVisa can send you your travel document.

Payment method: You can pay for the process with a debit/credit card.
How do I apply for the Umrah visa?
Processing this type of document can be quite tedious for a person who has not made this trip, but thanks to iVisa, you can do it without any problem. We have created a quick process that should not take more than 20 minutes to complete. All you must do is follow these steps:
First step: Fill out the form with general information about you and your trip. In this step, you will also need to choose the type of processing according to your budget and travel needs.

Second Step: Then continue with the online payment, but not before checking that all the data entered are correct.

Third step: The last thing to do is to send the documents required by the application to acquire the visa. But don't worry. With iVisa, you will receive assistance throughout the process.
Once the process is completed, you will receive a confirmation email. If you do not find it in your inbox, it may be in SPAM.
What are the costs and processing times of the Umrah visa?
At iVisa, we have three alternatives for processing your travel document, each of which has a different time frame depending on the needs and budget of the tourists. These are as follows:
Standard processing time: This is the option that takes the longest to process your travel document but is the most affordable. It is an excellent one if you are not in a hurry to travel.

Rush processing time: With this alternative, you can get your visa faster but at a higher price. However, it is an exceptional option if you are in a bit of a hurry to travel.

Super rush processing time: This is the fastest option of all. It is recommended if you have an urgent trip to make.
COVID-19 requirements or restrictions
Do I need to take a COVID-19 test before traveling to Saudi Arabia?
Travelers from India are not required to present a negative PCR or COVID-19 antigen test result upon arrival in Saudi Arabia.
Do I need a COVID-19 vaccine or vaccination certificate to enter Saudi Arabia?
It is always advisable to travel with a full health care vaccination. On the other hand, the 'Tawakkalna' mobile app must be downloaded prior to arrival. In addition, foreign travelers must have valid health insurance that covers all COVID-19 costs.
Although restrictions have been lifted, they may be reintroduced at any time, and preventive health measures are still encouraged. Therefore, keeping up to date with the country's COVID-19 situation is also important.
Do I need to quarantine when I get to Saudi Arabia?
Travelers from India are not required to quarantine to enter Saudi Arabia.
Where can I contact you?
If you have any questions about our services, please contact our customer service team or [email protected]. Our experts are available 24 hours a day to assist you.