Saudi Arabia has welcomed lots more visitors to its stunning stretches of sand and beaches in recent years thanks to the opening and growth of its tourism industry.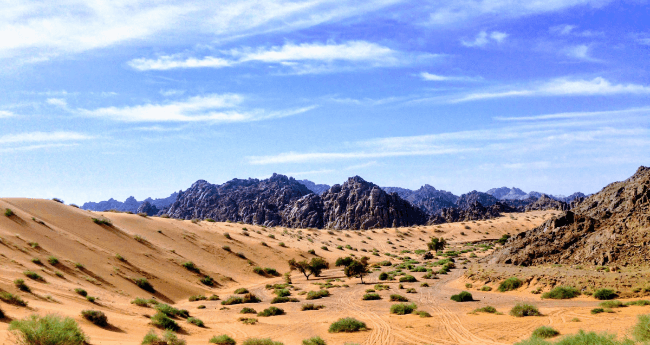 The recent pandemic led to the closure of the area to protect residents and workers. Fortunately, the borders are open again for international travelers, which means you can put Saudi Arabia back on your must-see list.
The new regulations and entry rules mean that it is imperative that you know everything there is to find out including the answer to the burning question Do I need a vaccine to travel to Saudi Arabia?
Keep reading below in the frequently asked questions, and learn more about health measures designed to protect you and your loved ones.
How do I get a visa or Health Declaration with iVisa.com?
You may only need a Yellow Fever vaccine if you come from a country with a risk of Yellow Fever. However, keep in mind that you may also need a visa depending on your nationality. We can help you apply for an e-Visa and also a Health Declaration in three easy steps:
Fill in the online request form with your private information.
Verify your answers to make sure they are all correct, then select your preferred processing time and pay the relevant fee.
Attach any essential document scans, then click on submit. The document will be sent to your inbox when it has been approved and processed. That's all! iVisa.com makes it simple for you. Get started.
Frequently Asked Questions
Do I need a vaccine to travel to Saudi Arabia?
At any time you may need a vaccine to enter all countries including Saudi Arabia, especially if the government decides that it is important to protect the citizens of Saudi Arabia from the spread of a virus.
The most common vaccine you need for many of the middle eastern countries is the measles vaccine, followed by yellow fever and hepatitis A and B. Your doctor may recommend that you take malaria tablets too. If you want to know more information regarding your query Do I need a vaccine to travel to Saudi Arabia? visit the iVisa.com page to find out more about the entry requirements.
Do I need a COVID vaccine or vaccination certificate to enter Saudi Arabia?
No, you don't. COVID vaccination certificates are not mandatory to enter Saudi Arabia at this time. However, travelers will need to get a health insurance before arriving in this country.
For more information on up-to-date Saudi safety, vaccination status, and requirements, please check with your country's embassy or consulate.
Do I need a negative COVID-19 test result to enter Saudi Arabia?
COVID test requirements: There are no testing requirements.
Will I have to quarantine when I get to Saudi Arabia?
Quarantine requirements: There are no quarantine requirements.
Can iVisa.com help me with the entry requirements for my trip to Saudi Arabia?
Like most travel application forms, the process is less clear on the official site and deadlines cannot be guaranteed. We recommend applying with iVisa.com to receive your documents promptly without the stress of slow government pages.
iVisa.com can help you apply for your tourist eVisa in three easy steps:
Complete the online form with your personal information.
Please check your answers to make sure they are all correct, then select your preferred processing time and pay the appropriate fee.
Upload essential document scans and then submit. That's it! iVisa.com makes it easy.
Don't waste time worrying 'Do I need a vaccine to travel to Saudi Arabia?'. Get in touch with our friendly team.
How long does my tourist visa process take?
At iVisa.com you will find three different processing options to ensure that all travelers can have a safe vacation, the available processing options include an extra fast option for people who do not have time:
Standard Processing : This option is best for people with a sufficient amount of time before their departure date.
Rush Processing : Choose this processing speed when you can pay more and process your document faster.
Super Rush Processing : This is the best option but not the most economical when you are working on a tight deadline or in an emergency. With Super Rush processing, you will get your document in but you will have to pay.
Mark malaria tablets off your packing list now you know that processing can be completed so quickly. Do I need a vaccine to travel to Saudi Arabia? Just the usual!
Will I need a lot of documentation to apply?
To apply for an e-Visa with iVisa.com, you'll only need the items below:
Passport, with a scan of the information page. That's the page with your picture on it.
A Paypal account or a credit or debit card to pay the processing fee.
A valid email address where you'll obtain the eVisa.
Is iVisa.com safe to use?
You may find other travel document service providers who are going to want to help you, but we firmly believe that what sets us apart is our dedication to safety. The reviews section is a great way to see how we fared with previous customers, so check them out.
Where can I read more information?
When there is so much fake news and traffic on the internet, it's time to make sure you're only reading the most reliable and secure blogs and updates. You can count on the iVisa.com website to stay informed, and the customer service team is available to provide you with a personalized service that you will want to return to again and again. Get in touch with them to discuss your question: Do I need a vaccine to travel to Saudi Arabia?
iVisa.com Recommends
Saudi Arabia is the second biggest tourist destination in the Middle East, which is why it receives over 17 million tourists each year (according to recent studies made in 2017). Its tourism might have been affected recently due to the coronavirus pandemic, but nowadays this country is getting stronger and safer, meaning that it'll increase its tourism once again.
This country has a lot of interesting tourist spots to visit. One of them is The Kaaba, also called al-Kaʿbah al-Musharraf. It is a prism-shaped construction inside the Masjid al-Haram mosque in Mecca which is considered the most important mosque in Islam. It represents the sacred place and of the most important religious pilgrimage of Islam. The Masjid al-Haram mosque, in addition to being considered the most important in the city of Mecca and the first holy place of Islam, is also the largest.
Aside from that, you can also visit Masmak fort, an important palace that also functions as a museum and historic center for tourists.
These are just some of the spots you can visit in Saudi Arabia, but there are more! apply for your eVisa or Health Declaration now and enjoy them!