Traveling to Saudi Arabia has gotten easier with time. Day by day, more tourists feel the urge to visit this beautiful country. Of course, there will be some requirements to be able to enter the country, and one of those is having a Saudi Arabia Tourist e-Visa. If you are interested in getting one, and you are an American citizen, please keep reading for more information on Saudi Arabia Visa fee for US Citizens.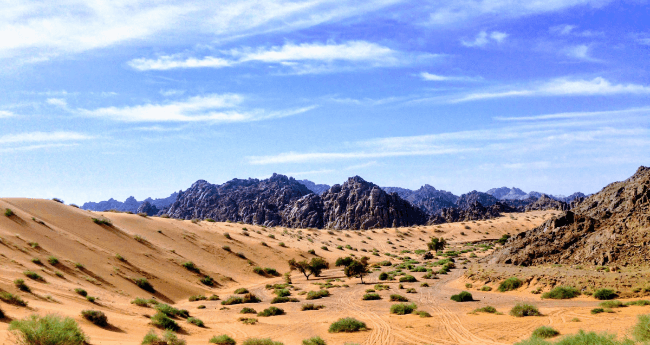 If you want to apply for your e-Visa online, fast and free of inconveniences, with iVisa.com, you'll have all the details you need to know about the Saudi Visa fee and count on our team to help you.
For more information on Saudi Arabia Visa, keep reading our FAQs below.
Frequently asked questions
What are the COVID-19 regulations for traveling to Saudi Arabia?
Saudi Arabia stated on 28 April 2022, that these are the COVID restrictions.
Vaccination card or full vaccination scheme (with some).
All travelers above 12 twelve years of age are obliged to present a negative RT PCR test done up to 72 hours or Antigen- RDT negative test up to 24 hours before departure time.
What is the Saudi Arabia Tourist e-Visa, and how do I apply for it?
Saudi Arabia Tourist e-Visa allows entry into the country with one year validity. It is valid for a Multiple Entry and stays of maximum 90 days in Total.
Thankfully, with the help of iVisa.com, you can learn more about the Saudi Arabia Visa fee for US Citizens and apply for your Saudi e-Visa in these 3 simple steps:
Step 1: Answer a couple of questions like basic information about yourself and your trip. Remember to be sure you are making the right choice when you need to pick the document you want to apply for.
Step 2: Once you've made sure you selected the Tourist e-Visa and delivered the correct information, you just have to make another simple election, the processing times you are going for, so you can pay the fees easily using a credit or debit card.
Step 3: Finally, add the documents, if required, and click 'Submit'.
You will receive an email with a PDF confirmation with a QR code attached that our team will send you. Once you arrive in Saudi Arabia, you only need to show it with the other solicited documents if needed at the airport, and you can begin your journey.
What documents do I need to apply for a Saudi Arabia Tourist e-Visa?
To start your Saudi Arabia Tourist e-Visa application, you will need:
Letter from a host (Travel Authorization).
Hotel reservations or Proof of lodging.
National Identification Card or Birth Certificate.
Valid Passport details Scan.
Bank statements proving you can sustain your travel expenses during your stay.
Departure ticket.
Recent passport photo in color.
Saudi Arabia Visa fee for US Citizens: What are the costs/processing times?
iVisa.com offers you 3 different processing times and pricing options. These costs include the government fee:
Standard Processing:

5 days

-

USD 174.49

.
Rush Processing:

3 days

-

USD 233.99

.
Super Rush Processing:

24 hours

-

USD 275.99

.
Can I trust iVisa.com?
Our Company is accredited and recognized by the International Air Transport Association (IATA) and has a validated IATA Agency Code. If you want to check this information you can verify our membership using our bearing No. 23716873 at clicking here.
You have more questions and would rather talk to someone?
If you have more questions regarding the Saudi Arabia Visa fee for US Citizens, we invite you to contact our customer service team. They're available 24/7 through our website to answer any of your questions.
iVisa.com Recommends
In September 2019, Saudi Arabia decided to open up tourist visas in order to allow casual visitors without a business or religious purpose to enter the country. For the first time, tourists worldwide can have access to an astonishing archeological site like Hegra, ready for travelers to visit and explore. This imposing millenary relic holds 111 tombs carved in stone and resembles to the world heritage site, Petra. Despite Hegra's historical value, not many know of the ancient empire behind its existence, the Nabataeans, nomadic Bedouins that inhabited the Arabian Desert from the 4th century B.C. until the 1st century A.D and a wandering societal feature that is very much present today.
These desert nomads controlled the spices like sugar, ginger, peppercorn, cotton, and incense trade routes all through what we now know as the Middle East up to the Mediterranean. This was precisely what allowed them to expand their empire and its prosperity to be portrayed for millennia in the desert sands of Saudi Arabia. It was only when the Roman Empire finally conquered these lands, that the Nabataeans' strong rule was vanished into oblivion. Sadly, the scarce information we have about their way of living is thanks to the ancient Egyptians, Greeks, and Romans, who kept some sort of written record of what they saw and encountered. It is only natural to feel attracted to these magnanimous works, filled with mysteries and discoveries yet to be solved.
Having a close view of these ancient structures and a glimpse of the people that lived thousands of years ago, how they managed to do it in the desert and with continuous migratory movements.
For these and a million more reasons… What are you waiting for? Apply for your Saudi Arabia Tourist e-Visa Now!