Home
>
Singapore Travel Guide: Requirements and tips for visiting Singapore in 2023
Singapore Travel Guide: Requirements and tips for visiting Singapore in 2023
Welcome to Singapore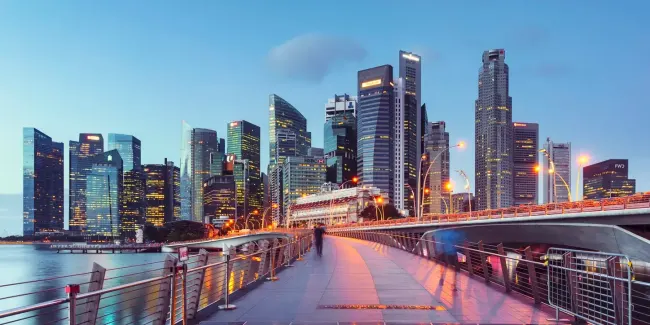 Singapore is a small but mighty city-state, where you will find architectural marvels and delicious cuisine along with lush greenery, world-class shopping, a diverse population, and future-forward innovation. It's also one of the safest countries in the world, popular among business travelers and tourists.
This ultimate Singapore travel guide will help you make the most of your trip with practical tips about what to see and do, how to get there, and when to go.
Document checklist for Singapore
Visa (if applicable)

Valid passport (must be valid for at least 6 months from the date of entry and have two blank pages)

Sufficient funds to cover your trip

Return or onward ticket
Essential Singapore travel information
Currency - Singapore dollar (S$). $1 is equivalent to approx. S$ 1.30.

Daily budget for 1 person - Allow a daily budget of S$ 168 ($124).

Languages - The four official languages in Singapore are English, Mandarin, Malay, and Tamil. Since the 1970s, English has been the main language of instruction in Singapore schools.

Number of travelers per year - In 2019, Singapore attracted 19.1 million international tourists, more than three times Singapore's total population!

Socket type - Types C, G, and M, 230V supply voltage and 50Hz.

Time zone - Singapore Standard Time (GMT+8).

Top 3 landmarks/monuments - Marina Bay Sands, Gardens by the Bay, and Buddha's Tooth Relic Temple.
Visa information for Singapore
The majority of travelers can travel to Singapore visa-free. For the rest, the Singapore visa application has been simplified through the e-visa. Find out if you need a visa with our handy Visa Checker Tool.
In addition, all travelers must complete a mandatory Arrival Card before visiting Singapore. Continue reading to learn more.
The Singapore eVisa explained
Most travelers are allowed to stay in the country with the Singapore Visitor Visa for a maximum of 15 days in total.
Applicants from Armenia, Azerbaijan, Belarus, Georgia, Kazakhstan, Kyrgyzstan, Moldova, Russia, Tajikistan, Turkmenistan, Ukraine, and Uzbekistan can apply for their Singapore eVisa online with iVisa.
All other travelers who need a visa should apply through their nearest Singapore embassy or consulate.
The Singapore Arrival Card explained
The SG Arrival Card is a mandatory entry requirement for all those arriving in Singapore, including permanent residents. It is a customs registration form that doubles as a travel health certificate to safeguard public health.
Apply for the Singapore electronic arrival card via iVisa, by providing your travel information, health status, and personal and contact details. This is not a visa, so make sure to still apply for the necessary travel documents before you go.
Visa difficulty index for Singapore
Accessibility: 4/5 The Singapore Tourist eVisa is available for online application for certain nationalities. These applicants can apply up to 2 days before departure. However, some travelers still need to apply through the embassy.
Time to get your visa: 4/5 If no issues arise, the Singapore eVisa is issued quickly, with the fastest turnaround time being between 2 and 8 days. The iVisa experts carefully review each application to avoid delays and rejection.
Costs: 3/5 The government fee for the Singapore Tourist Visa is USD 80, excluding the processing fee. It's one of the most expensive visas in Asia. To avoid rejection and losing the application fee, use a visa service to ensure your application is filled out correctly, such as iVisa.
Apply now for the Singapore eVisa
Typical costs and budget for Singapore
A guide to what you'll spend on a daily basis traveling through Singapore on a mid-range budget.
Daily spending - Around S$ 168 ($124) per person, per day. This includes:

Meals - Expect to spend about S$ 30 ($22) for three meals daily.

Transport - Depending on your travel plans and standard of travel, local transportation may cost up to S$ 11 ($9) per day.

Hotel - The average hotel price in Singapore for a couple is S$ 106 ($80).
On average, a trip to Singapore for two people for one week will cost S$ 1725 ($2300).
Transport and best ways to travel around Singapore
There are many ways to get to and around Singapore, whether by airplane or bus. Here are some tips for navigating the country efficiently.
Getting to Singapore
As one of Southeast Asia's main air hubs, Singapore Changi Airport serves as a stopover on one of the world's busiest long-haul routes, connecting Europe with Australasia, so fares are very competitive. Budget flights also link the country with Southeast Asia, China, India, and many cities in Australia.
The following airlines operate frequent flights to and from Singapore:
British Airways

Singapore Airlines

Air France

KLM

Lufthansa

Qatar Airways

Emirates

JetStar

Tiger Airways

Scoot
From and to Malaysia, some of the largest bus companies are Transnasional, Plusliner, and Transtar, which mainly serve the Malaysian cities of Kuala Lumpur and Penang.
Arrival and immigration tips at Singapore Changi Airport
Singapore Changi Airport is clean, safe, and efficient. A few tips to make the immigration process smooth and comfortable:
Apply for your Singapore eVisa in advance to avoid issues on arrival.

Ensure you follow the entry requirements, such as completing the SG Arrival Card.

Pass through the Green Channel if you have no goods to declare, and through the Red Channel if you do have goods to declare.

Upon arrival in Singapore, follow the 'Arrivals' signs to the Immigration Halls for immigration clearance.

You may need to present a Yellow Fever Vaccination Certificate if you arrive within six days of passing through an area endemic for the disease.
Public transportation in Singapore
Singapore's public transport system is fast and efficient, so you can get to memorable attractions without hassle. The MRT train (Mass Rapid Transit) and bus systems have an extensive network of routes, with most sights within walking distance from a bus or train station.
Singapore Tourist Pass (STP)
This special value card allows unlimited travel for one, two, or three days throughout Singapore. The pass can be bought at the TransitLink Ticket Office at MRT stations listed here.
It costs S$ 10 and comes with a credit of S$ 5, which you can top up at train stations and convenience stores.
Safety in Singapore
Singapore is one of the safest countries in Asia, but taking normal precautions is advised. Petty theft is the most common crime, so keep your valuables close or in a safe spot at your accommodation. In any case, it's always advised to purchase travel insurance for any trip.
Geylang is the red-light district of Singapore. While not unsafe, most women avoid walking around in this neighborhood by themselves, to avoid unwanted attention at night. However, it is a safe area to visit in a group, as it is also known for the local restaurants and cheap street food.
Weather in Singapore
Singapore is a year-round destination, but the best time to visit is from December to June. During Singapore's dry season, from February to April, the country usually has the least rain, the lowest humidity, and the most sunshine.
Be prepared for sudden, tropical downpours in the monsoon season, from November to January, by carrying an umbrella.
The Formula One racing event typically takes place in September, so expect prices to be sky-high during this time.
Must do and see in Singapore
Don't miss these awesome sights on your holiday to Singapore:
Gardens by the Bay: This popular tourist attraction in Singapore offers a gorgeous display of plants, the Cloud Forest conservatory with innovative technology to mimic the ecology of the tropical highlands, a treetop walk, and an indoor 114-foot waterfall.

Jewel Changi Airport: It's worthwhile to arrive a little earlier at the airport before departing Singapore. The Jewel is a Rain Vortex, a seven-story indoor waterfall and forest designed to make layovers more enjoyable. Many airlines will even let you check in 24 hours in advance to maximize your time.

Marina Bay Sands: This iconic building shaped like a ship, offers everything from a Michelin-starred restaurant, hotel, and SkyPark to an ArtScience Museum and mall.

Night Safari: The world's first safari park with some 2,500 nocturnal animals from 130 species, more than a third of which are endangered. Guests ride around the park on trams and take about 40 minutes, or walk the trails to take their time and find fewer crowds.

Old Airport Road Food Centre: This is Singapore's oldest and best-loved hawker center, boasting over 150 stalls offering authentic, local, and cheap food.
Typical Singapore food to try
Singapore is known for its food, influenced by different cultures. Here are some of the most popular dishes:
Chili Crab - A popular seafood dish among both locals and foreigners in Singapore. It's made of mud crabs deep-fried in a sweet, savory, and spicy gravy. Many consider it Singapore's national dish.

Chicken Rice - Hainanese chicken rice consists of poached chicken and seasoned rice, served with chili sauce and cucumber garnishes. During your trip, you can try many different variations. It was created and brought to Singapore by immigrants from Hainan in southern China.

Laksa - This delicious local noodle soup, with spices and coconut milk, makes the perfect comfort food for rainy days.

Kaya Toast - Kaya toast is a typical Singapore breakfast food, and consists of two slices of toast with butter and kaya (coconut jam), served alongside fresh-brewed coffee and soft-boiled eggs.

Bak Chor Mee - Dry Bak Chor Mee is a Singaporean dish of yellow noodles with shiitake mushrooms, marinated pork, pork liver, and pork slices. It's commonly found at hawker stalls and food courts.
Vaccine information for Singapore
It's important to know what routine vaccines and COVID-19 measures are required to enter Singapore before booking your trip. We advise you to check the CDC website for more info about vaccine requirements and travel advisory.
Make sure to have a Yellow Fever Vaccination certificate if you travel to Singapore from a Yellow Fever area. All travelers are currently welcome to Singapore regardless if they are fully vaccinated against COVID-19, check with your airline as things can change on short notice.
Explore Singapore in two days
This small nation is incredibly diverse, and it offers a wide variety of activities and sights. You can easily spend a month here and not get bored. However, most people only visit Singapore for a short time, such as on a business trip or a layover.
Discover Singapore in two days with this ultimate two-day itinerary
Don't forget to buy a Singapore Tourist Pass to get around on the cheap, and consider getting a Go City Explorer Pass to save money on most attractions and tours.
Day 1: Explore the city's main sights
Take the first day to check off all the must-sees around the Singapore waterfront: Gardens by the Bay, the Cloud Forest, the ArtScience Museum, the Merlion, the Marina Bay Spectra light show, and have happy hour drinks at the iconic CÉ LA VI bar while viewing the skyline.
Day 2: Discover the diverse culture of Singapore
After seeing Singapore's glamorous, futuristic city center, a day of culture is in order. Explore the Indian, Chinese, and Malay temples and delicious foods at the different hawker centres. The Buddha Tooth Relic Temple in Chinatown is free to visit, while the Arab Quarter offers gorgeous mosques. Then, head to Little India and get wowed by the colorful architecture.
Don't forget to check in early for your flight to spend some time at the marvelous Jewel at Changi Airport!
Trustpilot recommended. We lead the industry in innovation and reputation
Our Customers Have Great Stories About Us