Singapore recently launched an online visa extension for travelers that are stranded in this country due to circumstances beyond their control. This means that you will be able to apply online if you need a Singapore visa extension, but not over the counter. This is to reduce long ques at the immigration entities since this can be a time-consuming task for a lot of tourists.
However, you'll be asked to showcase your SG Arrival Card along with a Health Declaration.
The only exception to this rule is for non-residents who are from a visa-exempt country. You can use our Visa Checker Tool to know whether you need a visa to travel to Singapore or not.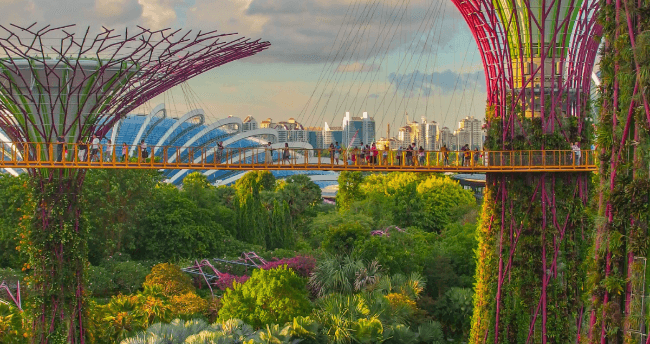 Take note that a Singapore Electronic Arrival Card is an electronic admission document that can be used to replace the traditional paper Disembarkation/Embarkation Card, also known as DE Card. You can get this document directly from ICA's website, but please be advised that you'll need to complete all the steps involved with its registration, which also includes a long waiting most of the time.
Luckily for you, iVisa.com can help you process both your SG Arrival Card and Health Declaration quite easily from the comfort of your own home at any time.
Learn more about what you have to do to request these documents by reading our FAQs below.
Frequently Asked Questions
WHY DO I NEED A SG ARRIVAL CARD AND A HEALTH DECLARATION?
These travel documents are important to confirm your entry at Singapore's airport and avoid any inconvenience with the immigration authorities. In short, you won't be able to enter by only applying for the SG Arrival Card, you also need to show the Singapore Health Declaration when you arrive at the airport.
Please, don't forget that without these two documents, you will be denied entry to this country. You can process your digital Health Declaration using iVisa.com's service.
Request your documents here.
DO I HAVE TO PROCESS BOTH DOCUMENTS AT ONCE?
You must show the SG Arrival Card to the Immigration Officers together with the Health Declaration for you to be able to enter Singapore.
The good news is that we can help you in processing both of these papers without you having to request them directly at Singapore's airport. You can rest assured that we will take care of this entire process through our highly intuitive platform and expert review team.
Get your SG Arrival Card and Health Declaration today.
WHAT DOCUMENTS DO I NEED TO GIVE YOU WHEN PROCESSING MY SG ARRIVAL CARD AND HEALTH DECLARATION?
We will only require you to provide the following documents to process your SG Arrival Card along with your Health Declaration:
Passport Scan: you have to send a scan of your passport so we can have all your contact details and travel information.
Return Flight Ticket: don't forget that this document is valid for 14 days, so you can remain in this country for two weeks. That's why the immigration authorities will ask you to provide a valid return ticket.
Accommodation Proof: it can be a hotel reservation or a letter from your host in Singapore.
Valid Email Address: our team is going to send you this document via email, so you must provide them with a valid email address.
Method of Payment: you can pay the fees via Paypal or with any valid credit or debit card.
WHAT ARE THE STANDARD PROCESSING TIMES AND PRICES TO GET THESE DOCUMENTS?
The cost and the procedure time is the main concern for many travelers when they apply for travel documents online. At iVisa.com, we completely understand that. Hence, we've created a fast and reliable digital process that works as an excellent option thanks to the expert review team within our high-performance platform. With our service, you can choose any of the following processing options:
Standard Procedure Time – you'll have your document in

24 hours

, and the price will be

USD 34.49

(fees included).
Rush Procedure Time – you'll receive your SG Arrival Card along with the health declaration in

4 hours

, and the price for it is

USD 67.99

(all service fees included).
Super Rush Procedure Time – this is the fastest option available. You will get the documents in

30 minutes

, by paying

USD 104.99

.
If you have already selected your option, you can apply for your documents here.
HOW EXACTLY CAN I PROCESS THESE DOCUMENTS?
If you apply with iVisa.com, you'll experience the easiest, most reliable way of getting these papers while staying at home, because you won't need to go to an embassy or anything like that to apply. Additionally, iVisa.com's system is solid and extremely secure. You will only need a few minutes to complete the full process by simply following our step-by-step method:
First, fill out the application form on this link. Then, choose the procedure time that is most helpful for your travel needs.

Second double-check and verify that all the information you have provided is correct. After this, you can continue with your payment using Paypal or a valid credit or debit card.

Third, upload the passport scan and other documents if it's required. The last thing to do is to deliver the online form when you click on the "submit" button.
When you send the form, our team of iVisa.com experts will verify your application to send the SG Arrival Card and your Health Declaration directly to your email. Please remember that you may also receive a QR code that you'll have to present to the immigration officers the moment you get to the airport.
IS IT SAFE IS TO USE IVISA.com?
You can be completely certain that iVisa.com's platform is safe and reliable! Although we are not affiliated with Singapore's government, we are an expert travel company with a proficient review team that will take care of your application in the most professional way. You can read what our customers have said about our services by clicking here.
WHERE CAN I FIND FURTHER INFORMATION TO SOLVE OTHER DOUBTS?
You're free to contact any of our agents whenever you like! They are available for you 24/7. You can also get in touch with our customer service team via phone or send an email to [email protected]