Please note: We currently don't offer the Singapore visa application form for Indian nationals online. For more information about the application process, please contact your nearest embassy or consulate. As soon as we can offer this again, we will update this page.
If you are an Indian citizen wishing to visit Singapore, you will most likely need to apply for a Singapore tourist visa. But this is not the only travel document you need to travel to Singapore. You also need to apply for a Singapore Arrival Card.
Please continue reading below for more details about the electronic visa for Singapore, arrival card, and other entry requirements.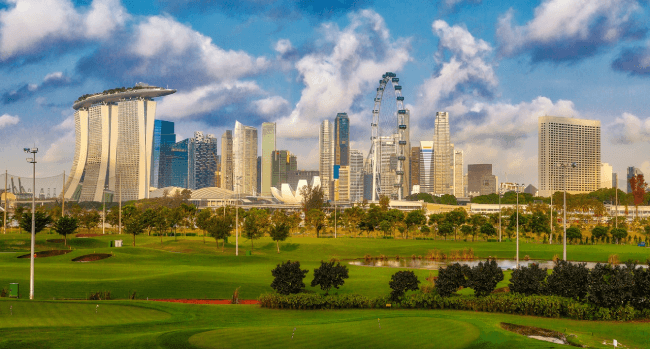 Applying for the Singapore visa online as an Indian citizen
The Singapore Electronic Arrival Card is an electronic admission document is used to replace the traditional paper Disembarkation/Embarkation Card (DE Card). The online Singapore visa application process is currently not offered on iVisa, but can be done through your nearest Indian embassy or consulate.
Indian nationals currently need a valid Singapore visit visa to enter the country. This document has a maximum stay of 30 days and is valid for two years. The Singapore visa for Indians is a multiple entry permit.
Currently, there is no visa on arrival for Indian citizens. Indians must apply for the appropriate visa before they arrive in the country. Indian citizens will also need to submit a completed Arrival Card.
Singapore entry requirements for Indian nationals
All foreign or domestic travelers, including Singapore citizens or permanent residents, that want to enter Singapore must comply with COVID-19 regulations and restrictions, on top of having a valid visa and applying for the Singapore arrival card.
What is the SG Arrival Card?
The Singapore Arrival Card is an online document that replaces the traditional paper landing/embarkation card. It is a mandatory entry requirement for all foreign visitors and permanent residents arriving in Singapore that works as an entry visa to visit Singapore.
The customs registration form acts as a travel health certificate to track and stop the spread of COVID-19 in the country. The Singapore Ministry of Health can also use the electronic Health Declaration and Arrival Card data for local health facilities if the traveler has to receive treatment for the coronavirus.
The Singapore Arrival Card process is completely online, quick, and accessible. But please note that the SG Arrival Card is not a valid Singapore e-visa or a Singapore business visa and cannot be used as such.
How to apply for the SG Arrival Card online
Obtaining this document as an Indian national is easy, you only have to follow these three simple steps for the visa application:
First step: Complete the iVisa questionnaire with your personal and travel information. Then, choose the type of processing you wish to purchase.

Second step: Make the payment of the transaction. Ensure that all information entered is accurate before proceeding.

Third step: Attach all the required documents and confirm.
Once the process is complete, you will receive a confirmation email. If you do not find it in your inbox, it may be in SPAM.
How to apply online for the Singapore arrival card
You will require the following documents to apply:
Valid passport.

A photo taken in the last 3 months.

Information about your occupation.

Your confirmed travel dates.

Accommodation information.

Information regarding your academic/professional background.
Costs and processing times of the Singapore arrival card
We offer three options for Indian nationals:
Standard processing: Your application is processed within 24 hours, and you will be charged USD $38.99.

Rush processing: This option is a bit faster. Your card arrives in 4 hours for a fee of USD $64.99.

Super Rush processing: This is the fastest option. Your application will be processed within 30 minutes for an express fee of USD $116.99.
Other COVID-19 entry requirements for Singapore
There are strict rules in Singapore regarding COVID-19 regulations. For example, wearing masks in indoor settings and on public transport is mandatory.
Vaccination requirements for Singapore
Ensure that you have the necessary proof of two full doses of COVID-19 vaccination for boarding and immigration checks. For children aged 12 years or younger, the same rules as vaccinated travelers apply.
Accepted vaccines are Pfizer, Moderna, AstraZeneca, Covishield, Janssen, Sinopharm, Sinovac, Covaxin, and Novavax.
You also have to be fully vaccinated to dine out, attend an event with over 500 people and enter some nightlife venues in Singapore.
Testing and quarantine requirements for Singapore
Fully vaccinated travelers aged 13 and older are exempt from showing a negative PCR or antigen test result if they can show a vaccination certificate. Unvaccinated or not fully vaccinated travelers must still show a negative PCR-test result taken within 48 hours before departure.
Only unvaccinated travelers are required to do a 7-day quarantine at specific accommodation determined by the Singapore government, and a PCR test can be done on day seven.
You must also have travel insurance with a minimum of S$30,000 coverage for COVID-19 related medical charges.
Where can I contact you?
If you want more details on how Indian nationals can travel to Singapore, you can contact our customer service team or write at [email protected]. We have a team of experts who are available 24/7.