Singapore is one of the many countries in the world that adopted the electronic visa system. Unfortunately, the list of eligible nationalities is quite short. There are only 15 countries whose citizens qualify for a Singapore e-visa. Nevertheless, Georgia is one of them, so you are in luck. You can skip going to a diplomatic mission and apply online using the services rendered by iVisa.
We invite you to keep reading this article to learn more about it.
Frequently Asked Questions (FAQs)
I'm a Georgian citizen, do I need a visa to travel to Singapore?
You only need an electronic visa since you're one of the 15 countries that are eligible for it. Basically you do need a consular visa, so you can avoid going to an embassy.
What is a Singapore electronic visa for Georgian citizens?
The Singapore e-Visa is an special document that gives you permission to enter the country just like any other regular visa but with an automated system.
How long can Georgia citizens stay in Singapore with an Electronic Visa?
You can stay in Singapore for 15 days Per Entry with your e-Visa.
What are the requirements for it?
An electronic visa is not as demanding as a consular visa, and in this case, iVisa makes things a whole lot easier for you. Even so, you still need to make a small effort, but that effort consists of you providing some information about yourself as well as some documents. Below you will find a list of everything you need so that iVisa can get you your Singapore visa.
Valid passport – Every applicant must have a valid passport that does not expire for at least 6 months from the date of departure from Singapore.

Digital photo – This picture has to be taken in the last 3 months and meet all the other guidelines for a passport photo.

Valid e-mail address – This is important so you can receive your e-Visa properly.

Means of online payment – You can pay with debit/credit card or even a Paypal Account.

Return flight ticket – This is important to confirm that you'll return to your country.
What are the processing time and fees
Wondering how fast you are going to get your Singapore visa is natural, but you do not have to worry about it if you use iVisa as your visa service. That is because you are given three options when it comes to processing time, and one of them is bound to satisfy your needs. As you can guess, the fees are different, and the faster you want your visa, the more you have to pay for it. Here are your options:
Standard processing – your application can be easily ready in 8 Business Days, and you'll be charged USD 93.00.

Rush processing – this option is faster than previous. Your Singapore e-visa is done in 5 Business Days, but you have to pay USD 113.00.

Super Rush processing – this is clearly fastest choice at hand. Your application will be processed within 3 Business Days, and you must pay a fee of USD 163.00.
How much time do I need to apply?
Probably just around 20 minutes and that's it!
How is the online application form for Georgian citizens?
The application form created by iVisa is one of the easiest forms you will ever complete. It should take you approximately 20 minutes to complete, and if you need any help, iVisa is ready to jump in. Its support service is available 24/7, and it is entirely free of charge.
The form you need to fill in has three steps, which are:
The first one covers your basic information as well as the processing time.

The second is about payment and revision. Keep in mind that it is crucial that your form does not contain any errors. A single mistake can invalidate your Singapore visa.

Lastly, step number three is about any extra document upload. Once you are done, hit the submit button and all that is left for you to do is wait.
The bottom line is that a Singapore visa for the citizens of Georgia has never been so easy to obtain. The process is short, and your effort is minimal.
What should I do once I complete my application form for this electronic visa?
Once you complete all the steps of the procedure, you'll obtain the e-Visa through an e-mail according to the processing time you selected, and after that, you just enjoy your trip with peace.
How many entries does the Singapore e-Visa allow?
With your Georgian passport and your Singaporian e-Visa, you can have Multiple Entry. In other words, you can enter the country many times.
How will I realize when my Singapore e-Visa is ready to be used?
We will inform you about this through an e-mail, as soon as the Singaporean government approves it.
Can I apply for my family or friends if they're from Georgia as me?
You can do it while they have the same nationality as you or they have one nationality that allows applying for this visa.
How does this e-Visa look like?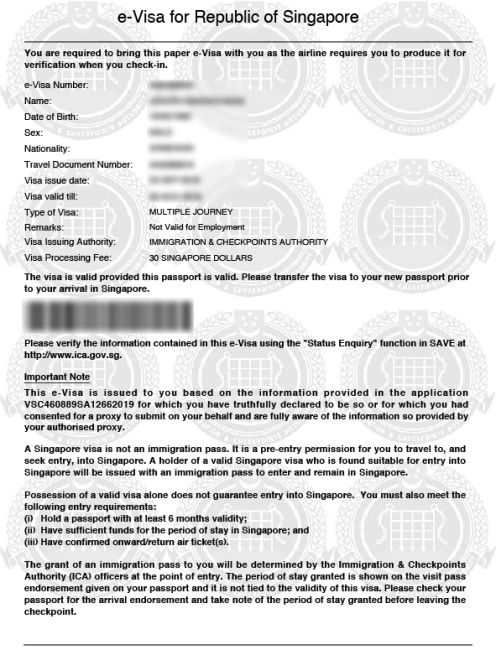 Where can I read more information?
Do you still need to answer some things about the Singapore e-Visa? Then you can contact our customer service center here, or just read more information in the Singapore eVisa page.
Don't waste more time in vain going to an embassy! Start your trip by applying for your Singapore e-Visa with iVisa. iVisa simplifies the entire process of applying for your eVisa. The greatest part is that iVisa has a 9.5 'Excellent' rating from over 18,000 reviewers on Trustpilot. Contact us today!