Singapore is one of the many countries that adopted the electronic visa system, but only 15 nationalities are eligible for a Singapore e-Visa. Uzbekistan is one of them, so if you are an Uzbek national, this is your lucky day. Instead of going to the nearest diplomatic mission of Singapore, you can apply online for your visa using the services rendered by iVisa.
If you want to learn more about traveling to Singapore, then keep reading this article we made for you.
Frequently Asked Questions (FAQs)
I'm a Uzbek Citizen, do I need a visa to travel to Singapore?
Yes, defiantly! As we mentioned above, Uzbekistan is one of the 15 countries that are eligible for the Singaporian electronic visa. This means that you can easily apply for an online visa.
What is a Singapore Electronic Visa for Uzbeks?
This is an authorized visa that offers you permission to enter the country just like other regular visa but with an electronic system.
How long can Uzbek citizens stay in Singapore with an e-Visa?
You can stay in Singapore for 15 days Per Entry if you have an Uzbek passport.
What requirements do you need to apply?
iVisa asks very little of you so that you do not make too much of an effort. You are still required to provide some information and some documents, but iVisa will handle the rest. Our service just needs a few things to get the process started. Here is what you need to provide:
Passport – all Uzbek applicants must hold a valid passport that does not expire for at least another 6 months from the date of departure from Singapore

Digital photo – the picture must be taken in the last 3 months and meet all the other guidelines for a passport photo.

Valid e-mail address – iVisa will send you your visa via e-mail in PDF format. Do not forget to print it out before departure. Preferably in multiple copies.

Means of online payment – the payment must be made during the application process, which is why you must have a credit/debit card. However, if you use PayPal, Alipay, or WeChat, iVisa accepts those as well. Whichever you find more convenient.

Return flight ticket – you will be asked to present it when you arrive in Singapore. The immigration officers just want to make sure that you will leave before your visa expires.
How long is this e-Visa valid for?
This e-Visa expires 63 days after issued
How long does it take to apply and how much does it cost?
iVisa is known for its competitive fees, but what you should know is that the cost of your Singapore e-visa depends on what processing time you select when you go over the application form. You are given three options, and each of them comes with its own cost. They are as following:
Standard processing – with this method, your application form can be ready in 8 Business Days, and you'll be charged USD 93.00.

Rush processing – this alternative is clearly fastest than the previous one. Your Singapore e-visa is ready in 5 Business Days, but you'll have to pay USD 113.00.

Super Rush processing – this is obviously the quickest option of the three. Your application will be processed within 3 Business Days, and you have to pay a total price of USD 163.00.
If you're ready to start your online form, then click here.
How much time do I need to apply for a Singapore e-Visa?
You can complete your online form in just 20 minutes or probably less.
How can I apply if I'm from Uzbekistan?
While some people dislike applications forms, you are going to have a simple one with iVisa. It should not take you more than 20 minutes to complete it, and if you need assistance, iVisa has a fantastic support service that you can contact 24/7. The service is free of charge.
The application form has three easy steps to follow:
The first one asks to provide some general information and some details regarding your trip. At this point, you are also required to select one of the three processing time options mentioned above.

The second step is about payment and revision. Don't forget that this part is very important since you can't correct any mistake after issuing your electronic visa.

The third step is about documents upload. Once you are done with all three steps, you can submit your application and wait for your Singapore e-visa to arrive via email.
As you can see, getting a Singapore visa for the citizens of Uzbekistan cannot possibly be easier. Within just a few clicks you'll be ready to explore this country!
What should I do after I finish the application form?
Once you complete it, you'll receive the e-Visa through an e-mail according to the processing time you selected, and after that, you'll just enjoy your trip with peace and no stress at all. You don't need to deal with any embassy.
How many entries does the Singapore e-Visa allow me to have if I'm from Uzbekistan?
With your Electronic Visa and also your Uzbek passport you can have Multiple Entry. In other words, you can enter the country many times.
How will I realize when my Singapore e-Visa is ready to use?
We will let you know about this via e-mail. So as long as you give to iVisa your proper e-mail address, you'll always be easily informed.
Can I apply for my family or friends if they're Uzbek as me?
As long as they're from Uzbekistan or another country that has this visa available to Singapore, then you can complete the online form for them. Just don't forget that you must have all of their required documents.
How does this e-Visa look like?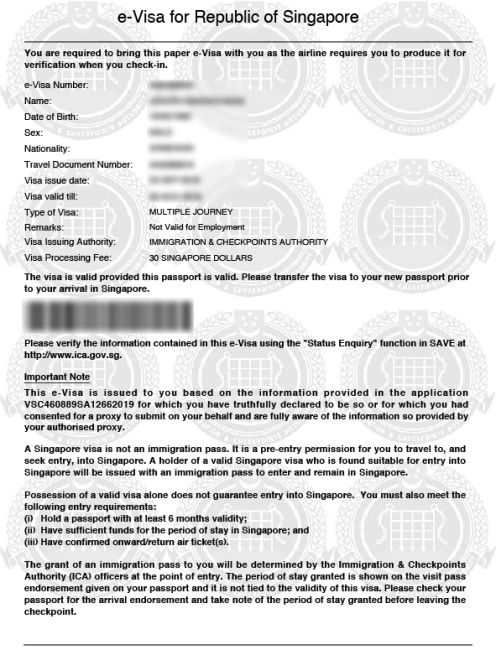 Where can I read more information about Singapore's visas?
Do you still have some questions related to the Singapore e-Visa? Then you can talk to our customer service here, or you can also read more abou it with the Singapore e-Visa page to check other FAQs that could be useful while planning your trip!
You don't need to waste more time in an embassy! Start your journey by applying for your Singapore e-Visa with iVisa. iVisa simplifies the process to apply for and to receive your electronic visa quickly. The greatest part is that iVisa has a a 9.5 'Excellent' rating from over 18,000 reviewers on Trustpilot. Contact us today!