A trip to Singapore, regardless of its purpose, will most likely require you to obtain a visa before departure. The only exception includes the citizens of the 34 countries that are visa-exempt. They can stay in Singapore for periods that vary from 30 to 90 days, depending on the country of origin. However, all the other nationalities need a visa to cross Singapore's borders and stay. Even so, keep in mind that there are many Singapore Visa Types, and you probably can apply for any of them at iVisa.com.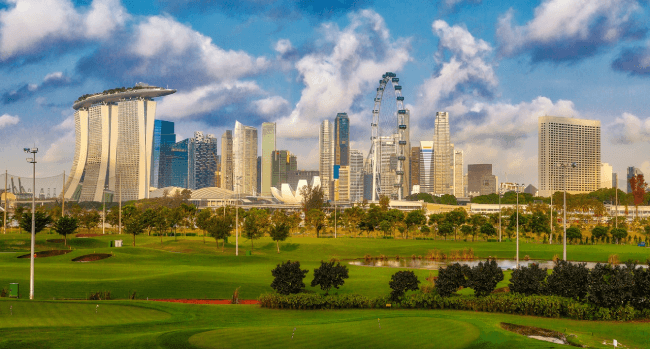 Before you apply for your Singapore visa, we recommend you read the information below to learn more about the Singapore Visa Types and also to verify which one is available for you.
Frequently Asked Questions
How can I know which documents I need to enter Singapore?
You can use iVisa.com's Visa Checker Tool to see which documents you need to enter Singapore or even other countries around the world. It's quite simple to use this tool, all you'll have to do is to pick your country of origin or the country in your passport on the left side of the drag-down menu. Then, you'll have to select Singapore as the destination on the right side of the menu. After that, you'll be able to check the information within a few seconds.
If you're eligible for a Singapore eVisa, you'll be able to apply on the spot. If not, you'll receive a list of embassies where you can apply for the Tourist Visa.
What is a Singapore SG Arrival Card?
The SG Arrival Card is just the short-term to Singapore Electronic Arrival Card, and it is an online travel document that you can use to substitute the traditional paper Disembarkation/Embarkation Card (DE Card).
But, it's important to mention that the SG Arrival Card has a validity of 30 days after issued or until passport expires. Furthermore, with this document, you can stay in the country for a maximum of 14 days Per Entry with a Single Entry.
What Types of Visa's are available for Singapore?
The most popular Singapore visa types are the Tourist visa, which is available at the embassy or consulate, and the Singapore SG Arrival Card, which can be used by more than 63 nationalities. The Singapore Arrival Card, however is not considered a visa in itself .
However, due to emergencies like the COVID-19 pandemic, there's another option available at iVisa.com which is a package of the SG Arrival Card + Health Declaration.
What documents do I need to apply online for an SG Arrival Card?
You won't need a long list of items to apply online with iVisa.com. Better yet, you might already have part of the following things if not all of them:
A valid passport is the most important document when traveling to other countries, so you have to get one for this process.
A credit/debit card or Paypal account because you'll have to pay for your online document.
Lastly, a valid email address to get the online travel document on time and safely.
What is the price of the SG Arrival Card?
The prices might change from country to country and also for each processing time. Nevertheless, we can help you with this topic by offering you these processing options that we made for the SG Arrival Card:
Standard processing: this processing option tends to be the most selected because it's not expensive and it only lasts

24 hours

. As for the price, it is

USD $27.49

.
Rush processing: by picking this option, you have to pay no more than

USD $49.99

and you have to wait only

4 hours

.
Super rush processing: this is the fastest processing option available, so it makes you wait no more than

30 minutes

, and you are charged

USD $84.99

.
These prices include the government's fee and iVisa.com's fees, so you don't have to calculate any extra. Just remember that it might differ depending on your nationality.
How can I apply for an SG Arrival Card?
Forget about long queues at the airport or time wasted at the embassy! With iVisa.com you won't have to do much to get your SG Arrival Card in your email inbox as fast as possible.
To get this document or other Singapore documents available on iVisa.com, you have to complete this 3-step online process:
Step one, complete the online form with your basic details. Next, select the procedure time you prefer for your travel plans.
Step two, ensure that all the information is correct before paying with your Paypal or debit/credit card.
Step three, upload some documents to the online form, and after that, send it by clicking on the 'submit' button.
Once you're ready with this online process, just wait for your SG Arrival Card in your email and that's all!
How much time do I need to apply for a SG Arrival Card?
iVisa.com's online process doesn't require much effort or time, so it shouldn't take you more than 20 minutes. Remember that if you have issues or doubts while applying, you can contact us to get personal assistance.
Does obtaining an SG Arrival Card guarantee automated entry to Singapore?
No. Having the Singapore Electronic Arrival Card doesn't mean that you can enter the country automatically. The final decision is up to the country's customs authorities.
How safe is iVisa.com's service?
Regardless of your final decision about the Singapore Visa Types available, you can always check iVisa.com to apply online. Our company grants a reliable service that won't endanger your personal details at any time. Hence, we can ensure that you can feel safe when applying with us. You'll be able to receive your travel documents as fast as possible without any stress.
If I have more questions, what can I do?
If you still want to learn more about the Singapore Visa Types, then we recommend you contact us on this link or simply keep searching for info on our website and blog page. We're always ready to assist you with any doubt, especially if you have issues while completing the forms. Feel free to contact us at any time!