Many people who have been at home the past months are ready to travel the world, whether it is to see loved ones or to enjoy a getaway. That's why many countries have accelerated their COVID-19 vaccination programs, including Singapore.
In addition to the vaccines, Singapore is also working hard to launch the Vaccination Passport Singapore, so it won't be hard to enter this country by having nothing else than your passport and an extra document that confirms you've been vaccinated. However, this is still an ongoing plan, and now, you need a Health Declaration to enter Singapore.
Getting a Vaccination Passport Singapore won't be difficult and we'll be ready to help you with that. Therefore, we suggest you read the FAQs below to learn more about this document and the Singapore Health Declaration.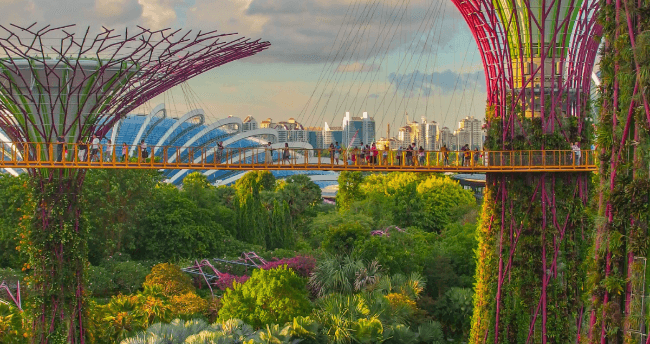 Frequently Asked Questions
What is the vaccination certificate and what other required documents do I need to travel to Singapore?
It's a document similar to a national passport, with the difference that it allows you to enter a country thanks to the confirmation of the coronavirus vaccine. It'll probably be available through a QR code or printed letter, depending on the country.
There's still a lot of information to learn about the Vaccination Passport Singapore. Nevertheless, what we can guarantee is that it'll probably be the same as a Health Declaration. You should take into account the following items to enter Singapore as they're necessary before arriving at the airport:
A Health Declaration.
Your passport.
A valid email address to get the information.
A valid credit/debit card, or a Paypal account to proceed with the payments (they're necessary only while completing the online form to get the health declaration).
Do I need a COVID vaccine or vaccination certificate to enter Singapore?
Yes, Singapore has been taking steps to restore travel within its borders. Travelers aged 12 and older need to display the COVID vaccine passport or vaccination certificate to enter Singapore.
Accepted vaccines are Pfizer, Moderna, AstraZeneca, Covishield, Janssen, Sinopharm, Sinovac, Covaxin, Novavax.
Since information may change quickly, we advise you to follow up on the latest Singapore travel updates and/or contact your local embassy.
Do I need a negative COVID-19 test result to enter Singapore?
COVID test prior to arrival: PCR or antigen test within 48 hours.
COVID test upon arrival: PCR test on arrival for unvaccinated travelers.
COVID test exemptions: Children under 2 and fully vaccinated travelers.
Do I have to quarantine once I get to Singapore?
Quarantine requirements: 7-day quarantine.
Quarantine testing: PCR on day 7 for unvaccinated travelers
Quarantine exemptions: Fully vaccinated travelers.
How much does this document cost and when can I obtain it?
There's not an official price for Vaccination Passport Singapore yet, but it might cost the same as a Health Declaration as both documents work the same way. The only difference might be some updates related to the country's policy, but the price will remain the same for sure. Therefore, we can give you the options available at iVisa.com:
Standard Processing Time:

24 hours

-

USD 34.49

Rush Processing Time:

4 hours

-

USD 67.99

Super Rush Processing Time:

30 minutes

-

USD 104.99
How to apply for a Vaccination Certificate online
You can obtain a Health Declaration online, and don't forget that this document is the same as a Vaccination Certificate. Also, bear in mind that it is necessary to confirm you're in good health, and that includes not only the coronavirus but also other diseases like Malaria, Dengue, among others.
You must follow these steps to apply online:
Step one, complete the questionnaire we offer online and select the processing speed you prefer.
Step two, check all the answers you gave to avoid typos and pay for the fees through our payment platform.
Step three, upload all the items required to proceed with the request, and after that, send it by clicking on 'submit'.
As soon as you finish the process, you'll just have to wait for your certificate, which will be delivered via email inbox, so stay alert!
Is iVisa.com safe?
At iVisa.com we take security seriously, meaning that we never put any of our clients' information in danger. We always do our best to keep your information protected. Besides, we have a customer service team that's ready to help you with any questions you have.
Where can I get more information?
Do you still have questions related to the Vaccination Passport Singapore? Don't stress out, we're ready to assist you by offering you more details about this document. To check that, just click on our FAQ page, and don't forget to reach out to us here if you prefer personal help.
iVisa.com Recommends
There are many reasons why people choose Singapore as their vacation destination, and one of them is its effortless visa policy. Most nationalities around the world can visit Singapore for short stays without having to get a visa before. People from all of the European Union countries, Australia, New Zealand, Norway, South Korea, Switzerland, and the United States can travel to Singapore without a visa if they stay there for NO more than 90 days. As for other nationalities, they can stay in Singapore for no more than 30 days.
Best of all is that the other countries that require a visa, are split into two categories, including one that allows you to get your visa completely online. Better yet, you can apply for this document or your Health Declaration by using our services at iVisa.com.
You shouldn't lose the opportunity to explore Singapore because this country has many things to offer. One of its highlights is Sentosa due to its beautiful beaches with high-end resorts. Many beaches in Singapore are full of turquoise and tranquil waters, so it surely will make you fall in love instantly.
Get ready to visit Singapore by having your Health Declaration with us!