If you are thinking of Slovakia as your next destination, you must get to Levoča. The historic city offers the beautiful Basilica of St. James with a unique wooden altar and the Evangelical Lutheran Church that dates back to 1837. Don't miss the chance to walk around the Old Town and enjoy the small streets and beautiful buildings. Slovakia is waiting for you!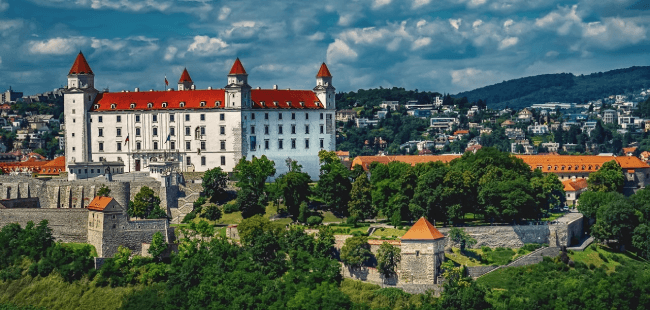 Citizens of Brazil must have the new authorization known as ETIAS if they decide to travel to Slovakia. Slovakia ETIAS is a mandatory document that is 100% online and will only take you a few minutes to complete.
iVisa.com is familiar with the Slovakia ETIAS process so you can have a fast, simple, and trustable service. Learn more about ETIAS below.
Frequently Asked Questions
What does ETIAS mean?
ETIAS means European Travel Information and Authorization System. The Slovakia ETIAS is an electronic application that travelers coming from outside the EU will need to fulfill.
The ETIAS is a new mechanism to control immigration in the European borders. Hopefully, the information collected from travelers will help immigration authorities to determine potential threats.
Do I need a Slovakia ETIAS as a citizen of Brazil?
Citizens of Brazil need to acquire the Slovakia ETIAS before traveling. Brazil is exempt from a Schengen visa. Therefore, its citizens need to apply for a Slovakia ETIAS.
62 countries around the world don't require a visa to visit the Schengen area, and Brazil is one of those countries.
Can I only travel to Slovakia with the ETIAS?
The Slovakia ETIAS allows entry to the 26 European countries in the Schengen zone. Remember to check beforehand where you would like to go and what travel documentation you need.
Citizens of Brazil can use the iVisa.com Visa Checker and confirm whether they need a Slovakia ETIAS or another travel document.
What is the validity of the Slovakia ETIAS?
The Slovakia ETIAS is valid for up to 3 years since the issued date. Citizens of Brazil holding an ETIAS authorization can travel multiple times the Schengen zone, as long as they stay up to 90 days within a 180-day period.
What information do I need for ETIAS?
Citizens of Brazil need to complete the ETIAS application with personal information. Besides, they could answer questions related to travel history, health records, and visa rejections, if applicable.
Consider the following essentials, as well:
A scan of your passport showing your picture and details.
Email address to receive the Slovakia ETIAS electronically.
Method of payment, applicants can choose between a credit/debit card or pay with a Paypal account.
Explore more about ETIAS application with iVisa.com!
What waiting times does iVisa have?
iVisa.com has three alternatives for processing the ETIAS:
Standard processing option, in case you want to pay the lowest fee, you can get the Slovakia ETIAS in an average time.
Rush processing option, if you know your trip is very soon and you need to obtain the ETIAS document right away.
Super Rush processing option, the fastest method to acquire the Slovakia ETIAS.
Continue your Slovakia ETIAS search here.
What is the process?
Citizens of Brazil need to follow these 3 steps:
First, fill out the online application with truthful information and pick a processing time.
Second, check the details in the form and choose a payment option, either with credit/debit card or a Paypal account.
Third, attach the scan of your passport.
How will I receive the Spain ETIAS?
iVisa.com will send the Slovakia ETIAS to the email address detailed in the application. Citizens of Brazil must show the Slovakia ETIAS document upon arrival in Slovakia. We are sure the border control officials will request the authorization.
If I'm traveling with children, do they also need a Slovakia ETIAS?
Minors must apply for a Slovakia ETIAS if their nationality is exempt from a Schengen visa. If you are traveling with children, then you have to complete the Slovakia ETIAS application for them.
How safe is iVisa.com?
Incredibly safe! iVisa.com is a trustable company working tirelessly to bring you the best service for your travel requirements. You can travel anywhere in the world with iVisa.com!
Citizens of Brazil can feel safe using the iVisa.com services. Check our satisfactory reviews.
Where can I get further information?
Continue your search in the iVisa.com main page for more details about iVisa.com. In case you have some doubts, connect with our support agents.
You can also write to help@ivisa.com.
Travel today with iVisa.com!