Most of the time, people are looking for new adventures in Europe, but they forget about Slovakia. Despite its small size, it has different things to offer to all tourists worldwide. Its rich culture and history will surprise you, the fantastic mountains, breathtaking mountains, and jaw-breaking castles and fortifications are just some reasons to visit. The capital city is Bratislava, where you will find aesthetic architecture and fascinating people. The best part is that it is close to Poland.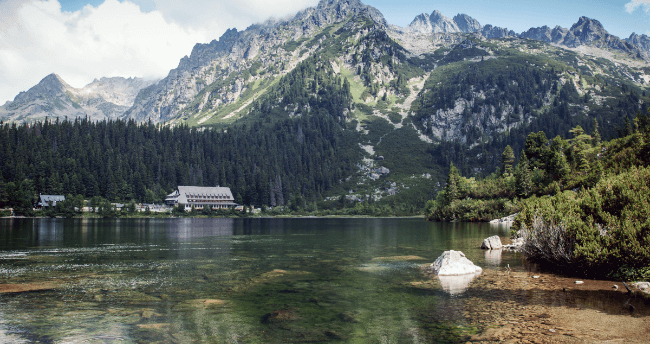 If you want to visit Slovakia soon, you must present the Slovakia Passenger Locator Form. The official government implemented it because of the COVID-19 pandemic. It gathers information about all international tourists arriving in the country. As we know that it may use ambiguous language, iVisa.com will help you with it. We simplified it all, so you only spend ten minutes providing essential information. You will have the chance to do it online on any device.
Find out more about how citizens of Poland can enter Slovakia: during coronavirus on iVisa.com.
Frequently Asked Questions
What is the Slovakia Passenger Locator Form?
The Slovakia Passenger Locator Form is travel documentation created as a health measure to control the COVID-19 outbreak in the country. You must report specific information about yourself, your trip, and other details. The government collects data, and they can contact you if they need it. You will be asked to present it during your arrival, so make sure to obtain it with iVisa.com in the simplest way possible. That is how citizens of Poland can enter Slovakia during coronavirus.
Do I have to quarantine when I get to Slovakia?
It depends whether you're fully vaccinated or not and where you're arriving from:
Fully vaccinated travelers do not have to quarantine.
Unvaccinated travelers must quarantine for 10 days, or take a PCR test to end the quarantine after 5 days upon receipt of negative results.
All travelers, regardless of vaccination status, who have visited South Africa, Botswana, Namibia, Lesotho, Eswatini, Mozambique, Zimbabwe, Israel, Hong Kong or Seychelles in the 14 days prior to entering Slovakia must for 14 days if asymptomatic or until negative results are received from RT-PCR tests on days 1 and 8.
Which risk category is my country?
Safe countries are EU countries, Argentina, Australia, Bahrain, Canada, Chile, China (special administrative regions Hong Kong and Macau), Colombia, Jordan, Kuwait, Namibia, New Zealand, Peru, Qatar, Rwanda, Saudi Arabia, South Korea, United Arab Emirates, Uruguay, Taiwan.
All the other countries are considered high-risk.
Do I need a COVID vaccine or vaccination certificate to enter Slovakia?
Yes, Slovakia has been taking steps to restore travel within its borders. If you are not coming from the EU countries or the safe countries, in order to enter Slovakia, you'll need to display your COVID vaccine passport or vaccination certificate. You won't need to present a negative PCR test nor to follow a quarantine.
Approved vaccines are Pfizer, Moderna, AstraZeneca, Johnson & Johnson, Bharat Biotech, Sinopharm, Sinovac.
You are considered vaccinated if all doses of a vaccine against SARS-Cov-2 have been administered for at least two weeks before traveling.
What information do I have to provide to get the Slovakia Passenger Locator Form?
As you may be aware, iVisa.com reduced most of the procedure to the next shortlist that you have to follow. It will not take more than ten minutes to complete.
Data about yourself.
Your current email address.
Your flight information.
Your place of accommodation.
A valid payment method.
A negative COVID-19 PCR test if needed. (Only for those coming from high-risk countries).
By providing these essential items, you will obtain the Slovakia Passenger Locator Form in the easiest way possible. This is how citizens of Poland can enter Slovakia during coronavirus.
How much does the Slovakia Passenger Locator Form cost?
We understand that you are concerned about your budget, and you are looking for the best alternative. That is why iVisa.com designed three options for your document.
Standard Processing Time. By waiting

24 hours

, you receive your document for

USD 20.00

.
Rush Processing Time. It costs

USD 35.00

, and you wait

8 hours

.
Super Rush Processing Time. For

USD 60.00

, you obtain your document in

4 hours
Did you take your decision already? Click here, and let our team help you with your document.
What steps do I have to complete for the Slovakia Passenger Locator Form?
iVisa.com knows how tiring and time-consuming it is to do everything on your own. For that reason, we prepared three steps that you can follow. They will not take more than ten minutes. You will also have the opportunity to complete them from any device that you prefer.
First, fill out our application form here. Provide us essential information, such as your name, phone number, and so on. After doing so, select the processing time that you prefer.
Second, continue with the payment. Remember that you can use any method that you prefer.
Third, upload any required document and submit it.
You will not have to do anything else. We will send you an email with the Slovakia Passenger Locator Form, so make sure to double-check your inbox. It is pretty simple to know about how citizens of Poland can enter Slovakia during coronavirus.
Can I rely on iVisa.com for the Slovakia Passenger Locator Form?
Without a doubt! iVisa.com is a reliable agency that will protects your information from any leak to third-parties. Make sure to check what other satisfied customers have to say in our reviews section.
Where can I find more information about this document?
You can read more about the Slovakia Passenger Locator Form clicking here. You can also contact us. Our customer service agents will be glad to solve any query about how citizens of Poland can enter Slovakia during coronavirus.
Let iVisa.com help you to achieve your dreams to travel to the best destinations for you!