Travelers who do not require a visa to enter Slovakia and the Schengen zone will require an ETIAS prior to their departure. The European Travel Information and Authorization System (ETIAS) is an electronic authorization that all these citizens must request to access Slovakia. iVisa.com can assist you through our online service to apply for an ETIAS easily and fast.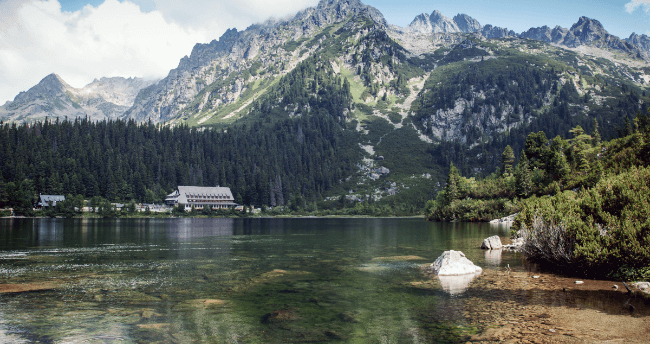 The ETIAS is not a visa and intends to reinforce the Schengen zone borders security. Travelers will be able to access Slovakia and its surroundings an unlimited number of times during the ETIAS' validity period (three years), following the 90/180 rule. At iVisa.com, we have already documented this new procedure, so we have designed a quick and simple online service to procure your ETIAS while providing you details about Important Information on the Slovakia ETIAS Multiple Entry.
Apply now for your Slovakia ETIAS
How is the iVisa.com process implemented?
Click here and complete our easy application form.
Upload a scanned copy of your passport.
Pick your favorite processing time alternative.
Select your payment method: Paypal, debit, or credit card
Send your application form.
Get your ETIAS via email according to your processing time.
Print your document
Start completing your online form
Why is it a great strategy to apply for my ETIAS in advance?
Applying for your ETIAS in advance enables you to focus your time and energy on your daily routine. You can relieve stress and anxiety since we will take care of everything while you just wait for your ETIAS to be ready in your email. No matter how far your travel dates are ahead, apply now, and we will deliver your ETIAS on time.
Get started with your ETIAS application
Frequently Asked Questions
Will the ETIAS expire?
Yes, of course. The ETIAS will expire after three years of being issued. When this time comes you will need to apply for a renewal. You will also require an ETIAS renewal if you lose your passport or when it expires; it does not matter if the three years have not passed yet.
What is the longest period I can spend in Slovakia?
To reply to this question, you need to learn about The 90/180 rule. This one states that you can stay in Slovakia and the Schengen zone up to 90 days in a period of 180 days. Consider sticking to this rule to avoid issues in your next ETIAS renewal.
Is the ETIAS available for a single, double, or multiple-entry?
This Important Information on the Slovakia ETIAS Multiple Entry is simple. You are allowed to access Slovakia and the Schengen area multiple times during the three years validity period, always obeying the 90/180 rule.
What are the iVisa.com prices to get my document?
Our efforts are always focused on delivering competitive prices, as well as providing you information on new travel procedures like Important Information on the Slovakia ETIAS Multiple Entry.
Standard Processing Time: Pay our cheapest fare and get your ETIAS in a standard time.
Rush Processing Time: Pay a higher fare and obtain your ETIAS faster.
Super Rush Processing Time: Pay our highest fare and acquire your ETIAS at the quickest speed possible.
Apply for your Slovakia ETIAS application
Is it possible for me to process my ETIAS free of charge?
No. This document has a fixed 7 Euro price, which will already be included in our service fee.
What is the data I need to provide to obtain my ETIAS?
A scanned copy of your passport main page
A working email address
An online method of payment of your choiceDebit, credit card, or Paypal
Start our online application form to acquire your ETIAS
What happens if I want more details about the process or other Important Information on the Slovakia ETIAS Multiple Entry?
You can reach out to our Customer Care Team directly to ask them any questions about our processes, procedures, or details about Important Information on the Slovakia ETIAS Multiple Entry. They are always available 24/7
Is it safe to give m details to iVisa.com?
Yes, of course. We ensure our platform is safe and secure, satisfying thousands of customers and procuring many travel documents. Check here to see what our satisfied customers say about their experience with us.
iVisa.com Recommends
Go to Košice! This is the second-largest city in Slovakia with a population of at least 355,047. It is the administrative capital of the eastern region of the country and the main industrial center. It is home to major companies and is situated along the Hornád River, near the eastern limits with the Slovak Ore Mountains. It is also close to the Hungarian border. Košice is a culturally diverse city with several distinct ethnic groups, including Hungarians, Roma, Ukrainians, Germans, and Czechs. In 2013, together with Marseille, it was named the European capital of culture.
The historic center is much smaller than the one in Bratislava, but this does not make it less important, as it houses the most important and largest Gothic cathedral in the whole country. Everything is mostly concentrated in the main square of the city "Hlavne Namestie".
You can start your tour through the main square, which is the center and axis of the life of the city. Besides, almost all the places to see in Kosice surround this square. Bordering it, we will be able to see the best of Košice: a mixture of Gothic buildings from the 12th century with some art nouveau from the beginning of the 20th century. Located in the center of the square, it is the most important monument to see in Kosice: Saint Isabel Cathedral, the largest in the country. It was built in the late 1300s, although it has undergone several renovations since then. As a curious detail, it is the easternmost Gothic cathedral in Europe.