Have you ever visited the majestic castles all over Europe? If you haven't, then start with the Bratislava Castle in Slovakia. The Bratislava Castle comes from the 10th century, and it stands on a hill above Bratislava, Slovakia's capital. Apart from the marvelous artifacts inside the castle, you can have a privileged view of the whole city.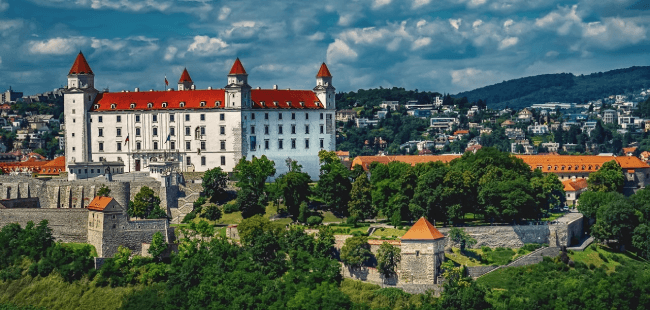 Although citizens of Mauritius don't need a visa to enter Slovakia, they must apply for a new document known as ETIAS. The ETIAS authorization will be available by 2022, but [iVisa.com] is already ready to bring you a fast, simple, and reliable service.
Learn more about the Slovakia ETIAS for citizens of Mauritius on the following lines.
Frequently Asked Questions
What is ETIAS?
ETIAS is the acronym for European Travel Information and Authorization System. The European Union decided to implement the ETIAS system due to security reasons. EU immigration expects to pre-screen incoming visitors before giving them access to Europe.
Slovakia is a trip of a lifetime! Explore more about the Slovakia ETIAS for citizens of Mauritius.
I'm a citizen of Mauritius. Can I obtain an ETIAS?
Yes! Citizens of Mauritius can apply for the Slovakia ETIAS before landing in Europe.
Nationalities that are exempt from a Schengen visa must have an ETIAS. In this case, Mauritius is among the countries that don't need a Schengen visa. For this reason, citizens of Mauritius should have a Slovakia ETIAS.
Can I travel to other countries with the Slovakia ETIAS?
Yes! The Slovakia ETIAS for citizens of Mauritius gives access to the 26 states in the Schengen area. Although the Schengen zone gathers most European countries, this doesn't mean all of Europe is part of the Schengen area.
Don't hesitate to use our Visa Checker and confirm if you need a Slovakia ETIAS for citizens of Mauritius for every country you are visiting soon.
How long is the Slovakia ETIAS valid for?
The Slovakia ETIAS for citizens of Mauritius has the following characteristics:
The authorization is valid for up to 3 consecutive years.
Citizens of Mauritius can stay a maximum of 90 days within a 180-day period in the Schengen zone, including Slovakia.
What information is required?
Citizens of Mauritius must provide personal information and details about their plans in Slovakia. As well, they have to answer some questions related to security like travel history and criminal records (if any).
Make sure to have the following:
A passport scan. Passports should be valid for at least 3 months after arrival.
A valid email address.
Payment options, iVisa.com brings you two alternatives, pay with a Paypal account or use a credit/debit card.
Are you fascinated by Slovakia? Then don't forget about the Slovakia ETIAS for citizens of Mauritius before traveling.
What are the processing times?
Standard processing service, the cheapest option for your Slovakia ETIAS.
Rush processing service, the iVisa.com team will rush your requirement for a higher price.
Super Rush processing service, receive the ETIAS authorization as soon as possible.
Our speed makes a difference! Trust iVisa.com and travel to Slovakia!
What are the steps for the Slovakia ETIAS?
Complete the electronic form with personal information and choose a processing time.
Verify your details in the application. Decide how you will pay, either with a credit/debit card or a Paypal account.
Attach your passport scan.
How will I receive the ETIAS document?
Check your email inbox, as you will receive an email with the Slovakia ETIAS for citizens of Mauritius. The iVisa.com team will make sure to send you the ETIAS authorization using the email address provided in the application.
Can I trust iVisa.com with my order?
For sure! iVisa.com has been working with travel documents for years, which has given us a successful reputation. The Slovakia ETIAS for citizens of Mauritius is the best of hands with iVisa.com.
Read our customers comments and confirm you are making the best decision with iVisa.com.
Who should I contact for more info?
Communicate with our support team. We can guide you through the ETIAS process and answer all your questions. We are ready for your journey to Slovakia!
Go to the application page for further details about the ETIAS steps.
Slovakia is just one click away! Trust iVisa.com!