Slovakia is well-known for its spectacular mountains that many travelers love to visit for hiking, skiing, snowboarding, and rafting. The most popular place to experience these activities is in the mountain range of High Tatras, a must-see for all nature lovers. After a long walk in Bratislava, the capital and largest city of Slovakia, you can munch on their most famous local dish 'bryndzove halusky', a potato dumpling served with sheep's milk cheese. Needless to say, there is so much to do and see in this gem of a country.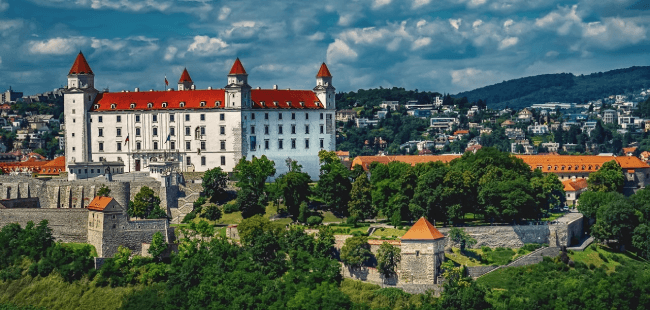 Currently, there are more than 60 non-EU countries who can visit Slovakia or any state in the Schengen Area without requiring a visa, including Samoa. However, 2022 will see the advent of a new system that can ensure the safety and security of travelers and residents of Schengen countries like Slovakia. This system is the ETIAS, otherwise known as the European Travel Information and Authorization System, and one of the authorizations it can approve is the Slovakia ETIAS for Citizens of Samoa.
Frequently Asked Questions
What do citizens of Samoa need to know about the ETIAS?
The ETIAS is a system that will be able to make decisions to allow citizens of non-European visa-exempt countries to enter all the states of the Schengen Area. The Slovakia ETIAS for Citizens of Samoa permits citizens of this Pacific country to freely move from Slovakia to any Schengen country by using only a single travel document. The top reason why the European Commission approved the creation of the ETIAS is for the safety and security of all Schengen countries and also for travelers' peace of mind.
Do I need to visit the embassy to obtain the visa waiver?
Samoan passport holders and other nationals that are eligible for ETIAS do not need to visit the nearest embassy or consulate to apply. The visa waiver is completely online and you can put in an application through iVisa.com. The approved ETIAS will be sent to you via email. You just have to present the digital copy of your ETIAS upon arrival at the airport, seaport or land border.
I am a citizen of Samoa. How long can I stay in Slovakia?
As a citizen of Samoa, you can visit and stay in Slovakia for a maximum period of 90 days within a period of 180 days or six months. This goes for other eligible travelers from other countries. The authorization can be valid for a maximum of 3 years. However, it is electronically linked to your passport and if the passport expires before the 3 years are up, the Slovakia ETIAS for Citizens of Samoa is invalidated as well. If you would like to maximize the use of the visa waiver, it is recommended to use a passport with a remaining validity period of more than 3 years.
Can I enter any Schengen country with an ETIAS?
Given that the ETIAS authorization is multiple-entry, the holder is only allowed to go into the Schengen Area through the country that will serve as the entry point. In cases of Samoan passport holders with Slovakia ETIAS, the holder should visit first Slovakia before any other states in the Schengen Area.
What are the requirements to apply for ETIAS?
Citizens of Samoa who are applying for the authorization should have the following:
Completed application form.
An email address where the visa waiver will be sent.
Any debit/credit card or PayPal account for payment.
A valid passport. The bio page should be scanned where the applicant's photo and other important information is visible.
Which platform can I use to apply for the ETIAS?
You can get your ETIAS at iVisa.com. We can help you process the document and procure it before your trip to the Schengen zone. We have a full team of visa experts working at every turn to give you the best service with an almost 100% approval rate. You can check the reviews of our previous customers here.
Who should I contact if I have further inquiries?
Do not hesitate to reach out to us! We have 24/7 customer service. You can contact us through our chat support, or email us at help@ivisa.com.
Get your Slovakia ETIAS for citizens of Samoa with iVisa.com!