A famous medieval city in Slovakia is Bardejov. The colorful homes bring a uniquely picturesque landscape. Climb the tower at the Basilica of St. Egidius and get a fantastic view of Bardejov. Then head to the Šariš Museum, one of the most important ones in Slovakia. Start your European journey in Slovakia!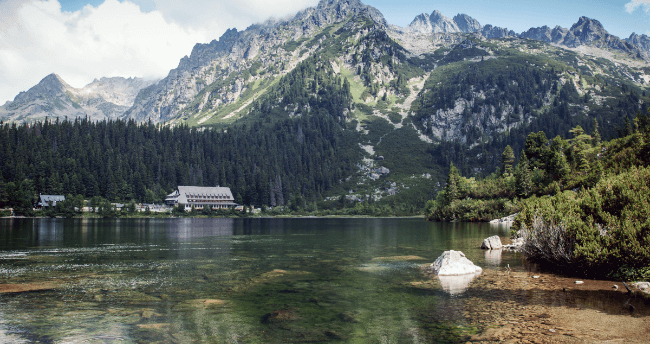 Travelers from outside the European Union, like citizens of Chile, need to follow the new entry requirements to enter Slovakia. They need to obtain the ETIAS authorization, an electronic application mandated by the EU immigration.
The Slovakia ETIAS will be available soon, and iVisa.com is already working on the process. iVisa.com has a fast, simple, and trustable service.
Read our next section about ETIAS.
Frequently Asked Questions
What is an ETIAS?
ETIAS is the European Travel Information and Authorization System. The Slovakia ETIAS is a new mechanism that only requires an Internet connection and a few minutes to complete an online application.
Due to security concerns, the EU authorities are implementing the ETIAS procedure to focus on incoming visitors who may be a threat to the Schengen zone.
I'm a citizen of Chile. Can I apply for Slovakia ETIAS?
Yes! Citizens of Chile can apply for the Slovakia ETIAS. Over 60 states around the world don't need a visa to enter Slovakia or any other Schengen country. For this reason, these nationalities will need to have an ETIAS.
In this case, Chile is exempt from a Schengen visa, so its citizens must get a Slovakia ETIAS.
Is the Slovakia ETIAS valid for all European countries?
Not for all European countries. The Slovakia ETIAS is valid for the 26 countries of the Schengen zone. Although the Schengen zone covers the majority of the European continent, some European countries don't belong to the Schengen agreement.
Try the iVisa.com Visa Checker and confirm if you need an ETIAS or another travel document.
What is the validity of Slovakia ETIAS?
The validity is three years since the issued date, and you can have multiple entries to Slovakia or any other Schengen country. Citizens of Chile can stay up to 90 days out of 180.
Discover more about the Slovakia ETIAS here.
What info and docs are requested?
Citizens of Chile must complete the electronic application with name, birthplace, citizenship, education, and employment. Expect to find some questions related to criminal past, travel history, and health conditions.
Collect the next requirements too:
A passport scan showing the picture and personal details.
A valid email address.
Payment methods, iVisa.com will process your ETIAS application for an affordable price that you can pay with a Paypal account or a credit/debit card.
What are the processing times and fees?
Standard processing service, obtain the Slovakia ETIAS in a reasonable amount of time.
Rush processing service, if you are in a hurry, get the ETIAS authorization faster.
Super Rush processing service, the quickest option to acquire the Slovakia ETIAS.
What is the process?
Citizens of Chile must complete the next three steps:
Fill out the online application with truthful details and pick a processing time according to your needs.
Review your information, so you are sure everything is correct. Determine how you will pay, whether with a *credit/debit card or a Paypal account**.
Attach the passport scan and any other documents required.
Visit Slovakia with your ETIAS!
Why do I need an email address?
A valid email address is relevant for the Slovakia ETIAS procedure, as you will obtain the authorization electronically. Check your email inbox because iVisa.com will send you the ETIAS document after you finish the application.
Remember to show the ETIAS document to Slovakia immigration when arriving in the Schengen zone. The authorization is mandatory for citizens of Chile.
How secure is iVisa.com?
100% safe! iVisa.com manages hundreds of travel requirements and has the best results for its users. We work with top-notch systems that assure all information is kept safe. Check what our customers have to say about iVisa.com services here.
Citizens of Chile can trust iVisa.com and have the best service for their Slovakia ETIAS!
How can I get further details?
Explore the iVisa.com main page and see all the options to obtain travel documentation. Besides, contact our customer support team if you have specific questions.
iVisa.com is here to help you! Don't hesitate to contact us at any time!