Slovakia is the perfect site in Europe for hiking. If you are an advanced hiker, head to the High Tatras that has summits over 2,500 meters. If you are not as confident about your hiking skills, then go to Jasná Chopok, where you can reach the Rotunda Restaurant and have breathtaking views. Slovakia has to be your next destination!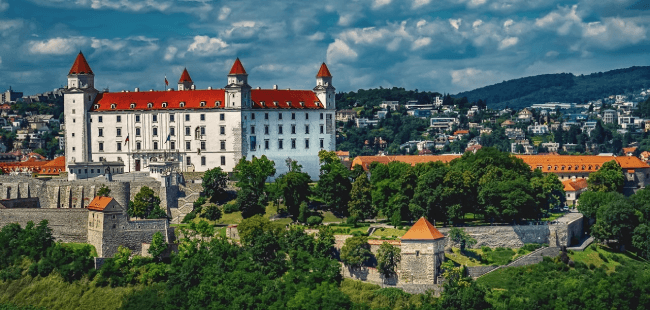 Citizens of Israel with a plan to visit Slovakia need to complete a new form called ETIAS. The Slovakia ETIAS is a mandatory authorization approved by the European Union.
iVisa.com has all the experience to help you with the ETIAS procedure. Enjoy a fast, simple, and reliable service with iVisa.com.
Do you want to know more? Continue reading.
Frequently Asked Questions
What is ETIAS?
ETIAS is an online application that only requires a few minutes to complete it and is mandatory for most international visitors. ETIAS is the acronym for European Travel Information and Authorization System.
The European Union is working on the ETIAS process to have it available by 2022. EU immigration hopes to gather information from incoming visitors to intercept possible criminal activity. The overall objective is to safeguard the European borders.
The Slovakia ETIAS is easy! Have it with iVisa.com!
I'm a citizen of Israel. Can I obtain an ETIAS?
As a citizen of Israel, you are eligible to obtain the ETIAS to enter Slovakia. Over 60 countries around the world don't need a Schengen visa to visit Slovakia. These countries have to apply for an ETIAS before traveling to Europe. In this case, citizens of Israel must get the Slovakia ETIAS.
Is the Slovakia ETIAS valid for all countries in Europe?
Citizens of Israel must differentiate Europe and the Schengen zone. The Slovakia ETIAS gives access to 26 states in the Schengen area. The Schengen zone is located in Europe, but not all countries in Europe are part of the Schengen agreement. iVisa.com can help you with the Visa Checker if you want to confirm the travel documents you need for all countries in Europe.
Is Slovakia ETIAS valid for many trips?
Yes! The Slovakia ETIAS doesn't put limits on the number of trips to the Schengen zone. However, follow the next parameters:
The Slovakia ETIAS is valid for up to 3 years.
Citizens of Israel can stay a maximum of 90 days in the Schengen area.
What is the required information?
Citizens of Israel need to give details like name, address, phone number, date of birth, among others. Also, they could expect questions related to any criminal past and visa rejections, if applicable.
Keep the next requirements too:
A passport scan showing your photo and info.
A valid email address.
Payment options, iVisa.com has two electronic methods for your payment, use a Paypal account or a credit/debit card.
Not sure about something? Contact us!
What are the processing times?
Citizens of Israel have the following alternatives:
Standard service, if you are flexible with your waiting period, choose the most affordable processing service.
Rush service, the iVisa.com team will fast track your requirement.
Super Rush service, you are traveling now, and you need the Slovakia ETIAS right away.
What are the steps for the Slovakia ETIAS?
Complete all the information requested in the electronic form and select a processing time.
Verify your details in the application and proceed to pay, whether with a credit/debit card or a Paypal account.
Attach your passport scan.
What will I receive in my email?
Citizens of Israel will receive an email from iVisa.com with the Slovakia ETIAS results. Once you arrive in Slovakia, show your ETIAS document to border control so you can have a smooth entry.
Can I trust iVisa.com with my order?
Of course! iVisa.com has a full team working 24/7 to bring you the best service. We manage all types of travel requirements with strict security standards, so you are safe with iVisa.com.
Review our customer comments and feel confident choosing iVisa.com.
Who should I contact for more info?
Don't hesitate to contact us! Reach out to our iVisa.com support team. We are available for any questions about Slovakia ETIAS or other travel documentation.
If you want to learn more about iVisa.com, go to the main page. We can help you travel anywhere in the world!
Citizens of Israel can apply for Slovakia ETIAS with iVisa.com!