If you are looking for more castles in Europe, then head to Trenčín in Slovakia. Visit the main square where you can find the Trenčín Castle. There are traces of the Roman empire in this site plus a mixture of different historical influences. You can also walk around the Old Town, indulge in some art at the Hotel Elizabeth, or drive to the Trenčianske Teplice, a spa town with healing mineral waters. Slovakia is ready for you!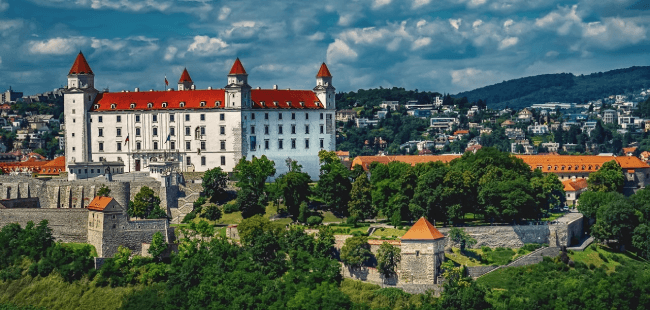 Citizens of Mexico thinking to visit Slovakia must have the new EU authorization known as ETIAS. The Slovakia ETIAS will be mandatory by 2022.
The Slovakia ETIAS is an easy procedure with iVisa.com. iVisa.com offers a fast, simple, and trustable service.
Continue reading about the Slovakia ETIAS below.
Frequently Asked Questions
What is an ETIAS?
ETIAS is the European Travel Information and Authorization System. The Slovakia ETIAS will collect travelers details that the European Union will use to detect criminals before they enter Europe.
The application is 100% online, which means you only need an Internet connection and a few minutes to finish it.
Travel to Slovakia with your ETIAS!
Can I apply for a Slovakia ETIAS as a citizen of Mexico?
Yes! Citizens of Mexico can apply for a Slovakia ETIAS. Mexico is part of the 62 countries that are exempt from a Schengen visa. For this reason, citizens of Mexico must get a Slovakia ETIAS before traveling.
You can do the ETIAS process with iVisa.com!
Is the Slovakia ETIAS valid for all of Europe?
Not all of Europe. The Slovakia ETIAS gives access to the 26 states in the Schengen zone. But, not all countries in Europe belong to the Schengen agreement, so choose carefully the countries you want to visit in Europe.
Find out the travel documents you need with the iVisa.com Visa Checker. Try it!
What is the validity of the Slovakia ETIAS?
The validity of the Slovakia ETIAS is up to 3 consecutive years. Citizens of Mexico with a Slovakia ETIAS can stay a maximum of 90 days in the Schengen zone.
Read more about ETIAS application here.
What info and docs are requested?
Citizens of Mexico must fill out the application with their name, passport number, birthplace, and nationality. Also, they must provide information related to criminal records, visa rejections, and medical conditions.
Have the following requirements:
A copy of your passport.
An email address to receive the Slovakia ETIAS safely.
Payment options, iVisa.com charges an affordable fee to get the ETIAS document that you can pay with a Paypal account or a credit/debit card.
What are the processing times and fees?
Citizens of Mexico can process their ETIAS application with the next options:
Standard processing service, in case your budget is small, pick the standard alternative.
Rush processing service, iVisa.com will work quicker in your ETIAS requirement.
Super Rush processing service, your trip is sooner, and you need the Slovakia ETIAS now.
Get in touch with our support agents if you have some doubts.
What is the Slovakia ETIAS process?
Fill out the electronic application and select a waiting period (Standard, Rush, or Super Rush).
Review the information and try not to leave blank spots. Choose a payment method between a credit/debit card or a Paypal account.
Attach a copy of your passport.
Citizens of Mexico can travel to Slovakia with iVisa.com!
Why do I need an email address?
You need a valid email address, so iVisa.com can send you the Slovakia ETIAS authorization. Remember that ETIAS is an electronic process. For this reason, you will receive the final document electronically in your email inbox. Citizens of Mexico must show the ETIAS document upon arrival in Slovakia.
How secure is iVisa.com with the ETIAS process?
Pretty safe! iVisa.com has been on the market for years and has gained enough experience to handle all types of travel documentation. iVisa.com has the right tools to work with your Slovakia ETIAS.
Check our customers' opinions and confirm iVisa.com is the best platform.
How can I obtain further information?
Navigate our main page to find out more about iVisa.com. As well, you can contact our customer support that is available 24/7.
iVisa.com can help you with your ETIAS process and any other travel document you need for your next trip.
Citizens of Mexico can trust iVisa.com with their Slovakia ETIAS!