If you have decided to visit Slovakia, don't miss the chance to pass by Banská Štiavnica. Explore the incredible mining history that made this city the largest one during the Hungary Kingdom. Also, visit the historical buildings like the Gothic church St. Catherine or the Old Chateau that dates back to the 13th century. Slovakia has plenty of cities to offer. Travel now!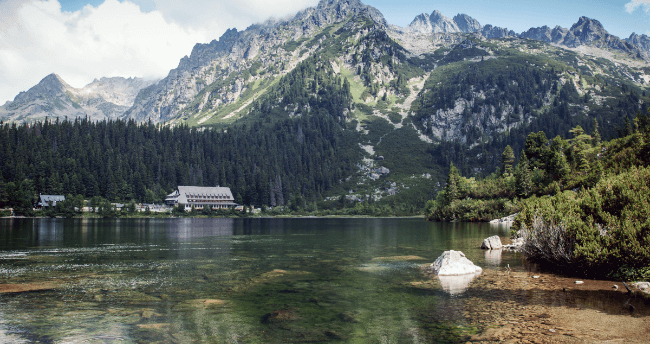 Citizens of El Salvador must have the new authorization called ETIAS if they want to enter Slovakia. The Slovakia ETIAS is a mandatory document implemented by the European Union, and it will be available in 2022.
iVisa.com has everything ready to offer you the best service to obtain the Slovakia ETIAS. Enjoy a simple, fast, and 100% trustworthy product.
Ready to travel? Continue reading about Slovakia ETIAS below.
Frequently Asked Questions
What is Slovakia ETIAS?
The Slovakia ETIAS is an electronic questionnaire that most international travelers will need to have before arriving in Europe. ETIAS is the acronym for European Travel Information and Authorization System.
The European Union has created the ETIAS process to manage incoming visitors who don't need a Schengen visa.
Check the Slovakia ETIAS process with iVisa.com!
Is an ETIAS required for El Salvador citizens?
Citizens of El Salvador need to obtain a Slovakia ETIAS. Travelers from countries that don't require a Schengen visa must apply for a Slovakia ETIAS. El Salvador is among those countries. Therefore, its citizens must get ETIAS before traveling.
Is the ETIAS only valid for Slovakia?
No, travelers who obtain the Slovakia ETIAS can enter other countries in Europe apart from Slovakia. The Slovakia ETIAS allows entry to the 26 countries in the Schengen zone. However, be careful because not all European countries are part of the Schengen agreement. iVisa.com facilitates a Visa Checker that can help you determine the travel documents you need.
If you have some inquiries, get in touch with iVisa.com support agents.
How long is Slovakia ETIAS valid?
The Slovakia ETIAS is valid for up to 3 consecutive years. Citizens of El Salvador can stay a maximum of 90 days out of 180 in the Schengen zone. As well, visitors with an ETIAS can enter Slovakia or any Schengen country as many times as they want.
What docs are requested?
Citizens of El Salvador must collect the next items:
A passport scan.
A valid email address, so iVisa.com can send you the ETIAS results.
Payment methods, iVisa.com has two alternatives for payments. Choose between a Paypal account or a credit/debit card.
Apart from general information, applicants need to give details related to criminal records, previous trips, and health background. Be honest with your answers as EU immigration will check your details with international databases.
What are the procedure times?
iVisa.com gives three methods to obtain the Slovakia ETIAS:
Standard processing method, if you are flexible in receiving your Slovakia ETIAS, pick the cheapest option.
Rush processing method, do you need the ETIAS sooner? Select the rush option.
Super Rush processing method, your trip is around the corner, and you need the ETIAS now.
How is the Slovakia ETIAS process?
Citizens of El Salvador should follow only three steps:
Fill out the online application with basic information and pick a processing time.
Double-check your details and try not to leave blank spaces. Decide how you want to pay, choose between a credit/debit card or Paypal.
Attach the scan of your passport.
Visit Slovakia with your ETIAS!
What answer will I get in my email inbox?
Citizens of El Salvador will receive the Slovakia ETIAS in their email inbox. iVisa.com will make sure to send the final results to the email address in the application. The Slovakia ETIAS must be printed or saved in an electronic device, so you can show it as soon as you arrive in Europe.
How secure is iVisa.com?
iVisa.com is 100% safe! The iVisa.com team follows the highest security measures in the processing of all travel requirements. iVisa.com has the right expertise to work your Slovakia ETIAS. Choose iVisa.com as plenty of travelers have done already.
Explore more about the iVisa.com services in the customer opinions section.
Where can I find more info?
Dive into iVisa.com main page to learn more about travel documentation. As well, contact our customer support team if you need extra help with the ETIAS process.
Citizens of El Salvador can trust iVisa.com!