Visiting the stunning country of South Africa as a citizen of Egypt can be pretty easy when you know how to get a South Africa visa for Egyptians.
iVisa.com offers you all the help and information you need to get your documents without issues. Take advantage of our expedited services and our outstanding team of experts to get your visa in no time.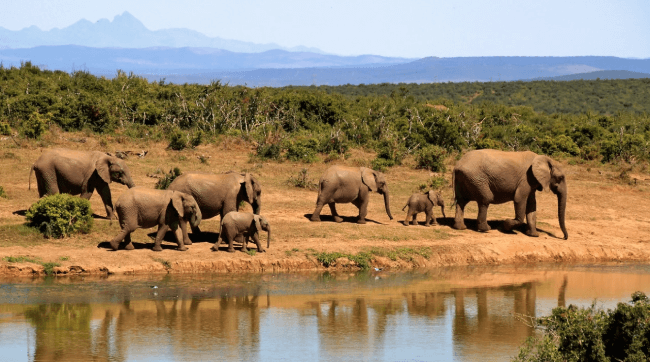 South Africa Visa For Egyptians - Read below for everything you need to know about this travel permit!
Frequently Asked Questions
What COVID-19 requirements do I need to meet before traveling to South Africa?
COVID vaccination certificates are not mandatory to enter South Africa. However, if you are fully vaccinated, and bring your vaccination certificate with you, you won't need to present a negative PCR test or follow a quarantine.
All the approved vaccines by the World Health Organization are accepted.
Partially vaccinated or unvaccinated travelers need to get a PCR test within 72 hours before arrival. A negative test result will be required to board. Children under 5 are exempt from testing.
South Africa Visa For Egyptians - Check our FAQ section to find out the most updated information about the COVID-19 restrictions on entering South Africa.
What is the South Africa eVisa for citizens of Egypt, and how do I apply for it?
The South Africa eVisa is a mandatory travel permit all Egyptians need to process before their trip. You can get it fully online by using our visa services. It will allow you to enter South Africa. It's valid for 90 days.
The application process only takes these steps:
First: Answer the questions in the online form and pick a processing time.
Second: Check your information and decide how you want to pay, whether with a credit or debit card.
Third: Attach the required documents and apply.
South Africa Visa For Egyptians - You can use the South Africa eVisa for tourism.
Which documents do I need to apply for the South Africa eVisa for citizens of Egypt?
To get your South Africa eVisa for citizens of Egypt, you'll only need:
An applicant photo.
A scan of your passport's personal details page.
Yellow fever vaccination certificate.
Proof of accommodation.
Travel itinerary.
Bank statement.
A credit/debit card for payment.
South Africa Visa For Egyptians - There are additional documents you'll need to submit. They will depend on your personal circumstances. We'll notify you at the time of your application.
What are the processing times and fees for the South Africa Visa for citizens of Egypt?
We have different prices depending on how fast you want to receive your South Africa eVisa:
These are the three options:
Standard Processing: 19 business days to process for USD 15.00.
Rush Processing: 17 business days to process for USD 25.00.
Super Rush Processing: 15 business days to process for USD 25.00.
South Africa Visa For Egyptians - Choose the processing time that best suit your needs to get your South Africa eVisa.
Can I rely on iVisa.com?
Of course! We have helped thousands of travelers with all types of travel documents. We can give you a hand with the South Africa eVisa.
South Africa Visa For Egyptians - Head to our user reviews section and check out what our past customers are saying about our services at iVisa.com.
Where could I find more information?
Connect with our customer care agents, who are available at any time for any inquiries you have about the South Africa Visa For Egyptians.
iVisa.com Recommends
Marvel at the Big 5 in South Africa's National Parks.
The Big 5 are elephants, lions, rhinos, leopards, and buffaloes. The must-see list of iconic megafauna of Africa's savannahs.
You can spot the 5 of them in most national parks, but we recommend Kruger National Park. This massive piece of land boasts 9,485 sq km (7523 sq mi) of bushveld, tropical forests, savannahs, and mountains full of local wildlife. You can spot not only the Big 5 but over 140 mammal species and hundreds of birds. This is by far the best spot to go on a safari in South Africa.
But if you want a bit more variety, we recommend that you visit Addo Elephant National Park. Don't get thrown off by its name; there is plenty to see beyond the elephants. This park not only houses the Big 5 and other mammal species, but also offers visitors unique marine additions like the great white shark and the southern right whale.
Now, for those with a soft spot for rhinos, we recommend visiting Hluhluwe-iMfolozi Park in KwaZulu-Natal. This is South Africa's oldest game reserve and was originally founded to conserve and repopulate Africa's rhinos.
But all in all, South Africa is the perfect place to enjoy the magnificent wildlife this continent has to offer.