Traveling to South Africa has never been this easy. Nowadays, Pakistani citizens can opt for the South Africa eVisa. This mandatory travel document is available online, and iVisa.com can provide a simple process to get it. In addition, our platform offers solutions for processing any travel requirement.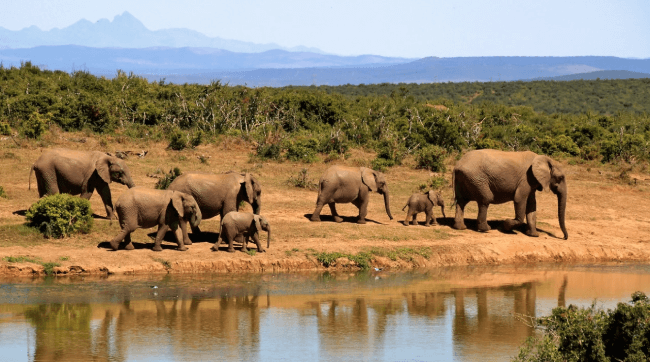 Although the South Africa Visa for Pakistanis isn't available yet on our platform, we can provide all the details about the online procedure. Also, you can have our experts ready to answer your doubts about the South Africa Visa for Pakistanis. There is no longer a need to visit an embassy or consulate because now you can trust our online process.
Frequently Asked Questions
What are the COVID-19 protocols in South Africa?
South African health authorities don't request a COVID-19 vaccine certificate to enter the country. However, you must take a PCR test a maximum of 72 hours before your trip and display the negative results. After that, you don't need to quarantine in South Africa.
Head to our FAQ section for more details about traveling to South Africa during the pandemic. We can also provide information about the South Africa Visa for Pakistanis.
How is the application process for the South Africa eVisa?
The procedure is simple. Make sure to follow these steps:
First: Fill out the online form with your details.
Second: Review your information and confirm everything is accurate. Choose a processing speed.
Third: Pay with a credit or debit card and submit your application.
Expect the South Africa eVisa in your email inbox. Once you have this electronic visa, you can stay in South Africa for up to 30 days.
Explore more about the South Africa Visa for Pakistanis with us.
What are the processing times and prices?
iVisa.com offers these three services:
Standard Processing Time: Receive your travel document within a regular period.
Rush Processing Time: If you need your visa sooner, we can help you.
Super Rush Processing Time: The fastest process for your travel requirement.
What do I need to start?
Before you start, you need these items:
Valid passport: We need a scan of the details page. Your passport must be valid for at least 6 months after arrival.
Applicant photo.
Yellow fever vaccination.
Accommodation confirmation.
Travel details.
Bank statements.
Email address: We will communicate electronically.
Payment method: Decide between a credit or debit card.
We could request more requirements, depending on your application. Continue learning about the South Africa Visa for Pakistanis with our team.
Can I trust iVisa.com?
Positively! We work with strict security guidelines for all our services. We have the tools to help you with the South Africa Visa for Pakistanis.
Go to our customer reviews page and explore more information about our excellent results.
Where can I find more details?
Communicate with our customer support team, available at any time. We can answer your questions about the South Africa Visa for Pakistanis.
Travel to South Africa and trust our services to get your travel documentation.
iVisa.com Recommends
Head to the southeast coast, where you will find the famous Garden Route, running for 200 kilometers and showing the most breathtaking scenery in South Africa. The views from the Indian Ocean and several sites, such as Mossel Bay and the Storms Rivers, will blow your mind. This driving route is popular among locals and tourists and passes through green hills, coastal towns, lakes, and coastal cliffs. Don't miss Knysna, where you can spot dense forests and a sparkling lagoon.
Also, visit the Garden Route National Park, where you can see gorges, pools, and magnificent natural landscapes. In addition, you should explore the Oudtshoorn's ostrich farms and Cango Caves. The Robbers Nature Reserve in Plettenberg Bay is another option. Throughout your trip, you will have some experiences, including elephant tours, whale watching, bungee jumping, and canopy tours.
Explore Kalahari Gemsbok National Park, one of the largest wilderness areas on the planet. The park is one of the most popular sites in South Africa's Northern Cape and the first declared transfrontier park, sharing the area with Botswana. Spot the gnarled camel thorn trees, grasslands, red sands, and incredible blue skies. Take a safari and spot the Kalahari lion, stately gemsbok, meerkats, and birds of prey.