Spain has every kind of destination for its incoming travelers, from calm and quiet cities to noisy and touristic options. And each selection also has a variety of attractions and accommodations that fit every wallet. No wonder citizens of Malaysia are continuously adding Spain as their European destination.
Some tourists are in search of historical architecture; others seek the best-hidden rooftop bars to enjoy the city views. But there are also the classical stops that all visitors must go to, which include the famous local markets to try out the tapas and variety of hams with some wine or sangria.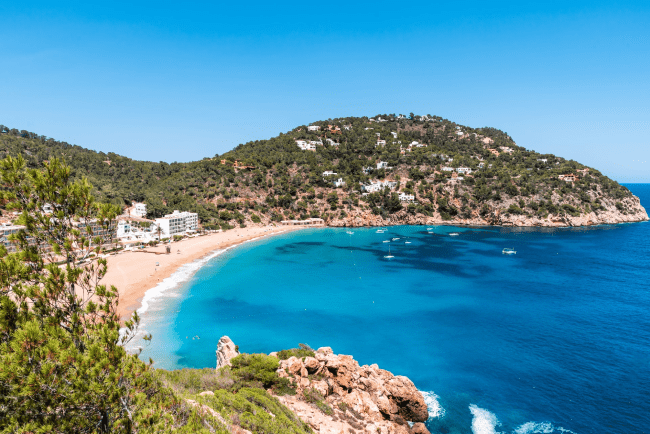 Spain is filled with joy from locals, expats, and seasonal tourists and not even a cloudy day takes away the people's happiness, which makes the destination much more appealing.
Currently, citizens of Malaysia can easily enter Spain because they're part of the Schengen visa-exempt program, but this will soon have a barrier. The Schengen region has decided to implement the use of a travel authorization called ETIAS. It's a digital document that will need to be requested by all travelers incoming from visa-free countries.
The ETIAS application process is very simple and will help to pre-screen the travelers into Schengen to ensure they're not a threat to the destination.
Review the following FAQs related to the Spain ETIAS for citizens of Malaysia and the easy application process done through iVisa.com.
Frequently Asked Questions
What is the ETIAS?
The ETIAS is not a visa, but an attempt of a visa waiver created explicitly for the Schengen region. It will be a required document for all travelers visiting from visa-free countries for short travels such as tourism, business, or medical visits. The ETIAS application process is straightforward but must be done by every incoming traveler that matches the previously mentioned conditions.
Who needs to apply for a Spain ETIAS?
Once the ETIAS is activated, it's a travel authorization that all travelers from visa-exempt countries must apply for in order to enter any of the Schengen countries. It means that citizens of Malaysia that want to visit Spain or any other Schengen destination must apply for the Spain ETIAS before departing. The document will grant multiple entries access to all the Schengen states during no more than a 90-day stay.
For how long is the ETIAS valid for citizens of Malaysia?
Once you apply for the Spain ETIAS, you will get a notification of the results, and this email will also determine the validity of your travel document. All travelers, including citizens of Malaysia, may get an ETIAS valid only for the length of their journey or up to 3 years. During this time, you are only allowed to stay up to 90 days in the Schengen Region.
Can I visit Spain more than once a year with ETIAS?
All travelers from visa-exempt countries that wish to enter any of the Schengen countries must apply for an ETIAS before departing. With the ETIAS, you are allowed to enter the Schengen states multiple times throughout the travel authorization pass. The only condition for all is that you may not stay more than 90 days every 180 days in Spain or many Schengen countries combined.
Which documents do I need to apply for the Spain ETIAS?
The Spain ETIAS application does not request as many documents as a traditional visa. Still, it does ask from the applicant a list of details regarding their travel plans and their past professional and criminal experience.
To complete your online form, you will need:
A biometric passport: So you can provide your contact and personal information as is on the passport. You will also have to upload a digital copy of the information page, so the authorities can verify that the provided information is correct.
An email address: It is needed as your way of communication for notifications and any additional questioning regarding the ETIAS.
Payment method: Required for online fee payment. It can be done with a PayPal account or a credit/debit card.
Can I select a faster way to receive the ETIAS results?
Although you can begin your Spain ETIAS application through the official website, it can be a bit tedious. Applying through the iVisa.com website gives you the advantage of being able to select a faster speed at which to process your application and receive the final results. These are the three iVisa.com service processing speeds:
Standard process option : This is the best option for travelers looking for a safe and trustworthy website but has a low budget and has no stressful rush to get the results delivered.
Rush process option : It's a bit more expensive alternative, but it delivers results faster than the standard time.
Super rush process option : It's the fastest option to get the ETIAS results delivered, but it's also the most expensive one.
How can citizens of Malaysia obtain the Spain ETIAS?
Very different from the traditional process of visa applications, the Spain ETIAS application is done online and only requests a couple of details from the traveler. If done with iVisa.com you only need to follow 3 simple steps and can additionally select a faster processing speed for your document delivery.
These 3 steps are:
Start by filling out the ETIAS questionnaire with your data and choose the most convenient processing speed for your ETIAS results.
Then, you must revise that the details provided are correct and make online payment of the ETIAS fee.
Finally, you need to upload any document requested as part of the application and send the form.
How safe is it to apply for the Spain ETIAS through iVisa.com?
The iVisa.com platform offers the clients quality in their service, and this includes taking care of your information during the entire application process. When completing your Spain ETIAS application process the iVisa.com system protects your details on their secured databases from any external threats or digital leaks.
You can find more information regarding our services and more details here.
Is there more info about Spain ETIAS I can read?
We understand that too much information can be overwhelming and confusing. If these FAQs only created more questions about the Spain ETIAS for citizens of Malaysia, we recommend that you send us a message with your concerns. Additionally, you might also want to check out the iVisa.com website for more information regarding ETIAS and more travel documents.