Spain has opened its borders to a small number of countries in order to continue to control the coronavirus pandemic but still start the economic recovery through tourism. One of these lucky countries is Germany, as being a major EU member state, Spain has allowed German visitors to enter the country. However, like all the other travelers arriving in Spain, citizens of Germany need to follow specific health requirements for this entry. The main process is to get a Health Control Form which you can obtain with iVisa.com! Apply here now.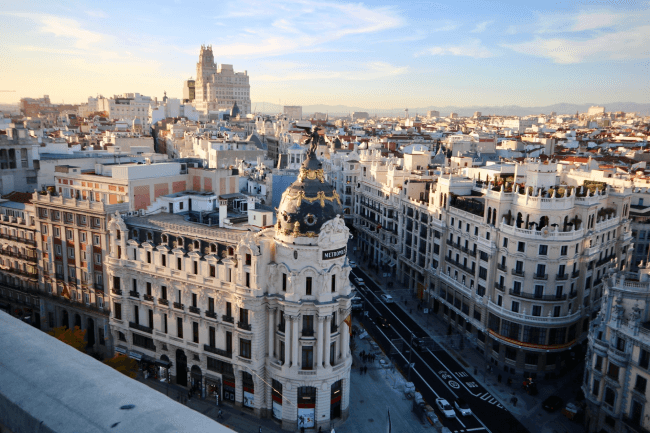 We know you are waiting just to dive into the Spanish summer, visit a major city like Madrid, or dreaming about tasting some Spanish delicacy. If you are a citizen from Germany you are already halfway, as your country is allowed to enter Spain with some special health procedures. We know you want to continue to be safe and the Spanish government has made it possible through the Health Control Form. Continue reading to find out more!
Frequently Asked Questions (FAQs) to enter Spain during Coronavirus
Why do I need a Spain Health Control Form as a German citizen?
As part of the health control measures against the spread of coronavirus, the Spanish government is requesting all international travelers entering Spain to provide a Health Control Form. This is meant to specify general information and health conditions of travelers, in this case, German visitors that intend to visit Spain during COVID-19. It is a mandatory document and there are no exceptions for any traveler, no matter the country.
Do I need a COVID vaccine or vaccination certificate to enter Spain?
Yes, Spain has been taking steps to restore travel within its borders. If you are coming from a high-risk country, in order to enter Spain, you'll need to display your COVID vaccine passport or vaccination certificate.
Accepted vaccines are Pfizer, AstraZeneca, Moderna, Janssen, Vero Cell, and Sinovac. You are considered vaccinated if all doses of a vaccine against SARS-Cov-2 have been administered for at least two weeks before traveling.
Do I need a COVID-19 test to enter Spain?
All fully vaccinated travelers can enter Spain for tourism purposes without any testing requirements (except arrivals from Brazil or South Africa).
Travelers coming from countries that are not on the high-risk list can enter Spain for tourism purposes without any testing requirements (most of the EU & Australia, Bosnia and Herzegovina, Canada, China, Jordan, New Zealand, Qatar, Moldova, Saudi Arabia, Singapore, South Korea, Ukraine, Uruguay, Hong Kong, Macao, Taiwan).

Travelers coming from the UK can enter Spain for tourism purposes with proof of vaccination or a negative PCR test result taken 72 hours before arrival.

Unvaccinated travelers coming from high-risk countries are required to have a negative PCR test result taken 72 hours before arrival OR a rapid antigen test result from a test taken a maximum of 48 hours before arrival. They can only travel for certain important purposes only.
Do I need to quarantine when I get to Spain?
There are no quarantine requirements in Spain, but check the testing FAQ to find out more about testing requirements.
Which countries are considered to be high risk?
High-risk EEC countries: Austria, Belgium, Bulgaria, Croatia, Cyprus, Czechia, Denmark, Estonia, Finland, France, Germany, Greece, Hungary, Iceland, Ireland, Italy, Latvia, Lithuania, Luxembourg, Norway, Poland, Portugal, Romania, Slovakia, Slovenia, Sweden, Netherlands

Third countries: All countries

Exceptions (not high risk): Australia, Canada, China, Chile, Jordan, Kuwait, New Zealand, Qatar, Rwanda, Saudi Arabia, Singapore, South Korea, Ukraine, Uruguay, Hong Kong, Macao, Taiwan
What documents are necessary to get my Health Control Form?
As this is an online process, we just need some specific documents that we are sure you already have:
A passport scan where we can see your information and photo.
An email address to get the outcome of your application, make sure this one is valid.
The payment method: we have different options to pay for the iVisa.com fee: use your Paypal account or pay with credit/debit card.
What will I receive in my email after applying?
In your email, you should get a document from iVisa.com confirming the outcome of your application. Have in hand this document when requested at the airport. Airport officials will take this information in order to confirm your application and then you are set to enter Spain.
The application is waiting for you and will make your trip planning so much relaxed if you do it now! Apply here.
What are the processing times to get my Health Control Form?
We want to make this process as easy as it can get. That's why we offer you three services according to your times, you can evaluate the one that is most suitable for you:
Standard processing: no rush? Great! this service is for you, with just

USD 20.00

we will take care of your application and you can get your document in

24 hours

.
Rush processing: maybe you don't have enough time before your trip starts? with only

USD 35.00

we will work fast enough to have your document ready in just

4 hours

.
Super rush processing: time is out of the question and you need your document now! Get it by choosing our super rush service:

USD 60.00

and you obtain your Health Control Form in

30 minutes

.
How is the process to obtain my Health Declaration?
The process to get your Spain Health Control Form is simple, easy, and 100% reliable. We need just a minimum amount of information from you and you will be ready very soon. Maybe you are not sure how to follow through? We have a support team, with all the necessary expertise to guide you.
First, complete the questions lined in the online form. You also need to select a time to process your application.
Second, confirm your details with the correct information. Choose to pay by Paypal or if easier with a credit/debit card
Third, put your passport scan with the online form and submit the application.
According to the processing time you choose, you will receive your document. Keep this with you when requested at your arrival in Spain. As you see the process goes very smoothly, you are on time to apply!
Why should I trust iVisa.com with my Health Control Form?
iVisa.com specializes in this type of application and you should be certain all your information will be safe with us. We are not the only ones saying this, our customers are always happy to share their experience and you are able to see it here. Remember that we don't work directly with the Spanish government but we know all the procedures to get your Health Declaration.
If I have some doubts, where can I look for more info?
We know you always want to get more information, so don't worry! our customer service team is always willing to help you and get your doubts out of the way.
Don't hesitate any longer and apply for your Health Control Form now!