Two things that you will always find when traveling around Spain are cafés and tapas bars. Both are the best places to meet with old friends and also make new ones, over a few traditional snacks, or while enjoying your cup of piping hot coffee.
The amazing part is that each city has more than one place where you can go to enjoy the tapas, and they have options that fit any wallet. That's what makes part of the Spanish cuisine so accessible; the variety of it offers an excellent selection for both the budget backpacker and the fancy traveler.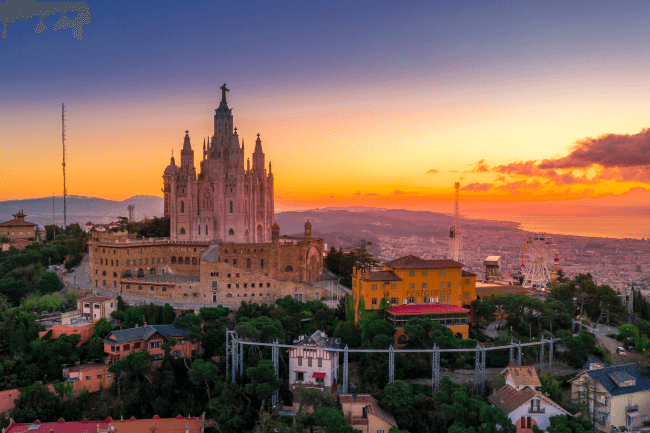 Other than food-wise, Spain is surrounded by beautiful architectural buildings that always like to pose for a shot or two. And you can't skip climbing a hill or two, just to enjoy the beautiful sunsets by the bay, or among the mountains.
The easy travels to and from Spain and theSchengen region will come to a brief halt, only to have a travel authorization requirement. All visitors wanting to enter any of the Schengen countries and coming from visa-exempt countries will have the mandatory task of applying for an ETIAS before arrival. The ETIAS works as a prescreening process to those arriving only to ensure that illegal immigration and terrorism is reduced in the region.
For more details about the Spain ETIAS for citizens of Hong Kong, read the FAQs below. Information includes steps for the ETIAS application process and tips on how iVisa.com can make it more accessible.
Frequently Asked Questions
How useful is the Spain ETIAS for citizens of Hong Kong?
The Spain ETIAS will soon be a mandatory document for any traveler from a visa-free country wanting to enter the Schengen region. It will work as a prescreening process of these incoming visitors for the Schengen authorities, but will still keep the benefit of multiple entries and easy access among countries for the travelers. The main limitation undergoing the ETIAS application process is that you can only stay a maximum of 90 days in Schengen territory.
Are all citizens of Hong Kong required to get a Spain ETIAS?
All citizens of Hong Kong that wish to enter Spain or any other Schengen country are required to apply for the ETIAS before traveling. This is needed for travelers of all ages with the only variation that those younger than 18 years old, and over 70 will probably get a lower price for the entire ETIAS process.
Can I visit every European Union country with a Spain ETIAS?
Not all European countries are part of the European Union, or are they Schengen. Having an ETIAS authorization document allows you to visit all Schengen countries, whether they are part of the European Union or not. The ETIAS is required only by travelers from Schengen visa-exempt countries and for a short stay of maximum 90 days in the region.
Is the Spain ETIAS validity the same for all travelers?
Validity of the Spain ETIAS is not based on the citizenship of the travelers but on the full information provided on the ETIAS application form. The authorization time given for your ETIAS will be between the planned length of your journey and 3 years. If your passport expires before your ETIAS validity is done, you will need to apply for a new ETIAS to keep traveling.
Can citizens of Hong Kong stay in Spain for a month with ETIAS?
Yes, they can. Although your trip is determined by the validity, when the ETIAS is given you are allowed to stay up to 90 days every 180 days in the Schengen region. You can decide to stay the entire time in one Schengen country, or use the multiple entries option and visit more than one. You must remember to include on your ETIAS application form in which country you will start the trip and move from there.
Are many documents needed to apply for the Spain ETIAS?
Very different from a traditional visa application, when applying for the digital ETIAS you only need three pieces of information:
Passport and a scanned copy of it so that authorities can check that the information you include is correct.
Email address so that you can stay updated and informed on all ETIAS notifications.
Method of payment to pay for the processing fee. It can be done through a PayPal account or a debit/credit card.
Is there a faster process to get the Spain ETIAS?
There are currently no specifications to how long the Spain ETIAS application process takes. But to get your ETIAS documents delivered faster, you can apply through the iVisa.com platform and select how quickly you want your documents to be processed. We still don't have the exact number of hours the process can be made quicker or the cost of this premium service, but we can explain the difference between the options.
The current iVisa.com processing speeds are:
Standard process alternative: will be the slowest option to getting your ETIAS results, but it's the more budget-friendly alternative.
Rush process alternative: is a faster solution to the standard speed to receiving your ETIAS notifications, but it implies a higher fee.
Super rush process alternative: is the fastest option to obtaining the ETIAS results but it means a higher cost.
How is the Spain ETIAS application for citizens of Hong Kong?
The application process for the Spain ETIAS for citizens of Hong Kong and all travelers requesting one is the same, easy. By starting your application with iVisa.com, you only need to follow three simple steps and it's all done in no time.
Begin your iVisa.com application with these 3 steps:
First you need to fill out your personal detail on the online application form and determine a processing time you want to be applied to your submitted form.
Second, you must revise that the details provided above have been correctly typed, and make online payment.
Third you need to double-check that all requested documents have been uploaded to the form and that your contact details are correct. You can finally click on Submit.
After submission, you must only wait for your ETIAS results to be delivered based on the processing time you requested.
Is my information protected on the iVisa.com platform?
When applying for ETIAS through the iVisa.com platform, your information is protected from start to finish. The platform works with a reliable security system that protects your data at all times, even after applying, by storing it on their secure database.
You can always contact the 24/7 contact support team if you have any problems while applying.
Here are some reviews from our past clients about our services and website security.
Where can I get more info on the Spain ETIAS?
If you are looking for more information regarding the Spain ETIAS for citizens of Hong Kong, you can send us an email with your questions and our customer service team will help you out. You can also find additional details about ETIAS and other electronic documents on the iVisa.com website.
Click here for more details exclusively about the Spain ETIAS.