Besides sunshine, Spain offers a rich cultural heritage and beautiful natural landscapes. Tourists have a lot to explore, from Basque Country in Northern Spain to historic cities like Seville in Southern Spain. There are so many options that it can be hard to plan your Spanish itinerary.
iVisa is here to help! We will introduce you to 10 of the best places to visit in Spain. Are you ready for flamenco dancing in Spain or basking in the sunshine? Keep reading!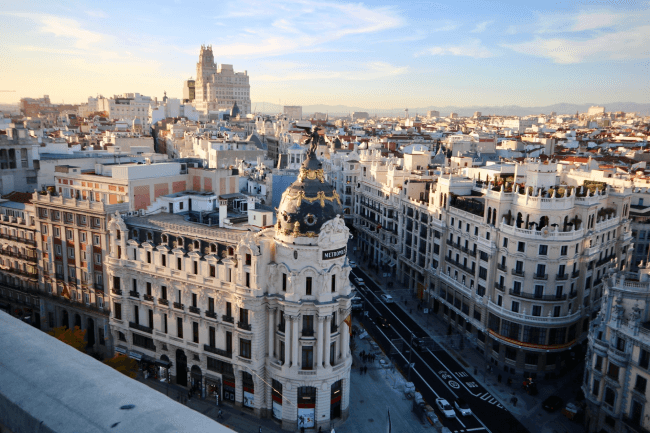 The best places to visit in Spain you can't miss
From vibrant cities to charming mountain villages, here are the top places to visit on your Spanish adventure.
1. Plaza Mayor in Madrid
This square is located in the heart of the old city center of Madrid. It's the perfect place to start exploring the capital city of Spain and experience the real Spain. The old town is perfect to drink coffee or have lunch on one of the lovely terraces, watch street artists working, and dive into the rich local history.
2. Royal Palace of Madrid
The official residence of the Spanish royal family is one of the largest palaces in Europe. It was built in the 18th century by Philip V on the site of the old Alcázar fortress. Learn more about the history of Spanish royalty, see remarkable works of art, and be delighted by the incredible architecture in Baroque style.
3. Prado Museum
Officially known as Museo Nacional del Prado, this museum in Spain's capital houses the world's richest and most impressive collection of Spanish paintings, most dating back to the 19th century and earlier. The collection includes works by Spanish names such as El Greco, Velázquez, and Francisco de Goya.
However, you can also admire other styles of European paintings, with works from painters such as Peter Paul Rubens, Rembrandt, and Anthony Van Dyck.
4. Parque del Buen Retiro (El Retiro Park)
El Retiro is one of the best places to visit in Madrid. It belonged to the Spanish Monarchy until the late 19th century, when it became a public park. These 118 hectares in the city centre are a fantastic place to take a stroll and enjoy a green space in an urban area. It's also full of monuments, galleries, statues, lakes, and magnificent buildings.
5. Park Güell
Barcelona is a beautiful city and one of the best places to visit in Spain, with many of Gaudí's fantastic works. One of them, Park Güell, is a UNESCO World Heritage Site and architectural masterpiece. Colorful mosaics cover the surface of the distinct elements, an unprecedented technique of Gaudí. This amazing park also offers a magnificent view of Barcelona.
6. La Sagrada Família
The impressive Basilica of the Holy Family is a must-see in Barcelona. Whether you're religious or not, you'll be delighted by Gaudí's architectural masterpiece. He made the original plans in 1883 when the construction started, and every architect involved has remained true to them. And did you know La Sagrada Família is not even finished yet?
7. Parque de María Luisa (María Luisa Park)
Seville is a city in the south of Spain and offers many attractions and interesting sites. This public park is one of them, having a botanical garden with hundreds of exotic trees and historical fairy-tale buildings. The area served as the private gardens of the San Telmo Palace until Maria Luisa Fernanda de Borbón (the Duchess of Montpensier) donated the land in 1893.
8. Catedral de Sevilla
Seville is a historic city, with many fantastic buildings to visit. Its cathedral, with an impressive structure, is considered the largest gothic cathedral in Spain. The immense Christian Gothic cathedral began construction in 1401 and was completed in just over a century. In addition to the historic architecture, the tower of La Giralda offers fantastic views.
9. Basílica de Santa Maria del Coro in San Sebastián
Another impressive cathedral with fine architecture, this 18th-century Baroque church is located in the heart of the Old Town of San Sebastián. The detailed facade has two towers and a niche with a statue of Saint Sebastian. The interior features delicate Neo-Gothic vaulting and impressive pillars with ornate capitals.
10. Sierra Nevada National Park
This is the spot if you are looking for adventure and great hikes in Spain. The Sierra Nevada Park is in the south of Spain and offers mountains, rivers, and streams, a perfect place for nature lovers.
Stunning beaches in Spain
In addition to the historical sights, Spain has a spectacular coastline. If you're planning to travel in the summer, don't miss a chance to enjoy one of the beautiful beaches.
While the Majorca and Menorca Islands in the Mediterranean Sea offer charming streets and breathtaking beaches to relax, the Costa del Sol is one of the best coastal regions in the South. It makes a great day trip from Malaga or Gibraltar.
Ibiza town is a famous island city, offering sunny beaches and also a vibrant nightlife scene. And lastly, not exactly nearby but still worth visiting, Spain's Canary Islands in the North Atlantic boast beautifully preserved parks and pristine beaches.
There are options for all types of tourists!
Map of Spain: Best places to visit
Check out more travel tips in our ultimate Spain Travel Guide on YouTube.
Do you need a visa to travel to Spain?
Spain is part of the Schengen Area, which means you need a travel document to visit. You can use our Visa Checker Tool to see if you have to apply for a Spain Schengen Visa or Spain ETIAS.
With the Spanish Schengen Visa you can travel freely among the 26 Schengen countries, including Spain. The visa is valid for up to 90 days and allows traveling for tourism, business, or family purposes.
On the other hand, the Spain ETIAS is a travel permit for visa-exempt nationals. Non-EU citizens of the 62 eligible nations are allowed to enter the Schengen zone for up to 90 days for tourism or business purposes with this travel document, which will be implemented in 2023.
You can rely on iVisa guidance to make the process straightforward! Apply now with iVisa, and let's explore Spain!
If you have any questions about your trip to Spain, feel free to contact us via online chat or email at [email protected].