Known for its summer beach festivals in Ibiza and La Tomatina event in Valencia, there's no doubt why travelers seek a relaxing time of vacations in Spain. And with Japan being part of the Schengen visa-exempt program its citizens are very fortunate to travel easily to the Spanish lands.
Go to Spain for a cultural journey of historical buildings in most of their cities, or go in search of the most touristic or less frequented beaches to relax by the bay. You can also choose to focus exclusively on their cuisine and get to enjoy each of their tapas, hams, and more at a market food for a low price. Or why not sit by the pedestrian walk near the beach and try local paella with a glass of rich sangria.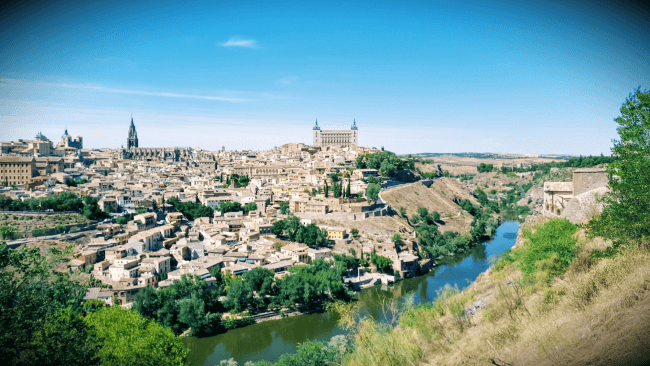 Visits to Spain by citizens of Japan and other travelers will be limited with the activation of ETIAS. It will be a mandatory travel document, and each visitor must request their ETIAS before departing their country of origin and heading to the Schengen region. They will still be granted multiple entry conditions between Schengen countries, while they stay, no more than 90 days in total.
The following Frequently Asked Questions will guide you through the Spain ETIAS process for citizens of Japan. There also are detailed steps on how iVisa.com can help get your ETIAS application done faster.
Frequently Asked Questions
How does Spain ETIAS work?
An ETIAS is a digital pre-screening process meant to apply all incoming visitors from visa-free countries into the Schengen area. Part of the application process requires travelers to include information about their planned trip around the Schengen states, and provide professional and personal background details.
The entire process is designed for the Schengen governments to analyze the data and determine if the traveler is or isn't a possible threat to the destinations. The final purpose of the Spain ETIAS is to reduce illegal immigration and terrorism inside the Schengen area.
Does every traveler need a Spain ETIAS?
The Spain visa waiver or ETIAS will only be required for those travelers who are nationals of any Schengen visa-exempt country like the case of Japan. The ETIAS application process is relatively easy but still takes time to fill out and must be done by citizens of all ages. The only difference will be seen in the final price for travelers under the age of 18, or over 70.
Which is the average Spain ETIAS duration for citizens of Japan?
There are still no exact numbers on the validity of the Spain ETIAS travel documentation. Still, the final period is determined on your application process entirely, and not specifically on your citizenship. The average validity of Spain ETIAS for citizens of Japan or any applicant will be the short duration of our trip and up to 3 years.
How many days can I travel with Spain ETIAS?
Once you get your ETIAS application results, you will be allowed multiple entries to any of the Schengen countries. Your travels will only be limited to the validity of your ETIAS travel authorization and the length of your stay.
Because the ETIAS is created to register short-term travelers, you can only stay 90 days in one or more Schengen states every 180 days.
Which documents do citizens of Japan need for the ETIAS application?
Unlike the traditional visa process, the Spain ETIAS application form for citizens of Japan requires only three elements to complete the questionnaire. These pieces of information are:
Your valid passport: It shouldn't be older than 10 years and must have at least 3 months of validity before needing renewal. The passport will be required to provide our personal data, and the form may also request that you give a scanned version of it.
Your payment method: To pay the online process fee, you can provide a valid PayPal account or a debit/credit card.
Your current email address: Email is the contact point for you to receive any notifications regarding the ETIAS process.
Can I get my Spain ETIAS results faster?
There hasn't been an official launch of ETIAS yet, which is why iVisa.com can't provide exact prices or processing times. iVisa.com does, however, provide information about the three processing speeds they will offer in general to make your application process faster.
Once you start your Spain ETIAS application process you can specify how fast you will get your results. The option will not impact the final results of your document.
These are the processing options offered by iVisa.com:
Standard process: It is the most affordable processing option, but it takes the longest to deliver final results.
Rush process: This process takes less time to deliver results, but it's not as affordable as the standard process.
Super rush process: It is the most expensive process option but is definitely the fastest way to get your results in no time.
Which is the Spain ETIAS application process for citizens of Japan?
The application process for the Spain ETIAS for citizens of Japan and any traveler can be done on the official website, but it usually takes longer to finish, and minutes are valuable these days. By applying through the iVisa.com platform, the process can be finished in a couple of minutes, and you may request a faster speed of processing for your application form.
To get the application completed with iVisa.com you must follow these steps:
First, fill out the application form with your personal data and choose the process speed you will want to use for your application results.
Second, make sure the information provided in the first step is correct and proceed to make online payment.
Third, check that all the information and requirements have been provided throughout the form. Then, click on submit.
Once done, you can relax and wait for the results to be delivered in the selected amount of time.
Can I trust iVisa.com with my details to apply for ETIAS?
When applying for the ETIAS authorization through the iVisa.com platform, your information is protected from start to finish of the entire process. The iVisa.com service is designed with a reliable security system to protect your data throughout your online application and then stored safely on the iVisa.com database.
Read some reviews about our services for more details.
Where can I find additional information on the Spain ETIAS?
Because it's a brand new idea to execute, we suggest you visit the iVisa.com website for more information about the Spain ETIAS for citizens of Japan. You can also contact our customer service team for guidance on how to find the data or to help you resolve a specific question about the matter.