Going for a bit of a touristic trip around Spain doesn't seem so terrible when you're ready to enjoy not only the big cities but discover the small towns too. Although some attractions are hidden, Spain is full of volcanic views, glistening coastlines, and even a cable car to enjoy the scenic sights.
It's a destination perfect for every kind of traveler to enjoy short or long trips around the 44 cities and smaller towns. With a mixture of communities among the Spain country, you will find each town and region has their traditions, their version of a specific dish, or even giving a twist to the classical beverages.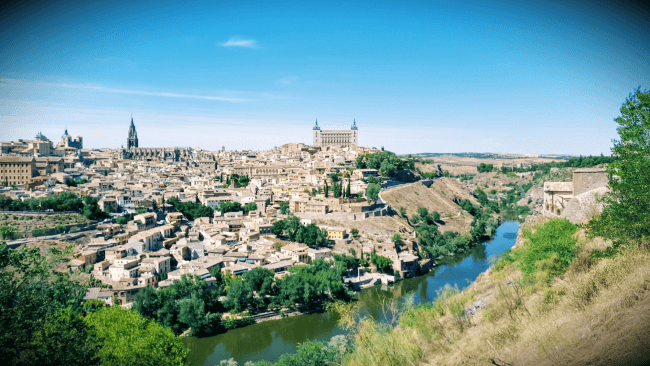 The essence of the Spanish history and main cultural traditions, such as preparing tapas and paellas, and having brilliant UNESCO Heritage sites, is seen across all cities of the land. There might be some differences, but there is no doubt that a visit to Spain is not complete if you only focus on Madrid and Barcelona.
Downside to these travels is that to increase border control and reduce cases of terrorism, the Schengen authorities have decided to create a travel authorization document called ETIAS. Applying for an ETIAS will only be required for visitors incoming from visa-free countries and will work as a prescreening process of their information before arrival.
Follow this brief article that shares the most essential facts and information regarding the Spain ETIAS for citizens of Georgia. There is also specific information about the ETIAS application process and the benefits of the iVisa.com service.
Frequently Asked Questions
What will the main purpose of the Spain ETIAS be?
The Spain ETIAS has been created by the Schengen authorities to analyze the traveling information of each passenger before their arrival, and that way increase their border security and reduce illegal immigration as well as terrorism. The ETIAS will limit the free movement around the Schengen region for traveler from visa-exempt countries.
Do Georgian children need to request a Spain ETIAS?
All travelers that are planning on visiting Spain or any of the Schengen states will have to consider an ETIAS application in their itinerary process. The document is only needed for travelers from visa-exempt countries, but it's mandatory for citizens of all ages.
Unless indicated differently, all foreigners will need it regardless of their age, but those younger than 18 years old, or older than 70 will probably pay a lower fee.
Which countries are citizens of Georgia allowed visiting with an ETIAS?
The Spain ETIAS authorization for citizens of Georgia allows them to travel easily among the Schengen region countries. You are granted multiple entries to these destinations while your ETIAS is valid, as long as you don't stay more than 90 days in total during the entire trip.
For how long can I get my ETIAS permit?
We currently don't have the specific information about the criteria to give travelers the ETIAS and their final validity. But, the ETIAS validity will be based on your application form information, so the final decision can be for the length of your trip or up to 3 years. Once invalid, you can reapply for a new authorization.
How many days total are citizens of Georgia allowed to stay in Europe with an ETIAS?
Once you obtain your ETIAS application results, you can travel around all the Schengen region countries easily with the multiple entry option. The ETIAS allows you to stay up to 90 days maximum every 180 days, and these can be for one single Schengen country or plenty.
Which documents are required for the ETIAS application?
The convenient and digital Spain ETIAS application does not require many documents from the traveler to get the process running. Its main purpose is to be able to compare your personal information to the registered notes on international databases and verify the authenticity of your data.
The pieces of information you will need to have at hand while filling out your application form are:
An email address will be needed as your contact information so you receive all information regarding ETIAS on time.
A passport for you to provide your personal details on the application form, and you must also have a scanned copy of it to submit with the form.
Payment method to pay the service fee. This can be through a credit/debit card or PayPal account.
How complex is the Spain ETIAS application for citizens of Georgia?
You might not believe it, but getting your Spain ETIAS application for citizens of Georgia is not at all complicated or complex. The application can be made on the official website, or for an easier and faster process, you can use iVisa.com. By completing your form on the iVisa.com website, you only need to follow three simple steps and can even request a faster processing speed for your application file.
These are your three easy iVisa.com steps to apply for ETIAS:
First you need to fill out the ETIAS application form with your personal info and pick how fast you want to receive your results.

Standard processing alternative: Is currently the most affordable and convenient option, but it takes longer to obtain your final ETIAS results.
Rush processing alternative: Although it's a faster way to get your ETIAS results delivered, it does imply a higher cost.
Super rush processing alternative: Is the fastest option to getting your ETIAS results on your inbox for a higher price.

The second step requires you to check the details typed in the previous step and ensure they are correct. With that, you can make the fee payment.

Lastly, you need to review the information in general and attach any document that has been asked throughout the application form. Once done, you can submit the form.
How trustworthy is the iVisa.com service for my ETIAS application?
The iVisa.com service includes a practical way to complete your ETIAS application form and also security software to protect your personal information during the entire application process. The security system is applied to the website and databases to ensure your details are safe from any digital threats.
Here are some of our client reviews for you to verify our statement.
I need more information about Spain ETIAS, where can I find it?
There are many sites where you can find information about the Spain ETIAS for citizens of Georgia, but scrolling through them can be quite exhausting. We suggest you visit for iVisa.com webpage for specific details about the ETIAS application and its process in general.
You can also contact our Customer Service Team to solve your questions about the topic. Read all the additional information regarding ETIAS you need to know here before you start planning out your future travels.