Pamplona is famous for many things, and the festival of San Fermin is probably the most named. The festival of San Fermin is a week-long celebration held annually in Pamplona, a city located in Navarre, northern Spain. This celebration usually starts at noon on July 6 and continues until midnight on July 14. During those days, there are many Pamplona activities you can try, from watching the fireworks at night to enjoying the famous "Chupinazo" in the Ayuntamiento Square.
San Fermin is one of the biggest celebrations in the world, and you cannot miss it at least once in your life. Those who have experienced the San Fermin festivities in Pamplona say that it is an unforgettable experience that will surely leave you with many happy memories for the rest of your life.
If you want to learn more about Pamplona activities, including what to do by yourself or with family members, then continue reading below. Besides, in this article, you will also learn all about the travel documentation required, including the Spain Health Control Form and the eMed self-testing COVID-19 kit (if you're a US citizen).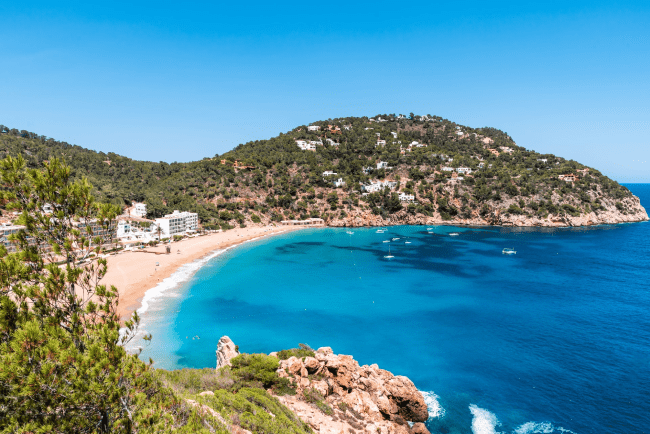 What you need to know about Pamplona
What is "Pamplona" and what do people celebrate?
Pamplona is only the short name for the festival of San Fermin, which is a week-long, historically celebrated festival held in Pamplona. It starts on July 6 and ends on July 14, when the popular song "Pobre de Mi" is sung at night.
In Pamplona, from the opening Chupinazo event on the 6th of July, there is room for all types of people of different ages that can find their particular corner to have a good time. See what kind of Pamplona activities you can do by reading the questions below.
When is Pamplona (Festival of San Fermín)?
The festival starts at noon on July 6 and continues until midnight on July 14. Keep in mind that during those days there are numerous activities you can try.
What Pamplona activities can I enjoy during the Festival of San Fermin?
The Running of the Bulls is the most famous event in the festival of San Fermin, but it is not the only one. There are other Pamplona activities you can enjoy yourself or with family or friends between July 6 and 14.
For example, you have the "Chupinazo," which is the opening festival. It marks the opening of San Fermin by setting off a firework "chupinazo" (or txupinazo in Basque). This rocket is launched at noon on July 6 from a city hall balcony with numerous people celebrating the beginning of the festival.
There's also the Saint Fermín procession, which is one of the most important Pamplona activities. It is celebrated on July 7, when thousands of people follow the 15th-century statue of Saint Fermin.
You can also enjoy the Giants and Big-heads parade, many fireworks at night, and traditional sports activities.
Traveling to Pamplona
Before getting ready for your trip to Pamplona, you have to make sure that you have all the needed documents on hand first. You may need to apply for a tourist visa, depending on your country of origin. Additionally, all visitors, including visa-waiver countries, must get the Spain Health Control Form before arriving in the country. With iVisa.com, you can apply for this document without much effort.
U.S. visitors will probably require a COVID-19 test result to return to the US. Testing can be more comfortable than ever if you use the eMed self-testing COVID-19 kit online before your travel to the US. Bear in mind that you can self-test within the 24hour period before your return to the US.
Frequently Asked Questions
What are the current COVID requirements to visit Spain?
This information is often changing depending on many factors, which is why we recommend you to take a look at our Spain Health Control Form product page to obtain the most recent information about this topic and therefore visit Spain safely.
To see more information about this document and the Pamplona activities, please read below.
What is the Spain Health Control Form?
The Spain Health Control Form is a travel document that the Spanish authorities ask for visiting Spain. It was designed to decrease the spread of COVID-19, which is why it is obligatory for all travelers.
How to apply with iVisa.com?
It's very easy to apply for your Spain Health Control Form with iVisa.com. You only have to fill out an online application form, but first, remember to have the following items on hand:
Your passport
A scanned copy of the passport's main page
Your email address to obtain the document
A valid debit or credit card to pay for the fees.
To learn more about the Pamplona activities, read below.
Cost/processing times?
You have to pay for your Spain Health Control Form when applying with us, but bear in mind that it will save you a lot of time and effort. Besides, you can choose the best price for you according to the processing speed you prefer. These are your options:
Standard Processing -

24 hours

-

USD $48.49

Rush Processing -

4 hours

-

USD $84.99

Super Rush Processing -

30 minutes

-

USD $149.99
How safe is iVisa.com?
You can feel very safe when using iVisa.com because we provide a reliable system that guards its database, so your private details won't get leaked. If you still have questions or doubts about it, then reach out to our comments section page at any time. You can also read below to learn more about Pamplona activities.
Where can I learn more about the Pamplona activities during San Fermin?
To learn more about Pamplona activities and how to enter Spain safely, please contact our customer service agents. They are always ready to help you!
iVisa.com Recommends
Spain is home to many amazing cities, including some of the most iconic in Europe like Madrid and Barcelona.
Barcelona is one of Europe's top destinations and a place where anyone can spend a whole week. Tourist spots abound, and the charming atmosphere can be appreciated from the greenish courtyards, or the classy restaurants and cozy coffeehouses.
This city was home to the big inspiration in Antoni Gaudi, one of the most famous architectural artists during the 20th century. He chose Barcelona as his canvas, and that's why you can nowadays visit impressive places like Sagrada Familia (which is still under construction) and the Parc Güell.
The capital city, Madrid, is another must-see when visiting Spain. It is home to the most famous Spanish museums, internationally recognized, like the Prado Museum. Besides, Madrid is home to the Royal Palace, the Real Monasterio de las Descalzas Reales, and the large Plaza Mayor.
Seville is another perfect spot to enjoy narrow streets and charming plazas that change from the huge squares in Madrid. This city is attractive for its cozy vibes and small-town feel. Be ready to visit Pamplona soon! Let us help you with the travel documentation so that you can focus only on what you like!