We are sure you have heard of Santiago de Compostela in Spain. It's the traditional final stop of the pilgrimage called Camino de Santiago. Catholics believe the site is where the Apostle St. James was buried, which makes it a holy place. Visit the pilgrimage museum, where you can see records of the faith and devotion of Catholics. Keep exploring Spain!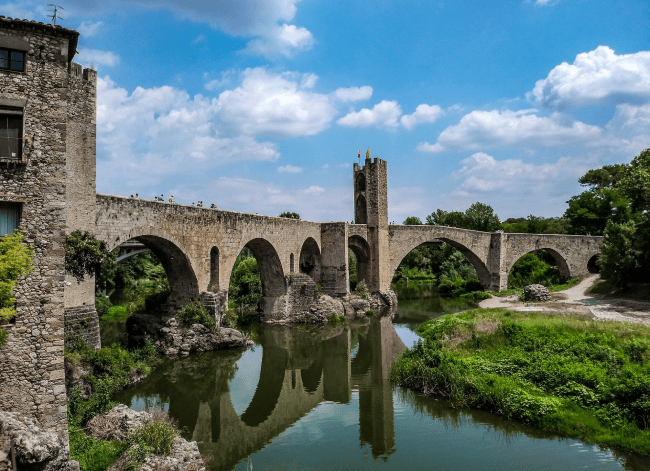 International travelers, like citizens of Saint Kitts and Nevis, will need to acquire ETIAS. The Spain ETIAS is an authorization approved by the European Union.
The Spain ETIAS will be ready soon, and iVisa.com can help you with the process. iVisa.com offers a fast, simple, and trustable service.
Read our next FAQs about Spain ETIAS.
Frequently Asked Questions (FAQs)
What is an ETIAS?
ETIAS is the European Travel Information and Authorization System. The ETIAS is the new requirement for incoming visitors entering Spain.
Due to high crime rates and irregular immigration, EU authorities have decided to collect visitors' details through ETIAS to stop criminals from entering European countries.
I'm a citizen of Saint Kitts and Nevis. Can I apply for Spain ETIAS?
Yes! Citizens of Saint Kitts and Nevis are eligible for the Spain ETIAS. Over 60 states around the world don't require a visa to visit the Schengen zone. For this reason, these countries will need an ETIAS. In this case, Saint Kitts and Nevis don't need a Schengen visa, so its citizens must obtain an ETIAS.
Is the Spain ETIAS valid for all European countries?
The Spain ETIAS is valid for the 26 states of the Schengen zone. Your ETIAS won't give access to all countries in Europe, just the ones in the Schengen zone. Use the iVisa.com Visa Checker and confirm the travel documents you need for every country you want to visit.
What is the validity of Spain ETIAS?
The validity is three consecutive years since the issued date. Citizens of Saint Kitts and Nevis can stay up to 90 days in a 6-month period in the Schengen zone.
Discover more about the Spain ETIAS application here.
What info and docs are requested?
Citizens of Saint Kitts and Nevis must complete the electronic form with name, birthplace, nationality, education, and employment. Also, they should answer questions related to safety, such as criminal past, travel history, and medical conditions.
Collect the next items too:
A passport scan that you will attach to the ETIAS application.
A valid email address.
Payment methods, iVisa.com has two alternatives for payment, either you pay with a Paypal account or use a credit/debit card.
What are the processing times and fees?
Standard processing service when travelers can wait an average period by paying the lowest fee.
Rush processing service, in this case, iVisa.com can work faster in the ETIAS requirement.
Super Rush processing service, the Spain ETIAS as soon as possible.
What is the process?
Citizens of Saint Kitts and Nevis can follow only three steps:
Fill out the application with personal details and choose a processing time.
Review the online form and try not to leave blank spots. Decide how you want to pay, whether with a *credit/debit card or a Paypal account**.
Attach the passport scan.
Visit Spain with your ETIAS soon!
Why do I need an email address?
Spain ETIAS is an electronic process. For this reason, once travelers obtain it, they will receive it by using an email address. Citizens of Saint Kitts and Nevis must provide a valid email address if they want to receive the ETIAS authorization without any issues.
I'm traveling with children. Do they need a Spain ETIAS?
Any traveler who is exempt from a Schengen visa needs to have an ETIAS before arrival. The measure doesn't disregard children or anybody by age.
Children need to have Spain ETIAS too! Choose iVisa.com and obtain the authorization!
How secure is iVisa.com?
100% secure. iVisa.com handles hundreds of travel requirements every day with the highest security standards. Check our clients' reviews and be sure iVisa.com can give you the best service for the ETIAS application.
How can I obtain more information?
Navigate the iVisa.com main page to learn more about travel requirements. Besides, connect with our customer support team or write to [email protected].
Citizens of Saint Kitts and Nevis can trust iVisa.com with the Spain ETIAS process!
iVisa.com is here to help you! Don't hesitate to contact us at any time!