If you are making last-minute travel plans and you need to take a flight that has a connection in Sri Lanka, there is a possibility for you to purchase a Sri Lanka transit visa on arrival. However, you can only do that if you land at Bandaranaike Airport in Colombo. Any other airport in Sri Lanka does not have this facility. Keep in mind that if you do not leave the transit zone, you are not required to apply for a Sri Lanka transit visa.
As mentioned above, the Sri Lanka transit visa on arrival is for last-minute plans. If you do not have the necessary time to apply for an ETA before departure, this is your best shot.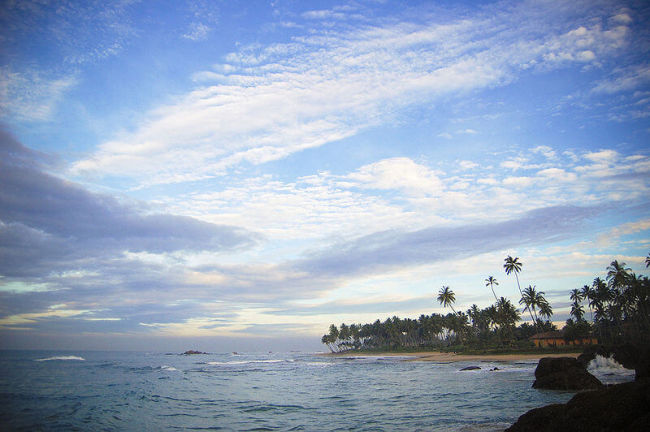 Frequently Asked Questions (FAQs)
How can I check my eligibility to the Sri Lanka ETA?
To check if you are eligible to apply for a Sri Lanka ETA you can use our visa checker. Just select your nationality and Sri Lanka as your destination and you will see the info.
What is a Sri Lanka Electronic Travel Authority (ETA)?
The Electronic Travel Authorization (ETA) is an official document that allows travelers to enter and travel within Sri Lanka for tourism purposes.
How long is the Sri Lanka ETA valid for?
The ETA has a validity of 180 days after issued
This visa grants Double Entry for a maximum stay of 30 days in Total.
What do I need to apply for a Sri Lanka Tourist ETA?
We require the following to submit your application:
Passport with at least that is valid for at least 6 months from the intended arrival date.

A credit/debit card or PayPal account for the payment.
What are the processing times and prices?
For the processing time of your Sri Lanka ETA, we propose you three options for the processing time and price:
Standard processing – your ETA application is processed within 19 Business Days, and the price is USD 55.00 (service fees included).

Rush processing – you will receive your ETA within 17 Business Days, and the total price of it is USD 80.00 (service fees included).

Super rush processing – this is the fastest option. You will get your ETA in only 15 Business Days, and you will be charged USD 105.00 (service fees included).
Click here to start your application.
How does the Sri Lanka ETA work?
In January 2012, the Department of Immigration and Emigration of Sri Lanka introduced the Electronic Travel Authorization (ETA) system for travelers visiting Sri Lanka. Travelers from almost any country in the world can now apply online without having to visit an embassy or consulate.
The ETA is an official authorization for short-term visits to Sri Lanka and is issued electronically. Applicants will receive their visas via email after completing the application form with the necessary information, and once the online payment is completed. Simple, right?
How long does it take to apply for a Sri Lanka ETA?
Less than 10 minutes. That's all. You will need to send your application to Sri Lanka with iVisa. We will take care of the rest and shortly we will let you know the status of the application by email.
How can I apply for an ETA?
The application form is really easy and consists of three simple steps:
The first step will ask you to fill in your general information. You also need to choose the processing time from the options mentioned above.

The second step will ask you to revise step one and make the payment. You can use a credit/debit card or a Paypal account for the payment.

The last step consists of a questionnaire. Other documents may be required as well, but it depends on personal circumstances.
Click here to start. After you are done, you submit your form and wait for your ETA to arrive. In case you need assistance to fill your application, iVisa has a fantastic support service that you can call 24/7.
What happens after I have applied?
Once you submit your application, you just need to wait for your visa to arrive by email in the timeframe you chose No need to deal with the embassy. We do it for you so you don't lose valuable time.
What does the Electronic Travel Authority look like?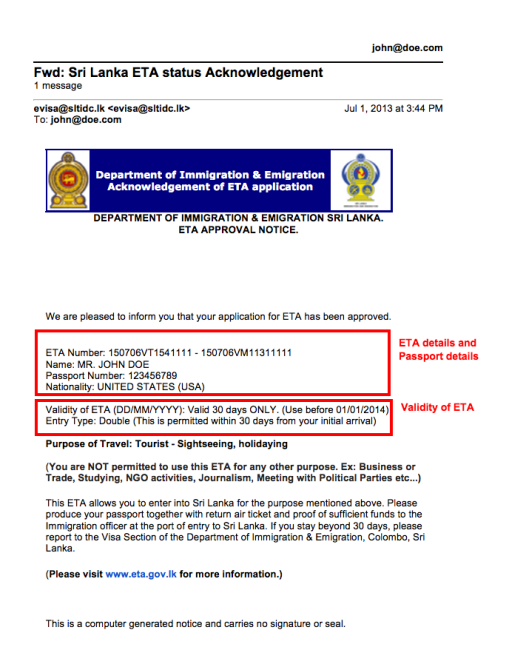 Do I need a ticket before I apply for the Sri Lanka ETA?
No. Your Sri Lanka Visa ETA can be obtained before booking your flight ticket.
I will be in transit in Sri Lanka, do I need a visa?
No. You are exempt from the Visa to Sri Lanka ETA in the following cases:
Crew members of flight/ship.

Following category is exempt from ETA Processing Fee.

Children under 12 years of age.

Transit permitted ONLY for 48 hours.
I will travel with my child. Does my child need a visa to travel to Sri Lanka?
Children under the age of 12 are exempt from Visa to Sri Lanka Processing Fee.
I made a mistake on my application. Can I modify the eVisa after it's issued?
No, we can not change or modify any details on the e-Visa once it's issued. If you do, however, realize you made a mistake before your visa has been issued, then please contact us ASAP via online chat or by sending an email to help@ivisa.com.
Is iVisa secure to apply for the Sri Lanka ETA online?
Yes. We have been helping thousands of travelers since 2002 and the Government of Sri Lanka fully accepts applications processed by specialized third parties like us for getting Sri Lanka visa online.
Only the data required to process your application will be collected and it will be used only for this purpose, we do not share any of your data with third parties. Our payment gateway has also been designed in accordance with international standards.
See here what our customers say about our service.
I have more unresolved questions, where can I find more info?
For a faster resolution click here and start chatting with one of our customer service representatives. Also, to find more info and FAQs, click here.