If you're a Portuguese citizen, you don't need a consular visa to travel to Sri Lanka if you go for business or tourism. Instead, you can apply for a Sri Lanka ETA online. With iVisa you can get this ETA in as little as 30 minutes.
In this post, you'll learn more details about the Sri Lanka ETA, including how to apply for it and what requirements you need.
Frequently Asked Questions / FAQs
I have a Portuguese passport, do I need a visa to enter Sri Lanka?
If you're Portuguese you don't need a visa, what you need is a Sri Lanka ETA. This document is simpler to obtain than a consular visa. You can check the requirements here.
How many types of Sri Lanka ETAs are there?
There are only two kinds of ETAs:
This blog post has more information about the Tourist ETA, but you can check all types here.
What is aSri Lanka Tourist ETA?
The Electronic Travel Authorization (ETA) is a document that permits you to enter Sri Lanka for tourism purposes.
How long can Portuguese visitors stay in Sri Lanka with a Tourist ETA?
Portuguese citizens can enter the country for 30 days Total. This ETA allows Double Entry.
What documents do I need to apply?
You cannot apply for a Sri Lanka visa unless you meet all the requirements. However, you should not find this task too difficult because the list is not extensive, and the items on it are easy to acquire. Here is what you will need for the online application process:
Valid passport – You have to get a passport to travel to this country. Plus, the visa policy of Sri Lanka requires that the passport keeps its validity for at least 6 months from the arrival date.

E-mail address – Your ETA will arrive via e-mail in PDF format, so the address you offer must be valid. Don't forget to print out the document before departure. You can also have a digital copy on your electronic device.

Payment Options – iVisa is very flexible with payment because you can pay for this service with more than one option. You can use a credit or a debit card, and you are also free to use PayPal.
How long is the Sri Lanka Tourist ETA valid?
The Sri Lanka Tourist ETA is valid for 180 days after issued.
What are the processing times and prices for this document?
iVisa offers you three options to choose the one that best suits your needs. Here is what you choose:
Standard processing – Most people go for this alternative because it is the least expensive. You get your Sri Lanka ETA in 24 hours, and you only pay USD 55.00 (service fees included).

Rush processing – For a faster processing time, you can select this option. Your application is ready in 4 hours, and the price is USD 85.00 (service fees included).

Super Rush processing – If you need your ETA as fast as possible, you can select this option and get your application ready in 30 minutes. The total price for it is USD 100.00 (service fees included).
Remember that these prices are based on the Tourist ETA. If you want to check the prices for the Business ETA, you can check this link.
How long does it take to apply for an ETA?
You'll need less than 20 minutes to fill in the online form.
How can I apply?
After you get all the requirements, you can fill in the online application form. This process is very easy, but if you need assistance, iVisa's customer support can help you out.
This online form is split into three steps:
The first one asks you to provide personal information. You have to choose the processing time for your application form as well.

The second step requires you to insert your payment details, and you also have to make sure that your form doesn't have the wrong information. A simple review can be useful.

And finally, the third step asks you to upload a few necessary documents that support your application. After you are done, you can hit the submit button, and iVisa will take care of the rest.
Click here if you're ready to start your application form.
What happens after I have applied?
Once you complete the online form, you will obtain the ETA by email. You don't need to deal with the embassy. In iVisa we do it for you, so you don't waste time.
Do I need to get separate Tourist ETAs for my children?
If your children are under 12 years old, they're exempt from paying a Sri Lanka ETA.
What can I do if I make a mistake in my application?
If you made a mistake when entering your data online then please contact our customer service center as fast as possible via online chat to assist you.
If we already submitted your application, then you can NOT make any changes and you will have to apply again.
How does the Sri Lanka ETA look like?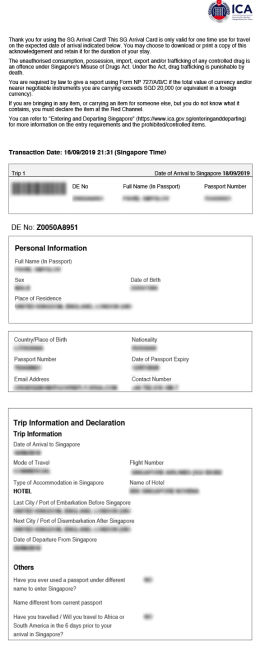 Is it safe to use iVisa to get my Tourist ETA?
Many people think that giving online information is dangerous. It might be true, but that's not the case with our services. We offer maximum safety for your information and we invest a lot in the security of our database. Your personal information could not be more protected. You can check what thousands of happy customers say about us here.
Where can I find more info?
For better attention, click here and start chatting with one of our customer service representatives. Alternatively, you can find more info and FAQs here.