If you're thinking about traveling to Sri Lanka, there's some information you should consider if you're from the US. First of all, you need a visa before entering the country. Whether you're traveling as a tourist, student, for business or any other reason, a visa is required. But, the good news is that you can apply for a Sri Lanka ETA to avoid a visit to the embassy.
We have gathered some tips about what you need to get your Sri Lankan ETA very fast.

Frequently Asked Questions (FAQs)
Do U.S. Passport Holders Need a Visa to Enter Sri Lanka?
Yes, U.S. citizens need a visa if they want to visit Sri Lanka. You can apply for a Sri Lanka visa online and it should take you a few minutes.
What is the Sri Lanka Tourist ETA?
The Electronic Travel Authorization (ETA) is the name of the official document that allows travelers to enter Sri Lanka for tourism purposes. If you want to travel for business purposes, you can also apply for a Business ETA.
How long is my Sri Lanka Tourist ETA valid for?
The Tourist ETA to Sri Lanka is valid for 30 days in Total. Keep in mind that this amount of days is valid for each entry, and this ETA is a double-entry visa, so you can have a total of 90 days at most when visiting Sri Lanka.
Can I extend my stay beyond the 30-day limit?
With an additional fee, you are allowed to apply for an extension at the Sri Lanka Department of Immigration & Emigration. This visa also allows for double entry and is valid for 180 days after its first use. Don't forget to take note of the requirements that are necessary to obtain this visa to get an easy entry into the country.
What do I need to apply for a Sri Lanka ETA?
Both in a Tourist and Business ETA, the requirements remain the same. You'll need:
Passport that is valid for at least 6 months from the intended arrival date.
Digital passport photo.
Credit/debit card or PayPal account for payment. iVisa accepts multiple methods of payment such as credit and debit cards or Paypal.
Remember to double-check your application form before submitting it.
What are the U.S. Citizens Requirements to visit Sri Lanka?
One of the main requirements U.S. citizens are asked to visit Sri Lanka is to present proof of sufficient funds for one's stay in the country. Additionally, all travelers must have proof of having been vaccinated for Yellow Fever.
Keep in mind that any foreign currency over $15,000 must be declared at the point of entry. Individuals arriving with a tourist visa are restricted to engage exclusively as "tourist", which include sightseeing, medical tourism, enrolling in sporting activities, and cultural activities.
Travelers who are uncertain of which activities count under the regulations of a tourist visa should be aware of this information before their entry into the country, otherwise, they could be facing a risk of deportation.
What is the cost and the processing time to obtain a Sri Lanka Tourist ETA?
In iVisa you have three available options to process your visa. You can choose the one that fits your needs better, and remember that according to the price, you'll get your ETA faster. Here are the options:
Standard processing – your visa application is processed within

24 hours

with a price of

USD 55.00

including services fee.
Rush processing – with this option, your visa application is processed in

4 hours

and it costs you

USD 85.00

(services fee included).
Super Rush processing – since this is the fastest option, it costs you

USD 100.00

with services fee included, but you'll have the application done in

30 minutes

.
You can click here to start your application.
How can I apply?
The online application form you have to complete is divided into two easy steps:
The first one will ask you to fill in your general information like name, address, passport info, e-mail, etc. Also, you must select the type of ETA you need and the processing time.

The second step is to make the payment and one last revision. You can pay for this service with a credit/debit card or PayPal. Make sure that all the information you provide is 100% correct. Mistakes can occur during the application process, which is why you should double-check everything, especially the spelling.
What happens after I have applied?
Once your application is ready, you will receive the e-Visa via email, so you don't need to deal with the embassy. We do it for you so you don't waste valuable time.
Do I need to book a flight before applying for the Tourist ETA?
No, it's not necessary. You can apply for the ETA visa before you have booked your flight.
Do I need to get separate Tourist ETAs for my children?
It depends on the age. Children under 12 years old are exempt from paying the ETA.
How do I know if my Sri Lanka ETA is approved?
We will notify you via email as soon as the Sri Lanka Government approves your visa.
What can I do if I make a mistake in my application?
If you made a mistake when entering your data online then please contact our customer service representatives as soon as you can via online to help you.
Remember that your tourist e-Visa is linked to your passport number, if we already submitted your application, then you can NOT make any changes and you will have to apply again but we will NOT charge you another service fee.
How does this eVisa look like?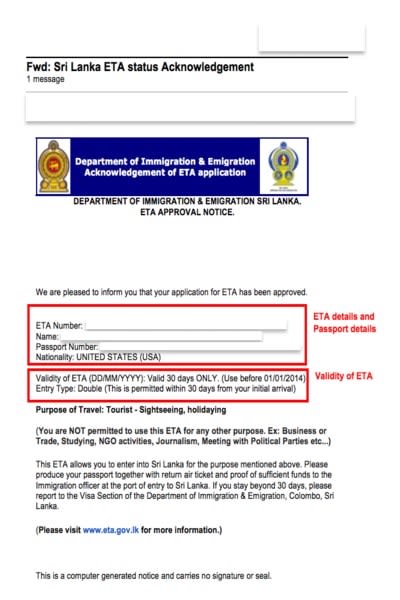 Is it safe to use iVisa to get my Sri Lanka Visa?
Of course! We are a certified provider issuing official e-Visas since 2013. With a 9.5 "Excellent" rating on TrustPilot and thousands of positive reviews, it is easy to see why so many people have come to trust iVisa as their go-to resource for an efficient and fast visa process for their world travel.
Check out these kind words from satisfied customer William Carlson: "I tried to get an India E-Visa for two days on their website. After having one problem after another, I finally gave up. iVisa finally got the visa in less than twelve hours." Join William and thousands of others who have let iVisa help them with their world travel today.
I have more unresolved questions, where can I find more info?
If you have more doubts, then click here and start chatting with one of our customer service representatives. Alternatively, you can find more info and FAQs here.
You can also click here to apply for and receive your Sri Lanka visa through iVisa today. Remember that it's not impossible to visit this exotic destination, and it'll take you less than 10 minutes to get the documentation required. Now you can only focus on your luggage!