According to Sri Lanka's visa policy, the citizens of Qatar do not need to go to an embassy to get a visa when traveling to Sri Lanka for tourism or business reasons. As a Qatari, you're eligible for an ETA. It means that you can apply for a Sri Lanka ETA online. With the help of iVisa, you can get the document in no more than 30 minutes.

Frequently Asked Questions
What is an ETA?
It is an official authorization for traveling to Sri Lanka.
What are the prerequisites?
One of the greatest things about the online application process is that the list of prerequisites is short and it is easy to acquire. For a successful application process, you'll need the following:
Passport– to be able to apply for a Sri Lanka ETA, you need to get a valid passport. Furthermore, the document needs to maintain valid for at least 6 more months from your arrival date in Sri Lanka.

Digital passport photo – note that the image should be taken in the past 6 months and must follow other criterias for a valid passport picture.

E-mail address– after you submit your request, iVisa will send you the ETA by e-mail in PDF format. Ensure that you provide a valid address which you have access to. When you obatin the document, you can print it out, or keep a copy on your electronic device.

Means of payment – iVisa accepts multiple methods of payment that you may pay with whatever you feel comfortable. It is possible to use a credit or debit card, however you may use PayPal, Alipay, or event WeChat.
What are the fees and processing times offered by iVisa?
So Far as the processing period goes, you can opt for one of the following:
Standard processing – this is the cheapest and the slowest option we have. Using this your application is processed within 5 days, and you're charged USD $80.99.

Rush processing – with this alternative your Sri Lanka ETA will be done in 3 days. You will pay USD $111.99.

Super Rush processing – this is the fastest alternative that we can offer you in case you need your ETA as soon as possible. It will be completed in 24 hours. The cost of it is USD $146.99.
In case you travel for business purposes, you need a Sri Lanka Business ETA. The prices are a bit different. You will be charged $70, $100, and $120 respectively for every procedure time.
How's the online application form?
After you manage to put together the items on the list above, you can proceed to fill in the application form. The task you have to complete shouldn't take more than 20 minutes of your valuable time, but if you have concerns, don't hesitate to contact us. The service is open 24/7 and free of charge.
The form in question consists of three easy steps.
The first one asks that you fill out your data and information about your journey. You also have to select a processing timeframe for your request, in addition to a visa type. Both choices will define the fee of your Sri Lanka ETA.

The second step wants you to cover the payment and proofread your form in order that it doesn't include errors.

And the third needs you to upload the documents that support your application.
After you do everything, you can submit your form, and you will get your ETA within the selected timeframe.
How long is this ETA valid for?
The validity of this ETA is of 180 days after issued.
How many entries am I granted? How long can I stay in Sri Lanka?
You are permitted a Double Entry with a maximum of 30 days in Total.
Do my children need an ETA?
If your children are under 12, they won't need an ETA.
Can I see a sample of a Sri Lanka ETA?
Here it is!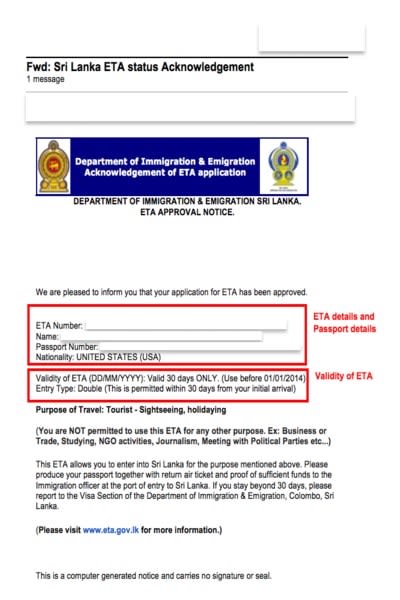 I have more doubts, where can I find more info?
You can click here and chat with one of our super operators. Also, enter on this page to read more answered questions.
As you can see, the online process of getting a Sri Lanka Visa for the citizens of Qatar is surprisingly accessible. The ETA you receive is valid for 90 days since issue, you may use it for two entries in Sri Lanka, and you may stay there for no longer than 30 days per entry.