Sri Lanka - Open for Tourism, here's what you'll need
Sri Lanka - Open for Tourism
Trustpilot recommended. We lead the industry in innovation and reputation
Learn More: Tourist ETA
Content updated, December 2022
Explore Sri Lanka with the Tourist ETA!
Currently, any traveler needs a special permit to travel to Sri Lanka, the Sri Lanka Tourist ETA. This process is straightforward, as long as you have the support of some experts in the subject who can facilitate the process and help you apply for the travel document without any problem and in the shortest possible time.
It is important to remember that the Electronic Travel Authorization (ETA) system allows travelers to visit Sri Lanka through a completely electronic application process. With this document, you won't have to visit the nearest Sri Lankan embassy.
Instead, this Sri Lankan visa is an official authorization for short-term visits to Sri Lanka. Here, you will find all the information you need about the Sri Lanka travel document, passport information, application, prices, and when to apply.
ETA Sri Lanka - Sri Lanka travel requirements
At iVisa, we make applying for your travel document an easy process. Our expert staff is here to help you travel smoothly and enter Sri Lanka.
Don't forget that you can always contact our experts with any questions about this travel document or other things about the country. For example, you can ask them about the climate, destinations, prices, and processes.
What is a Sri Lanka Visa - An essential travel certificate?
Sri Lanka's Electronic Travel Authorization is an official document that allows travelers to enter Sri Lanka for tourism.
This fully electronic travel document helps border agents control travelers' entry into the country. And you may be wondering, do I have to visit the Sri Lankan consulate to get my tourist visa?
Fortunately, the answer is no. Once approved, we will send you your travel document by email in PDF format, and you will be able to present this document digitally or in hard copy at the country's border.
However, iVisa recommends downloading all your travel documents to your cell phone. This way, you will be able to present them without any problem.
Which nationalities are eligible for the Sri Lanka Tourist ETA?
This authorization allows a group of countries to enter Sri Lanka and travel for tourism. If you are a resident of the following countries, you must contact one of our experts to start the process.
These countries are:
| Albania |  Andorra |  Anguilla |
| --- | --- | --- |
|  Antigua and Barbuda |  Armenia |  Australia |
|  Austria |  Bahamas |  Bangladesh |
|  Barbados |  Belgium |  Benin |
|  Bermuda |  Bosnia and Herzegovina |  Brazil |
|  Brunei Darussalam |  Burkina Faso |  Cambodia |
|  Canada |  Cayman Islands |  Chad |
|  Chile |  Colombia |  Cook Islands |
|  Costa Rica |  Cuba |  Czech Republic |
|  Denmark |  Dominica |  Ecuador |
|  El Salvador |  Eritrea |  Ethiopia |
|  Faroe Islands |  Finland | Gambia |
|  Georgia |  Greece |  Grenada |
|  Guadeloupe |  Guatemala |  Haiti |
|  Honduras |  Hungary |  India |
|  Indonesia |  Iraq |  Israel |
|  Italy |  Japan |  Kazakhstan |
|  Kiribati |  Kuwait |  Lao |
|  Latvia |  Lesotho |  Liechtenstein |
|  Lithuania |  Macao |  Madagascar |
|  Malawi |  Malta |  Martinique |
|  Mauritania |  Mayotte |  Micronesia |
|  Moldova |  Mongolia |  Morocco |
|  Mozambique |  Namibia |  Nepal |
|  Netherlands |  New Zealand |  Niger |
| Niue |  Norway |  Palau |
|  Panama |  Paraguay |  Philippines |
|  Poland |  Puerto Rico |  Reunion |
|  Romania |  Rwanda |  Saint Lucia |
|  Saint Vincent and the Grenadines |  San Marino |  Saudi Arabia |
|  Senegal |  Slovakia |  Solomon Islands |
|  Somalia |  South Sudan |  Suriname |
|  Swaziland |  Switzerland |  Tajikistan |
|  Tanzania |  Timor-Leste | Tokelau |
|  Tonga |  Tunisia |  Turkmenistan |
|  Turks and Caicos Islands |  Ukraine |  United Kingdom |
|  United States |  Uzbekistan |  Venezuela |
|  Vietnam |  Zambia | |
|  Algeria |  Angola | |
|  Argentina |  Aruba | |
|  Azerbaijan |  Bahrain | |
|  Belarus |  Belize | |
|  Bolivia |  Botswana | |
|  Bulgaria |  Burundi | |
|  Cape Verde |  Central African Republic | |
|  China |  Comoros | |
|  Croatia |  Cyprus | |
|  Djibouti |  Dominican Republic | |
|  Equatorial Guinea |  Estonia | |
|  Fiji |  France | |
|  Germany |  Greenland | |
|  Guam |  Guyana | |
|  Hong Kong |  Iceland | |
|  Iran |  Ireland | |
|  Jamaica |  Jordan | |
|  Korea |  Kyrgyzstan | |
|  Lebanon |  Libya | |
|  Luxembourg |  Macedonia | |
|  Malaysia |  Marshall Islands | |
|  Mauritius |  Mexico | |
|  Monaco |  Montenegro | |
|  Myanmar |  Nauru | |
|  New Caledonia |  Nicaragua | |
|  Norfolk Island |  Oman | |
|  Papua New Guinea |  Peru | |
|  Portugal |  Qatar | |
|  Russia |  Saint Kitts and Nevis | |
|  Samoa |  São Tomé and Príncipe | |
|  Serbia |  Slovenia | |
|  South Africa |  Spain | |
|  Sweden |  Taiwan | |
|  Thailand |  Togo | |
|  Trinidad and Tobago |  Turkey | |
|  Tuvalu |  United Arab Emirates | |
|  Uruguay |  Vanuatu | |
|  Yemen |  Zimbabwe | |
Did you find yours in this list of countries? Contact us!
How long is the Sri Lanka Tourist ETA valid? - Can I use it as a multiple entry visa?
This document is valid for 180 days after issued. This means you can enter Sri Lanka within 180 days of its issuance.
This electronic visa is a Double Entry, not a multiple-entry visa, and allows a maximum stay of 30 days in Total. In other words, you can use it twice within 180 days and stay for a maximum of 1 month.
What do I need to apply online for the Sri Lanka Visa?
The ETA Sri Lanka online application is easier than you think. iVisa.com has designed a short and straightforward process for the Sri Lanka ETA requirements.
The company does the heavy lifting, but you must provide the correct information and documents to start the process.
To do this, you need to upload the following documents:
Passport validity - You must have a passport valid for at least another six months beyond your arrival in Sri Lanka.
Digital photo - Make sure the photo is as recent as possible and meets the standards of the travel document.
A valid email address - iVisa.com will email you your document in PDF format, so you must provide an email address.
Means of Payment - You will be asked to make a payment. iVisa accepts credit or debit cards.
Once you have filled out the form, you will receive a confirmation email. If you do not find it in your inbox, it may be in SPAM. You only need to show or print one copy.
Do I need the ETA if I am transiting through Sri Lanka?
Yes! As one of the Sri Lankan government entry regulations is that when entering Sri Lanka, you must carry this travel document, whether for stay or transit. This document is required whether you are traveling for 30 days, one day, or just a few hours at the airport.
How do I obtain the Sri Lanka Tourist ETA online?
To continue the online process for this tourist visa with us, follow these steps from any electronic device.
The steps are as follows:
Step 1 - Complete the iVisa.com questionnaire with your personal information.
Step 2 - Choose one of our processing times depending on your travel budget. Then, attach the required documents and confirm payment.
Step 3 - Finally, accept the process and wait for the confirmation email.
Be very careful when following the steps in the process. If you make a mistake with your data and click "OK" to finish, you will not be able to request a new form until the current process is completed.
What's the cost of the Sri Lanka Visa?
iVisa.com has prepared three Sri Lanka ETA processing time alternatives for you to choose from:
Standard Processing Time:

4 days

-

USD $86.08

.
Rush Processing Time:

2 days

-

USD $111.08

.
Super Rush Processing Time:

12 hours

-

USD $139.08

.
Remember that this document is only available for short-term visits. In case you want to live or work in Sri Lanka, you may need to apply for another type of visa.
Do children also need to apply for the Sri Lanka Visa?
All official passport holders must present this travel document at the border. In addition, parents must complete this form for their children.
On the other hand, if the child is not traveling with their parents, a duly notarized and signed authorization letter must be included.
See a sample of what the Sri Lanka ETA looks like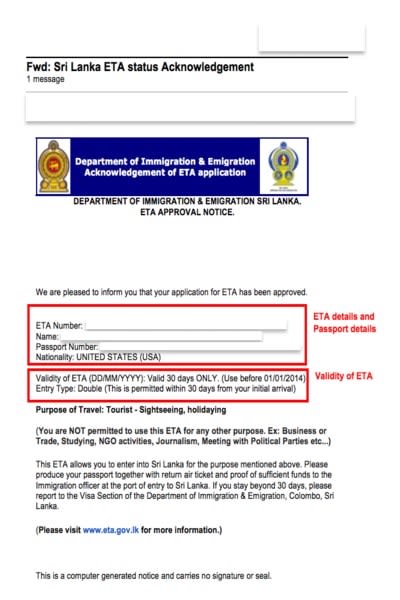 If I already possess a valid Tourist Visa, can I apply for a new one?
No. It is impossible to obtain a new ETA with the same passport until the entry permit expires. However, if you lose the passport with your visa, you can apply for a new one, but of the same type. For example, you can only apply for a tourist visa if you already have a valid tourist visa.
You are probably also wondering: Can I work in Sri Lanka with a tourist visa? The answer is No.
In addition, you cannot have two types of ETA simultaneously. So, for example, a passport can only have one type of valid visa associated with it. In other words, you cannot get a business visa if you already have a tourist visa.
When should I apply for my ETA Sri Lanka?
All responsible travelers must request their documents well in advance. At iVisa, we have different processing times depending on your travel needs and budget.
We provide a worry-free ETA application service. We also ensure that your application is processed and completed within the necessary timeframe, so you have no problems when traveling.
Sri Lanka entry requirements COVID-19
Do I need a COVID-19 Vaccine to enter Sri Lanka?
No! As of today, passports or COVID vaccination certificates are no longer required to enter Sri Lanka.
Since information can change rapidly, we advise you to check for the latest information days before your trip.
Do I need a negative COVID 19 PCR Test?
COVID testing requirements: There are no testing requirements.
Do I need to quarantine in a COVID-19 free government health facility upon arrival?
Fully vaccinated or unvaccinated travelers have no quarantine requirements to enter and travel around Sri Lanka.
What else should I keep in mind about Sri Lanka? - Visit Sri Lanka
Sri Lanka is a small country, but with quite a lot of variations of weather within it. Because of its tropical climate, temperatures are pleasant all year round. However, before visiting the country, we have to be clear about which area we are interested in.
The best time to visit the southwest is from December to April, while the northeast is best visited from April to September. In Sri Lanka, you can find tourist destinations such as the ancient kingdom of Ceylon, ancient cities, paradisiacal beaches, and wonderful mountains.
Who can I speak to if I have more questions?
We have a 24/7 customer service team to help you if you need to talk. You can also contact us via email at [email protected]
Required Documents to Apply
Passport Scan (if applicable)
Important Instructions
Travelers who want to visit Sri Lanka must have a passport valid for at least 6 months from the planned date of entry.

You cannot obtain a new ETA while you are in Sri Lanka, regardless of whether your current ETA is valid or expired.

The ETA is limited to 30 days in Total of stay in Sri Lanka from the date of arrival, and allows for two (2) entries.

Important: The validity of the Visa for the two entries is 30 days and starts on the first arrival date. This means the departure date for the second entry must be within 30 days of the first arrival date.

Travel insurance is not mandatory to enter this country. However, Sri Lanka Tourism recommends that visitors travel with their insurance, which has to have Covid cover.

Nationals of yellow fever-affected countries must carry a yellow fever vaccination card at the time of arrival in Sri Lanka. See yellow fever risk countries here.

We suggest passengers verify the information, print it out, and bring a physical copy on their trip. The airport check-in staff can also verify the registration on their system. However, we highly recommend that clients keep a copy available on a personal electronic device in addition to carrying a printed copy.

The information entered will be sent electronically to DI&E (Department of Immigration & Emigration) and we will send your Sri Lanka ETA online via email.
NOTE: Citizens of the Republic of Singapore, the Republic of Maldives, and the Republic of Seychelles are exempt from obtaining this ETA (meaning they can travel there without applying for this document).
iVisa is a legitimate company and is accredited and recognized by the International Air Transport Association (IATA). For more information see the FAQs below.