If you want to travel to Suriname as a Cuban national, you will have to obtain a visa to enter the country. Suriname allows citizens of Cuba to purchase an e-Visa online before entering a plane. Our Suriname E-Tourist Card application is the perfect solution for modern visitors.
Check out the FAQ below to discover the requirements to get a valid e-Visa fast for your trip to Suriname.

Frequently Asked Questions (FAQs)
Do I need a visa to enter Suriname if I'm Cuban?
Yes. If you are from Cuba, then you will need to acquire a visa before landing at a Surinamese port of entry.
What is a Suriname E-Tourist Card?
The Suriname E-Tourist Card is an official document that allows you to travel within Suriname for tourism purposes.
How long can I stay in Suriname?
If you're from Cuba, you can stay 50 days Per Entry.
What documents and information do I need to apply for a Suriname Tourist e-Visa?
Your E-Tourist Card will be ready for you after you apply for an e-Visa online and we process it. Simply insert the following information into your e-Visa application and be sure to have it when you arrive in Suriname:
Valid Passport - You must have 6 months left after your E-Tourist Card expires on your government-issued passport to enter Suriname as a foreign national.
Travel Itinerary - Suriname officials need proof you will leave Suriname and that you have enough money to cover your stay in Suriname. An airline confirmation document can be added to your application form too.
Hotel Reservation - Have a digital or printed copy of your hotel reservations to enter Suriname without an issue.
Invitation Letter - A citizen or business owner must write a letter on your behalf letting Surinamese officials know that you will be taken care of while you are in the country by the guarantor.
Photograph - You must have a digital photo of yourself from less than 3 months ago.
Payment Method - iVisa accepts major credit and debit cards like Visa and MasterCard.
There might be other required documents you need to upload on your application form. In that case, we recommend you to check all of them here.
When does my e-Visa expire and how long can I stay in Suriname?
With your Single Entry Tourist visa to Suriname, you can stay in Suriname for up to 50 days Per Entry. Your e-Visa will expire 50 days after issued.
What are the processing times and prices?
Your Tourist e-Visa for Suriname will be securely processed as fast as you choose. Depending on this processing time, you may have a different visa price.
Standard - You'll wait

24 hours

and pay

USD $91.99

.
Rush - your eVisa will be ready in

8 hours

and you'll have to pay

USD $133.99

.
Super Rush - Your e-Tourist Card will be processed in

4 hours

and you'll pay

USD $180.99

.
How much time do I need to apply online?
You only need at least 20 minutes to complete the online form.
How can I apply?
The online form created by iVisa is very simple. You only have to follow these steps:
First, fill in the online form with your personal information and choose your processing time.
Second, review your information (double-check the spelling) and proceed with the online payment.
Third, Upload your photo and other documents if necessary. After that, click the submit button and that's it! You'll just have to wait for your e-Tourist Card to arrive on your inbox.
Can I work or go to school with the E-Tourist Card for Suriname?
No, you cannot work or go to school with an E-Tourist Card. Check with your local embassy.
How many entries does the Suriname E-Tourist Card allow?
The Suriname E-Tourist Card allows you to have a Single Entry.
Do I need any vaccine to enter Suriname?
Yes, you'll probably require a Yellow Fever Vaccine. You can verify this information on this page.
What should I present upon arrival in Suriname?
Once you arrive in Suriname, you need to present your passport along with your Suriname E-Tourist Card.
Can I travel with children?
Yes, you can travel with them, as long as you carry a Minor Consent Letter. You should also get a Copy of the Judicial Decision If the child is adopted or you're the Guardianship (in other words, if you're not a direct parent).
How does this e-Tourist Card look like?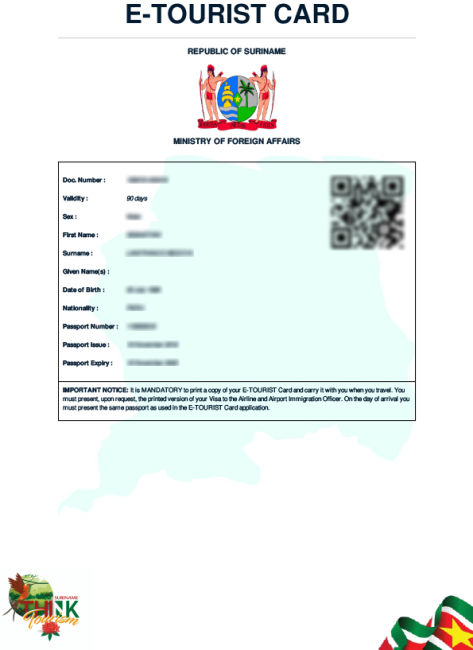 Where can I read more?
As you can see, instead of waiting at your embassy or consulate, you can order your e-Visa from your mobile, tablet or computer.
If you have more questions, you can chat with our live agents 24/7 by clicking on the chat bubble in the lower right-hand corner of your screen. Our friendly and knowledgeable live agents can answer any questions you may have.