Switzerland is a famous country located in Central Europe that is well-known for its small size and breathtaking scenarios that will make you take a selfie wherever you go. It has four official languages: German, Italian, French, and Romansh, depending on the place that you go. That is why if you want to visit this incredible country, you will have to apply for an ETIAS.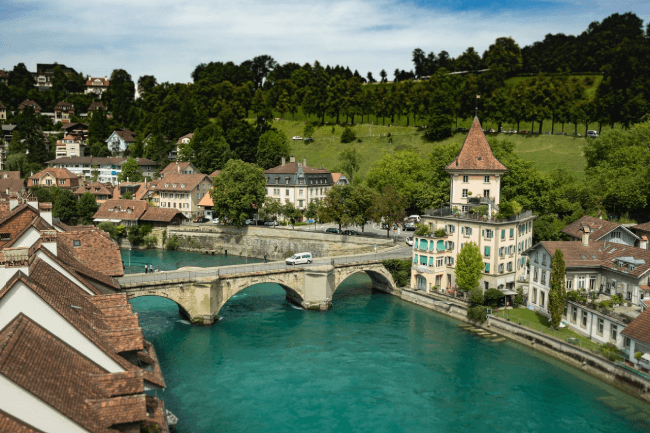 Despite not being part of the European Union, Switzerland is part of the Schengen Zone. That means that by the end of 2022, citizens of sixty eligible countries will have to apply for a Switzerland ETIAS to visit the country. You don't have to worry about going to the embassy since you can obtain it online from home on the official website, but it may be time-consuming and tiring. On the other side, you can choose iVisa.com to avoid those complicated questionnaires and obtain your Switzerland ETIAS as soon as possible.
In any case, if you want to know if your Switzerland ETIAS will have multiple entries, and you want to see how you can save time with iVisa.com, then we suggest you read this article.
Frequently Asked Questions
What is a Switzerland ETIAS?
The European Travel Information and Authorization System, well-known as its acronym ETIAS, is an electronic travel authorization that will allow you to enter Switzerland and any other country of the Schengen Zone without any restriction. It is in the process of being developed by the European Union since 2016 to prevent any possible terrorist attack and identify most tourists from countries that are exempted from a visa.
Keep in mind that this document is not the same as the Schengen Visa since you won't have to apply it directly from the embassy.
Once you receive your ETIAS, it will have a validity of three years. That means that you can visit the Schengen Zone multiple times for up to ninety days in 180 days.
How many countries will have to apply for the ETIAS?
The European Union has announced that over sixty countries will have to apply for an ETIAS. Most of these countries now count on a visa exemption, so if you're part of them, you won't need this document before late 2022.
How can I know if I'm eligible to apply for the Switzerland ETIAS?
If you want to know if you will have to apply for an ETIAS, we recommend using iVisa.com's Visa Checker tool. All you will need is select the origin country and the destination you're planning to go to. You can find it in our homepage.
What documents do I need for the Switzerland ETIAS?
The official documentation to apply for a Switzerland ETIAS has not been deployed yet, and it may vary from traveler to traveler. However, if you choose iVisa.com, you won't need more than three essential docs to attach and start this procedure. These are:
Your passport.
Your valid email address since you will receive your Switzerland ETIAS there.
Your favorite payment method that can be your debit/credit card or Paypal account.
As you can see, you won't have to attach more than those docs. iVisa.com will do the rest for you. If you have already decided, click here and let iVisa.com be part of your dreams.
How much do I have to pay for this document?
The Switzerland ETIAS is a brand-new document that has not been released yet to the public. This is why we can't assure you the official price because it may change from country to country. We can let you know that iVisa.com has prepared three different options for you to select. These are:
Standard Processing Option: A cheap option, but you wait for more time.
Rush Processing Option: It's a quick option, but it may cost a bit more.
Super Rush Processing Option: You receive your ETIAS asap, yet it is the most expensive alternative.
How do I obtain my ETIAS with iVisa.com?
If you have decided to start this procedure with iVisa.com, you will need to keep in mind that we have simplified it. You won't have to follow those complicated steps that might be time-consuming. Instead, you will have the opportunity to do it in less than ten minutes. These steps are:
First, answer your basic information and select the processing option that you like the most.
Second, proceed with the payment method.
Third, upload the docs and submit it.
If you have any inquiries while doing this process, you can contact us, and our customer service agents will help you at any time.
Is it secure to use iVisa.com?
iVisa.com understands that you may be worried about your security, but you need to know that we count on the best security platform that protects your information from third-parties. If you have doubts about our services, you can check our customer's review to be sure that everything is okay.
If I have further questions, can I contact you?
You can contact us whenever you want since our agents will be there to help you without hesitation!