Those who have already visited Switzerland often resume what the country represents in a short but powerful sentence: "Perfection at every corner". It may sound like an overstatement at first, but there is no better way to describe the land of chocolate. Perfectly well preserved medieval buildings, beautiful cobblestone roads, blooming nature all around, some of the cleanest air in the world, pristine water and lakes wherever you go are just some of the many things that back up this statement.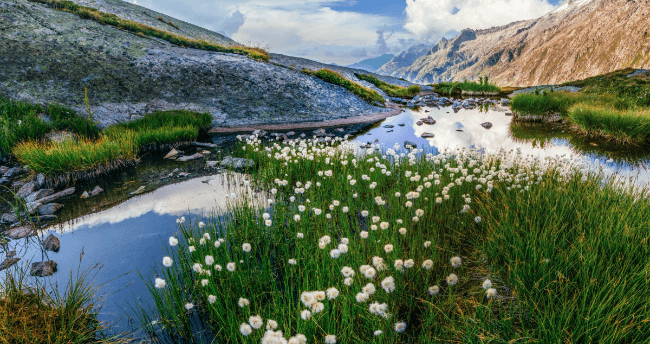 It is not possible to fully enjoy the possibilities this land has in only one visit. Every activity is so attractive that travelers always decide to stay longer and go deeper into the moment. This is the case for the Swiss Alps. The railroad extends for more than 5.000 km. and takes you through beautiful landscapes one right after another, hidden behind every mountain, every elevated pass, or alongside one of the many glacier lakes that can be observed from a train wagon. Some stops are a must, to enjoy a fine dessert, or to observe one of the world heritage sites declared by UNESCO placed all around the country.
Of course, this is a very visited destination, even more during the summer season. The high volume of persons transiting across the country with different purposes all year is one of the reasons why, starting in the final months of 2022, the new Switzerland ETIAS for Citizens of Nauru will be deployed as a mandatory regulation to enter the Swiss borders or any other country inside the Schengen Zone.
In the following paragraphs, iVisa.com explains everything about this new travel document and shows you how to apply for the ETIAS following a simple online procedure.
Frequently Asked Questions
What was the ETIAS created for?
The main purpose of the ETIAS is to complement security measures already existing in the 26 countries of the Schengen zone. It will register movements and borders a traveler passes through. Based on that history, it will create an individual profile for future journeys.
The application form for the new Switzerland ETIAS for Citizens of Nauru is available at iVisa.com.
There is no Swiss embassy in my country. How can I apply for the ETIAS?
The ETIAS is a new digital document, 100% online available to everyone. The system behind the ETIAS was developed to allow every person to access the application anytime, anywhere.
To start your application for the Switzerland ETIAS for Citizens of Nauru, you only need to follow the steps indicated in the application form developed by iVisa.com. It is designed to be completed in 20 minutes max.
Is it necessary to have a visa before applying for the ETIAS?
A valid passport is all you need to apply for the Switzerland ETIAS for Citizens of Nauru.
A visa is needed when special activities are performed inside a foreign country, like studying or working.
It would be a good idea to verify the remaining time of your passport before starting an application.
The current status of your passport can be checked with iVisa.com's checker tool.
Being to Europe before increases my chances of obtaining the ETIAS?
Nauru is a visa-exempt country to enter the Schengen Zone. If you are a citizen of this nation, your application is properly supported, and your profile presents no special conditions, you have a high chance to be approved for the Switzerland ETIAS for Citizens of Nauru.
All of your questions regarding this topic can be answered 24/7 by a customer service agent from iVisa.com.
How much will the ETIAS cost?
iVisa.com have different price alternatives to access the ETIAS:
Standard service: good processing time, low price.
Rush level: fast response, higher price.
Super Rush level: super-fast processing, higher cost.
iVisa.com's customer service is ready to guide you to help you make the best choice.
Are services offered by iVisa.com safe?
User safety and data protection are the main goals of iVisa.com. A modern security system is always running in the background to guarantee a safe experience for every visitor.
Thousands of satisfied users daily post positive reviews about the services of iVisa.com.
If you want more information about how iVisa.com protects your data while you apply for the Switzerland ETIAS for Citizens of Nauru, please contact iVisa.com's customer service.
Could I receive more information about the ETIAS?
Absolutely you can. iVisa.com is a big source of information about ETIAS and many other topics related to the travel world.
Please visit iVisa.com's blog to access hundreds of articles containing information about the ETIAS. Also, iVisa.com's customer service offers 24/7 live assistance to answer all of your questions.