The Swiss Alps. This iconic region is a close representation of how splendorous Switzerland is. There are many ways to enjoy the magnificent regions located all around and in between the mountains.
One of them is the Golden pass line, a beautiful scenic route that crosses the country and takes the traveler through magical landscapes that seem to be taken off a painting. To complete the entire route, it takes about 6 hours of a pleasant train trip. Along the way, green and white mountains line the route. Enormous valleys are spotted with traditional Swiss chalets, elevated passes, blue lakes, and waterfalls.
The tour can be taken from two starting points depending on where the traveler is located: (Montreux / Lucerne - Lucerne / Montreux) and once you arrive in Interlaken (a perfect opportunity to take amazing pictures) you should switch trains to continue until the final stop.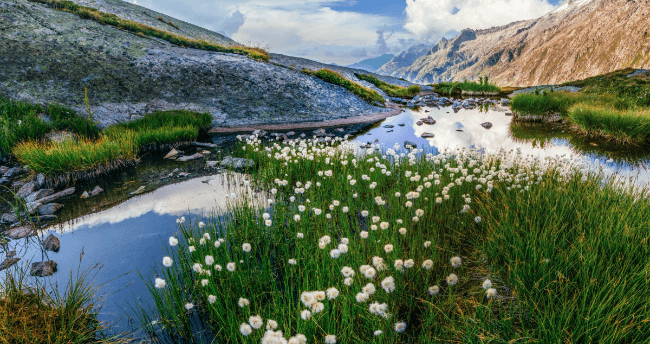 Another alternative worth mentioning is the Albula / Bernina route. This railway line is actually a UNESCO world cultural site. Despite only being 120 kilometers long, it offers an unforgettable ride by taking passengers through panoramic views, more than 180 bridges, and the highest mountain of the western Alps, the Piz Bernina (4.000 meters high). Definitely a must-see for every tourist.
The upcoming regulation called ETIAS will be launched in late 2022. It will represent a new step every Saint Vincent citizen must take before starting a trip to Switzerland or any other Schengen country.
The Switzerland ETIAS for Citizens of Saint Vincent is a digital document accessible through the online application process developed by iVisa.com.
Along with this blog, iVisa.com presents important information that will help you understand how to improve your travel plans and prepare to apply for the Switzerland ETIAS for citizens of Saint Vincent.
Frequently Asked Questions
Why did the authorities create the ETIAS?
The new ETIAS appeared in response to threats that may affect security inside the Schengen zone borders.
The Switzerland ETIAS for Citizens of Saint Vincent will help authorities create detailed profiles of every traveler. The information contained here will be cross-referenced with several databases shared by different governments. Based on the results, a person may be approved for the authorization, or not.
iVisa.com is ready to guide you through the application process for the ETIAS. To start click here.
How do I know if I need to apply for an ETIAS?
Are you a citizen of the island of Saint Vincent? If you are, and you don't have a residents visa that grants you special permissions inside the Schengen zone, then you can be sure you need to apply for the Switzerland ETIAS for Citizens of Saint Vincent.
iVisa.com's visa checker tool will help you confirm your current status in a matter of minutes and then you can apply for the ETIAS.
Swiss consular services are not available in my country. How can I access the ETIAS application?
The application for the Switzerland ETIAS for Citizens Saint Vincent is an online procedure. It can be accessed from anywhere. You only need a computer and a stable internet connection.
20 minutes is what it takes to complete your application when you choose the services provided by iVisa.com. Ready to start? Click here.
What about the pricing of the ETIAS?
As the ETIAS is meant to be an agile process, it is inexpensive too. After verifying your passport and profile, you can choose the processing service you wish to pay for:
Standard service: basic service, low fee.
Rush service: fast service, higher fee, low waiting period.
Super Rush option: fastest response, service beyond expectations. High price.
Always count on the experience of our customer service team to make the right choice before applying for the Switzerland ETIAS for Citizens of Saint Vincent.
What are the steps to apply for the ETIAS?
Carefully read the questions. Be sure to enter the right information. A simple mistake may delay or affect the result of your process.
Basic information like name, date, birthplace, address, citizenship must be entered.
If this is your case, please include information such as legal situations and medical conditions.
Don't forget to make clear what will be your country of arrival.
Choose the type of service and price.
Make a final verification and send the application.
Check the result.
Is it safe to use iVisa.com services to apply for the ETIAS?
iVisa.com is the safest online service to process your ETIAS application. A strong system protects your data even before you start an operation on our site. We invite you to discover what our satisfied customers think about our service.
More questions about the ETIAS? Get more information
Feel free to explore our blog or to contact iVisa.com's customer service.