Winter activities are not the only outdoor pursuits available in Switzerland. Located in the canton of Ticino, Lugano, the largest town of three surrounding Lake Maggiore and Lake Lugano, is an important financial center and a known resort full of small Italian flavored cafés and restaurants where passion for good food and wine tasting are the order of the day.
A quick excursion to Monte San Salvatore will present beautiful views of the countryside and the distant snow-capped mountains.
Besides a lovely local culture, beautiful locations, and warm tropical weather, Bellizano, capital of the Canton, holds together three World heritage sites declared by UNESCO, represented in the Castle of Montebello, Sasso Corbaro, and Castelgrande.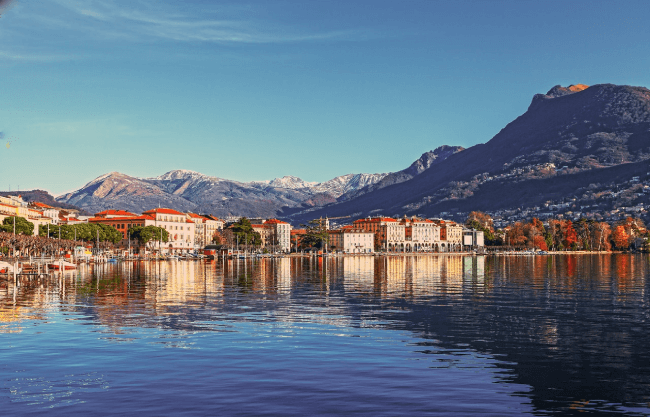 Another popular summer destination is Basel. This city, a meeting point for artists, musicians, fans, and art lovers, is home to the country's most important carnival celebration. During three days, the Basler Fascnacht takes over the city, filling the streets with loud and colorful parades, independent music concerts, and food stalls.
Curious and interesting museums are great to keep kids entertained: the Spielzeug Welten museum is a toy museum with an amazing amount of teddy bears, one of the few museums in the world dedicated to parodying popular art, collect remarkable pieces, and another to celebrate the history of cartoons is also found in Basel.
In summary, Ticino is a nice mild climate region where a certain Mediterranean taste can be felt in the air. Nothing more should be needed to create the perfect occasion.
If you are coming from Samoa, and what we just told you sounds as good then choose Switzerland as your next travel goal, iVisa.com wants to inform you about the Switzerland ETIAS for Citizens of Samoa, a new travel authorization established by the Schengen zone countries and required to cross the Swiss borders from late 2022.
Below, you will find online tools, access to the application form, and links to the professional services of iVisa.com to properly prepare for your trip.
Frequently Asked Questions
What is the ETIAS exactly?
ETIAS is the acronym for European Travel Information and Authorization System. It's a new digital travel document that allows authorization of the traveler prior to a trip by detailing the purpose, and activities performed during a stay in the country.
Applying for the Switzerland ETIAS for Citizens of Samoa is possible using the application form available at iVisa.com.
Why was the ETIAS created?
The purpose of the ETIAS is to collect information about foreign travelers. The actions performed by a person during a visit to a Schengen country will be stored in their online profile. This information will help authorities to detect potential threats to the region's safety.
iVisa.com's application form is the easiest way to apply for the Switzerland ETIAS for Citizens of Samoa.
Is the ETIAS required only for citizens of Samoa?
It is not. The ETIAS is a new law that involves citizens from 62 countries added to the Schengen zone. Citizens from countries like the UK, Colombia, and the United States are now also required to present the ETIAS once they arrive at the border.
Would you like to confirm if you need to apply for the Switzerland ETIAS for Citizens of Samoa? Please enter iVisa.com's Visa checker tool.
Is the ETIAS a single entry permit?
Once obtained, the ETIAS will be valid for 3 years from the moment of its expedition. The Switzerland ETIAS for Citizens of Samoa will allow stays of a maximum of 90 days in a 180 day period.
Start your application now for the Switzerland ETIAS for Citizens of Samoa. With iVisa.com's online form, you can access this process from your home or workplace anytime.
What documents should I prepare to apply for the ETIAS?
Your valid passport is the only document you will need to start this process. iVisa.com strongly recommends checking your profile status first with our visa checker tool.
The following items will be necessary to complete your application:
A scanned copy of your passport (high-resolution image, check the expiration date)
In some cases, authorities may require an updated digital picture different from the one in your passport.
Your email account will work as a communication channel (check its validity).
Choose a payment method (debit/credit card, PayPal)
Not sure about the quality of the picture you're using to apply for the Switzerland ETIAS for Citizens of Samoa? iVisa.com Passport Photos will tell you if your file meets the requirements.
What are the fees for the ETIAS?
Three different levels of service are available:
Standard service, low price, average processing response.
Rush service, higher price, faster processing response.
Super rush service, special price, super-fast processing response.
Not sure about what service to choose?. Please allow customer service to help you make the right choice.
Is my personal data safe with iVisa.com?
You can be sure it is. iVisa.com focuses efforts to improve security every day. A strong protection system is always keeping your information safe from every possible threat.
We invite you to check positive reviews posted by our satisfied customers.
Is there more ETIAS information available at iVisa.com?
iVisa.com is a great source of information about ETIAS. You can choose between exploring iVisa.com's blog by yourself or asking for assistance with iVisa.com's customer service.
The Switzerland ETIAS for Citizens of Samoa is just a few steps away when you choose to process your application with the professional team at iVisa.com.