Breathtaking scenes await travelers at the Swiss national park, one of the many natural wonders Switzerland has to offer. This territory is an amazing example of environmental preservation. The Swiss Alps and its majestic mountain peaks like the Matterhorn, one of the highest in Europe at 4,478 meters, which surprisingly can be reached by train.
If the purpose of your trip is to get in contact with nature and to explore lush, green environments, Swiss territory is the right place to do it. Lake Geneva (the largest alpine lake in Europe) offers spectacular views of the snow mountains reflected in sparkling blue waters. The Rhine Falls are another great example of a natural wonder you can find in Switzerland. The largest waterfalls in Europe are surrounded by ancient well-preserved castles and medieval structures that are today luxury resorts or boutique hotels.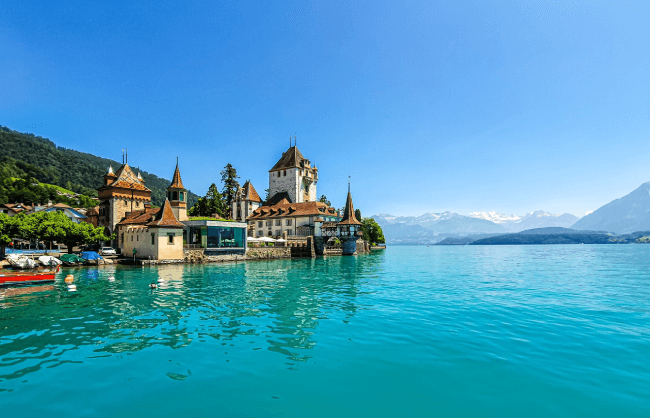 Why not hike through valleys and forest mountains alongside the Swiss Grand Canyon. Formed 10,000 years ago as the result of the retreat of Rhine Glacier, The Ruinaulta is today a preferred destination for adventurers who enjoy getting lost during days in the middle of wild landscapes. Once there, it is possible to go extreme on the rapids with a guided rafting excursion or kayak on calm waters to discover stunning views.
Access to all of these wonders will be possible from late 2022 only after being approved by the Schengen Zone authorities with the ETIAS. This travel document was created to strengthen the borders security for this group of countries, Switzerland included.
Obtaining the Switzerland ETIAS for Citizens of Solomon Islands is an easy process thanks to the online services developed by iVisa.com. You are invited to explore the following information to know more detailed information.
Frequently Asked Questions
What is the ETIAS?
ETIAS stands for European Travel Information and Authorization System. It's a digital travel document that records activities performed during a stay in the country.
Applying for the Switzerland ETIAS for Citizens of Solomon Islands is a brief 20-minute process accessing the application form available at iVisa.com.
Is the ETIAS focused on countries of Oceania?
Absolutely not. The new ETIAS even involves countries with previously granted access like the United States or Canada.
The Solomon Islands are included in the list of 62 countries added to the Schengen zone. Citizens from this country are eligible candidates for the ETIAS.
Would you like to verify if you need to apply for the Switzerland ETIAS for Citizens of Solomon Islands? Please access iVisa.com's Visa checker tool.
For how long is the ETIAS valid?
The ETIAS will be valid for 3 years from the approval date.
The Switzerland ETIAS for Citizens of Solomon Islands will allow a maximum stay of 90 days in a 180 day period.
Access your application for the Switzerland ETIAS for Citizens of Solomon Islands from your home or workplace anytime with iVisa.com's online form.
What documents should I prepare to apply for the ETIAS?
This process is based only on one document: your valid passport. At least 6 months of remaining validity are necessary to take advantage of the ETIAS once obtained. It is strongly recommended to check your profile status first with Ivisa.com's visa checker tool.
Before starting your application, be sure to gather the following:
A high-resolution digital image of your valid passport (scanned copy).
An up to date digital picture different from the one glued to your passport. (Required in some cases only).
Valid email account. It will work as a communication channel.
Preferred payment method (debit/credit card, PayPal).
Not sure if the digital photo you're using to apply for the Switzerland ETIAS for Citizens of Solomon Islands is government compliant? iVisa.com's Photo tool will tell you how to meet the requirements.
What is the cost of the service to apply for the ETIAS?
To process your application Switzerland ETIAS for Citizens of Solomon Islands, three options of processing are available:
Standard service option, Pay a low price and receive a response in average time.
Rush service option, Higher price, shorter response time.
Super rush service option , Just a few days to get a response. High fee.
Want to choose an option under professional assistance?. Please access iVisa.com's live chat feature at the lower right corner of your screen.
Is my information safe with iVisa.com?
It is. Security measures are triple-checked and updated every day at iVisa.com to guarantee the protection of your data.
Daily, hundreds of positive reviews about the services of iVisa.com are posted by our satisfied customers.
Is there more ETIAS information available at iVisa.com?
All the information necessary to understand the new ETIAS can be found at iVisa.com. iVisa.com's blog or iVisa.com's customer service is available to solve all of your queries.