If you were dreaming about castles in Europe, then you have to visit the 'Chateau de Chillon' in Switzerland. The castle used to be a fortress in Lake Geneva. However, years later, it became the summer home for a wealthy Swiss family. Ready to check all the treasures this site has in Switzerland? Don't worry! Because iVisa.com has the right expertise to help you with the travel documentation required for Switzerland.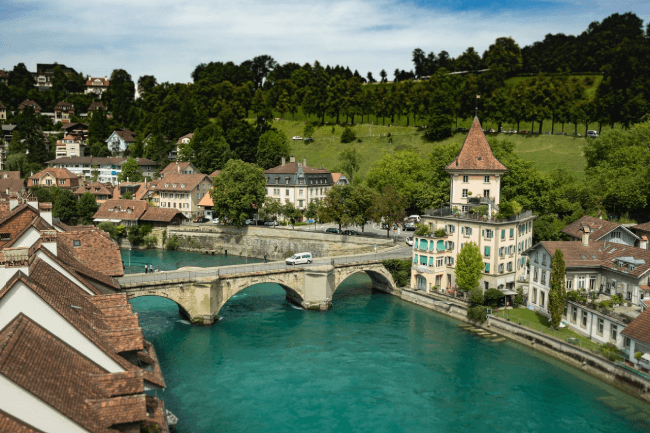 Citizens of South Korea need a new document known as ETIAS if they are planning a trip to Switzerland. The ETIAS is an entry requirement that will be available in 2022. iVisa.com brings you a simple, fast, and reliable service for your Switzerland ETIAS for Citizens of South Korea. Check it next!
Frequently Asked Questions
What is ETIAS?
The ETIAS is the European Travel Information and Authorization System. Due to security concerns, the European Union is establishing the ETIAS as a system to pre-screen incoming visitors. In this case, immigration authorities will use travelers' information to keep the European countries safe.
The good news is that the ETIAS process is 100% online. Connect to the Internet and spend a few minutes completing the online application. After this, you will be ready to visit Switzerland.
I'm a citizen of South Korea. Can I apply for a Switzerland ETIAS?
Yes! Citizens of South Korea can apply for the Switzerland ETIAS as South Korea is one of the countries exempt from the Schengen visa.
Nationalities that don't need a visa to enter the Schengen zone must acquire the ETIAS before traveling to Europe.
Can I visit other countries with the Switzerland ETIAS?
Yes! Citizens of South Korea with a valid Switzerland ETIAS can enter the 26 countries in the Schengen area. Although the Schengen zone gathers European countries, it doesn't mean all of Europe is part of the Schengen agreement. Try the Visa Checker and confirm the travel documents you need for every country you would like to visit.
How long is the Switzerland ETIAS valid for?
Citizens of South Korea with a Switzerland ETIAS can stay a maximum of 90 days in the Schengen zone. The travel authorization is valid for up to 3 consecutive years since the issued date.
Get in touch with our support agents if you want to find out more details about validity.
What information is required?
Citizens of South Korea must answer questions about themselves and provide details about the trip to Switzerland. As well, the application may have security-related questions.
Have the next items as well:
A passport scan. Passports must be valid for a minimum of 3 months.
A valid email address.
Payment options, pay for the service with a Paypal account or use a credit/debit card.
Switzerland is the perfect destination to start your European journey! Begin your ETIAS application!
What are the processing times?
Standard processing service, pay the cheapest option, and wait a reasonable time for your document.
Rush processing service, the iVisa.com team will work faster on your requirement.
Super Rush processing service, your document will be ready as soon as possible.
According to your time and budget, choose the best alternative! Get your Switzerland ETIAS for Citizens of South Korea soon!
What are the steps for the Switzerland ETIAS?
Citizens of South Korea can enjoy the simplicity iVisa.com has to offer:
Complete the information required in the electronic form and pick a processing time (Standard, Rush, or Super Rush).
Check your information. Determine how you will pay, whether with a credit/debit card or a Paypal account.
Attach your passport scan.
What will I receive in my email?
Citizens of South Korea must expect an email with the Switzerland ETIAS for Citizens of South Korea after they have completed the application and wait the agreed time. We recommend printing the authorization and showing it upon arrival. We are sure you will have a smooth entry to Switzerland.
Can I trust iVisa.com?
Definitely! iVisa.com has made massive efforts to provide trustable services. Our data centers have the highest security standards, which means your information will be safe all the time.
Citizens of South Korea can check the customers' comments and learn more about iVisa.com services.
Who should I contact for more info?
Reach out to our support team, who is available 24/7. We will make your journey so much easier! We can answer all your questions about Switzerland ETIAS for Citizens of South Korea.
Planning a trip is easy with iVisa.com. Only think about the castles you will visit in Switzerland and let us handle your travel documentation.