The Swiss government has managed to achieve high living standards. Thanks to this, Switzerland has been forced to straighten border controls since it has become a highly desired destination.
For Swiss authorities, the world outside the Schengen zone is divided into two. On one side are those countries whose internal social and economic conditions allow them to maintain a stable environment and a democratic government. Therefore, they do not represent a threat to other countries in their own region or other continents. These countries belong to a group of 62 nations that signed a visa waiver agreement with the Schengen Zone/EU members. This means, citizens from these countries are visa-exempt to enter Switzerland and are also considered eligible candidates for a visa under special circumstances.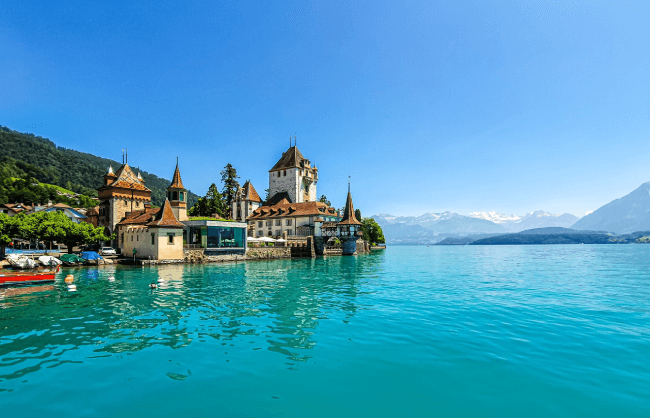 On the other side are those countries which do not meet the standards. Most of them from the Afrikan and Asian continent, and a few from Europe, the Caribbean, and South America.
Regardless of the type of travel, passport holders from this second group of countries need to present a visa to enter Switzerland.
Next, iVisa.com answers the most common questions about the Switzerland Schengen visa countries and presents the requirements to run a successful application.
Frequently Asked Questions
What is the Schengen Zone?
The Schengen zone is a group of 26 European countries that have signed an agreement to eliminate border controls between them and only for their nationals. Most of the EU countries belong to the Schengen area. However, some of them are not EU members, and some others recently added are not active yet.
The 26 countries that are part of the Schengen zone are presented in alphabetical order::
Austria, Belgium, Czech Republic, Denmark, Estonia, Finland, France, Germany, Greece, Hungary, Iceland, Italy, Latvia, Liechtenstein, Lithuania, Luxembourg, Malta, Netherlands, Norway, Poland, Portugal, Slovakia, Slovenia, Spain, Sweden, and Switzerland.
To chat with a service executive about the details of the Switzerland Schengen visa countries, access the chat feature at the lower right corner of your screen.
Which nationalities need a Schengen Visa?
Passport holders from 150 foreign countries must apply for a Switzerland Schengen visa. Each of those countries is listed below:
Afghanistan, Aland Islands, Algeria, American Samoa, Angola, Anguilla, Antarctica, Armenia, Aruba, Azerbaijan, Bahrain, Bangladesh, Belarus, Belize, Benin, Bermuda, Bhutan, Bolivia, Bonaire, Botswana, British Indian Ocean Territory, British Virgin Islands, Burkina Faso, Burundi, Cambodia, Cameroon, Cape Verde, Cayman Islands, Central African Republic, Chad, China, Christmas Island, Cocos Islands, Comoros, Congo, Cook Islands, Cuba, Curacao, Democratic Republic of the Congo, Djibouti, Dominican Republic, Ecuador, Egypt, Equatorial Guinea, Eritrea, Ethiopia, Falkland Islands, Faroe Islands, Fiji, French Guiana, French Polynesia, Gabon, Gambia, Ghana, Gibraltar, Greenland, Guadeloupe, Guam, Guernsey, Guinea, Guinea-Bissau, Guyana, Haiti, India, Indonesia, Iran, Iraq, Isle of Man, Ivory Coast, Jamaica, Jersey, Jordan, Kazakhstan, Kenya, Kuwait, Kyrgyzstan, Laos, Lebanon, Lesotho, Liberia, Libya, Madagascar, Malawi, Maldives, Mali, Martinique, Mauritania, Mayotte, Mongolia ,Montserrat, Morocco, Mozambique, Myanmar, Namibia, Nauru, Nepal, New Caledonia, Niger, Nigeria, Niue, Norfolk Island, North Korea, Northern Mariana Islands, Oman, Pakistan, Palestinian Territory, Papua New Guinea, Philippines, Pitcairn Islands, Puerto Rico, Qatar, Reunion, Russian Federation, Rwanda, Saint Barthelemy, Saint Helena, Saint Martin, Saint Pierre and Miquelon, Sao Tome and Principe, Saudi Arabia, Senegal, Sierra Leone, Sint Maarten, Somalia, South Africa, South Georgia and the South Sandwich Islands, South Sudan, Sri Lanka, Sudan, Suriname, Svalbard and Jan Mayen, Swaziland, Syrian Arab, Republic, Tajikistan, Tanzania, Thailand, Togo, Tokelau, Tunisia, Turkey, Turkmenistan, Turks and Caicos Islands, Uganda, United States Virgin Islands, Uzbekistan, Vietnam, Wallis and Futuna, Yemen, Zambia, Zimbabwe.
If your country of origin appears in this list, but you are still unsure about the reasons to apply for a Switzerland Schengen visa, iVisa.com invites you to use the visa checker tool. This feature will analyze your profile and will confirm or not your visa-required status.
After checking the Switzerland Schengen visa Countries. What are the requirements to apply?
In addition to a signed form, you need to submit the required documents to support your application:
Application letter: explaining the reasons for your trip
Two passport size photographs (recently taken)
A valid passport: (180 days of remaining validity at least)
Travel itinerary: include dates and flight numbers
Bank certifications: You Will need to prove sufficient funds of subsistence.
Proof of accommodation: hotel reservations or the address of the place you are staying in.
Medical insurance: it must cover medical costs up to €30,000. O
Previous passports with expired visas (if you still have them).
To ensure your photos meet the standards, we invite you to use iVisa.com's visa checker tool.
What are the prices to apply for the Switzerland Schengen visa?
Once you have verified the information about the Switzerland Schengen visa countries and gathered the documents and supports, the next step is to choose a processing service.
Standard Processing delivery: Get a response within average times. Pay an affordable price.
Rush Processing delivery: For a higher fee, you get a fast processing service.
Super Rush Processing delivery : Access the fastest response and best processing service for a high cost.
I would like to know how iVisa.com secures my information?
iVisa.com has implemented a modern digital system that creates a secure environment to process your information. Not only safety but quality and user satisfaction are the goals of iVisa.com.
You are invited to check customer reviews section to share the happy experience of our users.
Explore iVisa.com to find more information about the Switzerland Schengen visa Countries.
Solve your doubts or ask for personal assistance at iVisa.com. Access to your preferred option: