Do you want to see The Alps and live the best experience of your life, skiing, climbing through the mountains and beautiful landscapes? Well, you are on the correct website, because we are going to tell you how easy it is to obtain your Switzerland (Schengen) Visa using iVisa.com.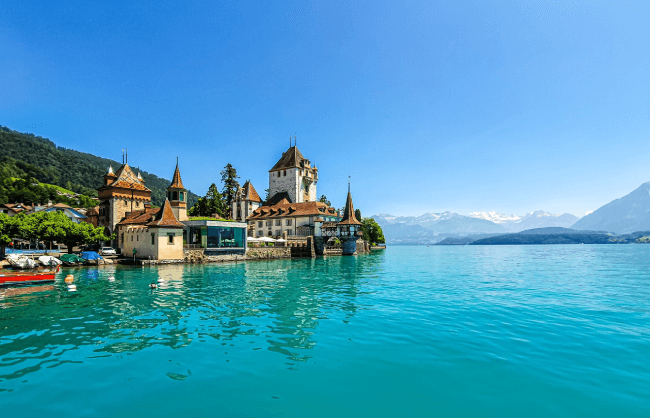 We recommend you to visit Lugano "Monte Carlo of Switzerland" because of its growing popularity with celebrities. This city is home to a large number of swiss heritage sites, including three cathedrals and several museums. A magical city waiting for you. We can help you to get a Switzerland (Schengen) Visa with an easy and efficient process. You should know that different types of visas will apply on different occasions.
Sometimes too much paperwork becomes an obstacle to the realization of your dreams, and that's where we come in. Do not lose this opportunity and start a new adventure to travel around the world with us. Follow the steps below and apply for your Switzerland Schengen Visa online.
Frequently Asked Questions
How do I apply for a Schengen Visa to Switzerland?
A great benefit of iVisa.com's service is that you don't need to collect a lot of documents to apply, and you do not have to go to an embassy because everything is through our website.
We recommend you to take advantage of iVisa.com's service to get your document faster and easier.
You just need to collect the following:
Valid passport.
A professional picture. This document can be easily obtained with iVisa Photos's Passport Professional service.
Email Address Make sure that you give a valid email because we will send your visa via email.
Supporting documents Some nationalities need a supporting document such as a visa or residence permit from the Schengen, US, UK, or Ireland. If you want to know if you need that document, please check our application page and insert your nationality.
Means of payment, like debit/credit card or/and Paypal profile to proceed with the payments.
If you are ready to request your application, click on the iVisa.com.
What are the processing options and prices for the Switzerland Schengen Visa for DOMINICAN REPUBLIC citizens?
You deserve to get the most from your travel experience and it is important to think about the economy, time, and efficiency.
You have three alternatives available and each one will have a different processing time The three alternatives are:
Standard Processing Option: this is the standard option that allows you to get your document the most affordable way possible.
Rush Processing Option: you can obtain your Switzerland Schengen Visa of Dominican Republic very fast with this alternative, but the price is a bit more expensive than before.
Super Rush Processing Option: this is the most expensive option because it allows you to receive your document asap.
How do I process my visa with iVisa.com?
You'll only need 20 minutes if not less to have everything ready to get your Switzerland Schengen Visa of Dominican Republic in your email inbox. You will see how easy it will be to navigate on iVisa.com and how interesting new experiences, traveling will provide you with plenty that will open your mind and help you adapt to any situation.
These are the steps to follow with iVisa.com:
We know that a long questionnaire can be time-consuming and tiring, which is why iVisa.com created an effortless process that shouldn't require more than 20 minutes to complete. You can be ready by following these steps:
First, fill out your application form here. Then, choose the processing time that is most helpful for your travel needs.
Second, please double-check the information you've sent by verifying it's correct. Now, you can complete the online payment through Paypal or with your valid credit or debit card.
Third, upload your passport scan or any other documents if it's required. To wrap up, please deliver the online form by hitting the "submit" button. You'll just need to wait for your Switzerland Schengen Visa Dominican Republic!
Should you have any questions or doubts, both our call and message centers are ready to help you 24/7, so you can fully enjoy your trip and forget about the worries and frustrations of applying for a visa.
How do I know if my Switzerland (Schengen) Visa for Dominican Republic Citizens is approved?
Remember that you can log in to your account and look for your order/application. Make sure that you give a valid email. We will send you an email with all details about your Switzerland (Schengen) Visa for Dominican Republic Citizens form.
What should I do in case I made a mistake in my Switzerland (Schengen) Visa for Dominican Republic Citizens application form?
In that case, please as soon as possible reach out to our customer support team and they will be happy to assist you with your Switzerland (Schengen) Visa for Dominican Republic Citizens form.
Remember that in case you make a mistake filling out the form, you will need to complete it again in a new application. There will be another charge for the new application, so always check your answers carefully.
Is it safe to use iVisa.com's service?
When it comes to safety, iVisa.com's online service maintains the highest standards. Our top-notch data centers and innovative methods to secure our customer accounts and information mean you never have to worry about your sensitive information getting lost or falling into the wrong hands. At iVisa.com, we have an updated system that won't leak any detail about you. You can read our reviews.
Because you are the most important to us, we want you to feel comfortable at the moment you are making the payment, and also make trip experience will be amazing, remember that our system does not keep your credit card information after you have made the transaction.
Make the most out of your time and turn it into travel experiences by processing your electronic documents with iVisa.com. You won't regret it.
I need specific questions, where can I find more answers or resolved any doubt?
In case you have any questions about Switzerland (Schengen) Visa for Dominican Republic Citizens after reading the information on this page, you can reach out to iVisa.com customer service agents or search for more information on iVisa.com's blog if you prefer to read more travel tips.