Canada is one of the 121 countries whose citizens can apply for a Tajikistan visa online. As a result, you are not required anymore to go to an embassy and apply. You can enjoy an entirely online application process, and iVisa can help you every step of the way. All you need is a few documents and to fill in an application. You can get your visa in as little as 15 minutes.
Frequently Asked Questions (FAQs)
What kinds of visas does iVisa provide for Canada citizens wishing to visit Tajikistan?
Tajikistan eVisa: It's an official document that gives authorization to travel to and from Tajikistan. It's electronically linked to the passport.

Tajikistan eVisa GBAO: It's a document that gives permission to travelers to enter the GBAO region since it requires a separate permit/visa. GBAO is Gorno-Badakhshan Autonomous Region in Eastern Tajikistan.
You can check them here.
This blog contains information about the Tajikistan eVisa.
What are the required documents?
iVisa does not ask a lot of you. In fact, you only need to provide some information, and that is it. The rest will be handled for you. Here is what you need to apply online for a Tajikistan e-visa:
Valid passport – all Canadian applicants are required to have a valid passport that maintains its status for at least another 6 months from the date of arrival in Tajikistan. Failure to comply leads to a denied application.

A scan of your passport – you can scan your passport in the following formats: PDF, JPEG, GIF, BMP, or PNG.

Valid e-mail address – when you apply with iVisa, a copy of your visa will be sent to you as soon as your application is processed. iVisa will send it to you via e-mail, so make sure that you provide a correct e-mail address.

Means of payment – iVisa accepts multiple methods of payment such as credit/debit cards, a PayPal account, WeChat, or Alipay.
How much does it cost to obtain an Tajikistan e-visa, how long does it take?
As for processing time, you have three options. Keep in mind that what you select in both cases determines the cost of your e-visa. Here are the available processing times:
Standard processing – your application is processed within just 6 Business Days, and the fee is USD 72.00.

Rush processing – you will receive a copy of your electronic visa within 4 Business Days, and the cost is USD 102.00.

Super Rush processing time – the processing lasts only 2 Business Days, but you will be charged USD 122.00.
The GBAO e-visa costs more for each processing time, so it is USD 92.00, USD 122.00, and USD 142.00 respectively.
How's the application process?
To apply for a Tajikistan e-visa for Canadian citizens you need to go through all of the three steps of the application form.
The first one will ask you to fill in your general information, as well as some details about your trip. At the same time, you need to select a visa type and a processing time. There are two visa types: the Tajikistan tourist e-visa and the e-visa GBAO.

The second step is all about payment and revision. The payment methods are mentioned above, while the revision is something that you should not treat lightly. That is because errors are impossible to correct after you submit your application, and you will be needed to repeat the processing, wasting time and money.

The last step consists of additional documents upload. You will be notified as to what you need to provide. Once you are done, you can submit your application and then wait for the Tajikistan visa to arrive via e-mail.
How long is the Tajikistan e-Visa valid for?
The Tajikistan e-Visa has a validity of 90 days after issued and gallows you a Single Entry for a maximum stay of 45 days Total.
How does this e-visa look like?
Here's a sample: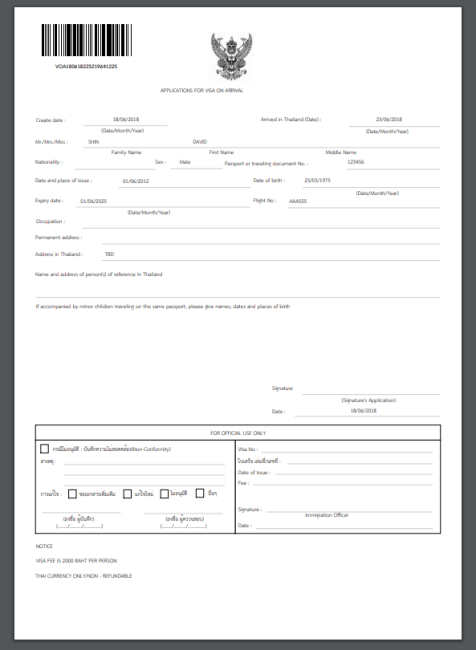 How long does it take to apply for a Tajikistan e-Visa?
Less than 10 minutes. Then, we'll take care of the rest and shortly we will let you know the status of your application by e-mail.
I made a mistake on my application. Can I modify the e-Visa information after it's issued?
No, we can not change any details on the e-Visa once it's issued. If you do, however, realize you made a mistake before your visa has been issued, please contact us ASAP via online chat or sends us an email to help@ivisa.com.
Is iVisa secure to apply for the Tajikistan eVisa online?
Yes! We have been helping thousands of travelers since 2002! Your information is totally safe thanks to our actualized system.
See what our customers say about our service.
I have more unresolved questions, where can I find more info?
For a faster answer click here and start chatting with one of our customer service representatives. Or, you can find more information and FAQs here.
The Tajikistan visa for the citizens of Canada is easy to obtain. The application form is easy to complete, and if you require some help, iVisa has an excellent support service that is available 24/7. You have to admit that this is better than going to an embassy, which is why we strongly recommend it!