If you're planning a trip to discover the beauties in Tanzania, you should consider some information that will allow you to have a successful entry into this country. First of all, you cannot leave out the Tanzania Health Declaration, which is essential in the face of the COVID-19 pandemic that is still present today. To know the steps to obtain the Tanzania 14 day quarantine requirement, you only have to read the FAQs in this article.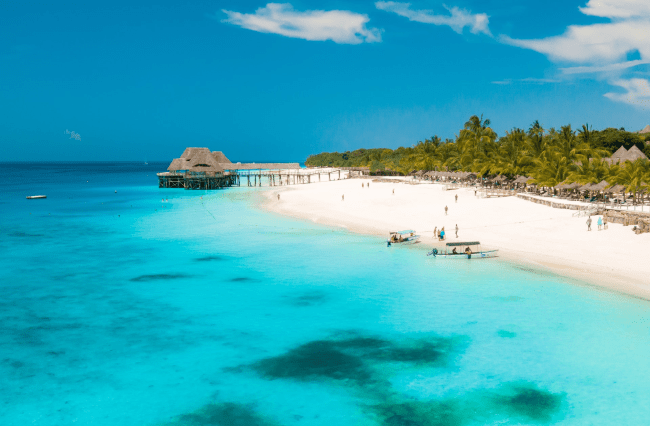 You should also consider that Tanzania demands that every citizen who has traveled to certain countries affected by the COVID-19 pandemic must follow a 14-day quarantine. Among the quarantine, you also need to keep social distancing and wash your hands constantly.
You have the option of applying for your Health Declaration with iVisa.com. For this, you only need to complete an online form that has 3 steps to follow.
By reading the following FAQs, you'll know all the steps related to this process and other important information about the Tanzania Health Card.
Frequently Asked Questions about the Tanzania 14 day quarantine requirement
What is the Tanzania Health Declaration?
The Tanzania Health Declaration also called "Tanzania 14 day quarantine requirement" is a travel authorization that allows you to enter the country by following all the important rules that are COVID-19-related. This means that as soon as you arrive at the International airport, you must obey all the instructions that the Immigration officers give you.
This authorization is necessary to enter Tanzania, otherwise, you could have troubles at the airport or you could even get a denied entry. Remember that you can receive it with iVisa.com.
Do I need a COVID vaccine or vaccination certificate to enter Tanzania?
No, you don't. Currently, COVID vaccination passports or certificates are not mandatory to enter Tanzania. Accepted vaccines are those authorized by WHO.
Since information may change quickly, we advise you to follow the latest Tanzania travel updates and/or contact your local embassy.
Do I need a negative COVID-19 test result to enter Tanzania?
COVID test prior to arrival: PCR within 72 hours for unvaccinated travelers

COVID test exemptions: Children under 6 and fully vaccinated travelers

COVID test on arrival: Unvaccinated travelers coming from the USA, the UK, India, South Africa, Uganda, Rwanda, France, Democratic Republic Of Congo, Egypt, and Malawi will undergo rapid testing on arrival at their own expense.
Do I have to quarantine once I arrive in Tanzania?
Quarantine requirements: Only for unvaccinated travelers who test positive in rapid test on arrival from the USA, the UK, India, South Africa, Uganda, Rwanda, France, Democratic Republic Of Congo, Egypt, and Malawi.
How can I apply for this document?
By now, the best way to apply for this document is through an online form. If you want to use the official website of the government, keep in mind that you'll l have to spend a lot of time filling in the questionnaires and you'll also have to wait for your authorization as long as necessary according to the availability of the government.
On the other hand, you can apply with iVisa.com to save you all this effort and also save time, since you can get your document faster and easier. Keep in mind that you don't need to go to a Tanzanian embassy to obtain the Health Declaration.
What documents do I need to apply online?
The online process for this document is easy and direct, but you still need to obtain some documents. These are:
Ascanned copy of your passport main page.
Your current email address to receive the document.
A credit/debit card or Paypal account to pay iVisa.com's fee.
NOTE: To enter the country, all travelers need to display a negative PCR test taken with 72 hours of arrival to Tanzania. There is no quarantine requirement unless you are traveling from India, in which case you must self-isolate for 14 days.
What are the processing times and prices?
As you read before, if you decide to apply with official government websites, you could have to wait a long time, and you could also need to search for the prices by yourself. But, if you use iVisa.com's service, you have the option of receiving your document as fast as possible. Also, you would only pay a fee that includes the customer service 24/7 and professional tools that keep safe your information and makes sure that the document is delivered quickly enough.
The processing options are:
Standard Procedure Option: this is usually the most requested option because it's less expensive, but you have to wait for more than the other options. Still, you'll get your document in a few days.
Rush Procedure Option: with this alternative, you can get your document a bit faster but with a higher price.
Super Rush Procedure Option: this is the fastest processing option that allows you to receive the Health Card as soon as possible.
Take note of this general information about the alternatives iVisa.com gives you on the website since it can be useful before applying. Keep in mind that you'll know the exact amount on our application form before completing the online form, so you can have your peace of mind knowing that you won't be charged without knowing the price.
How can I apply for this document?
With iVisa.com, you're free to apply anytime and anywhere. All you have to do is to follow this 3-step system:
First, complete the online form with your general information and choose the procedure option.
Second, review your information and proceed with the payment by using your credit/debit card or Paypal account.
Third, attach the documents asked at the beginning of the process and send the online form.
It's necessary to always verify the information and check the spelling, especially with the email because you'll obtain all the instructions about this document this way.
What should I do once I receive the email?
It's necessary to offer a valid email because you'll receive all the proper information this way. You can download all the instructions you receive via email if you prefer.
Take note that when you arrive at the airport, the officers will take a look at your documentation and ask you to follow other important instructions. Only after the documents are verified through the security system, you're ready to enter Tanzania without any issues. Following the conditions about the COVID-19, you might need to complete a valid 14-day quarantine. Remember that this is important to keep yourself safe.
What should I do if I travel with kids?
Every kid needs this requirement just like any adult does. In case you have questions about this topic, you can reach out to our customer service center.
How safe is to apply with iVisa.com?
iVisa.com has modern software focused on keeping safe the information you provide. With the team iVisa.com has, you'll surely obtain a reliable product by spending just the necessary. In iVisa.com, all the data you see and send can't be leaked on the web. You can take a look at our reviews on this link and prove it to yourself with the opinion of our clients.
Where can I find more details about this process?
You can reach out to our customer service 24/7 if there's any other question in mind. As another option, you can also take a look at iVisa.com's website to read more information.
Start planning your perfect trip to Tanzania! Apply for your Health Declaration today!