If you're looking for a destination country with different landscapes and cultures the United Republic of Tanzania is a wonderful option. It's a place to explore nature and be amazed by the wildlife, beautiful beaches, and the power of Mount Kilimanjaro. But to visit Tanzania, most foreign citizens need a valid visa.
Since November 2018, citizens from Jordan can apply for the Tanzania eVisa online. Once approved, they receive an email with the final document. This makes preparing for your trip so much easier.
Find out everything you need to know to apply for the Tanzania eVisa in this article, such as the requirements, visa fees, and COVID-19 restrictions.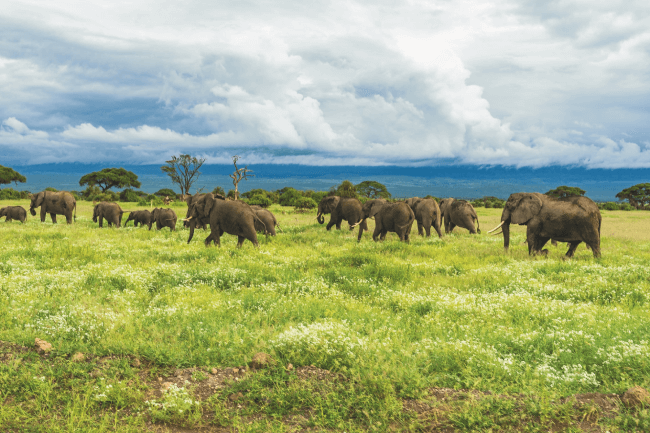 Types of Tanzania visa for Jordanian citizens
Getting the visa approval is quite straightforward. All you need is to meet some Tanzania visa requirements and fill out the application form. Once approved, you'll receive the online visa in your email inbox.
However, it's essential to apply for the Tanzania visa according to your travel purpose. The Tanzania visa policy may differ for a tourist visa, volunteer e-Visa, or transit visa. If you need another type of visa, such as a business visa or spousal visa, we advise you to contact your nearest Tanzania embassy.
All these visas offer single entries. You should consult the Tanzania embassy for further information if you need a multiple-entry visa. Check the details of each travel document below to prepare for your trip to the United Republic of Tanzania.
Tanzania Tourist Visa (e-Visa)
If you want to see the wildlife eye-to-eye, spend days relaxing on the beautiful beaches of Zanzibar, or hike Mount Kilimanjaro, you likely need a tourist visa to enter Tanzania.
This electronic visa type is only for those whose point of entry into the country is one of the following: Julius Nyerere International Airport (JNIA), Kilimanjaro International Airport (KIA), Abeid Amani Karume International Airport (AAKIA), Namanga land border, or Tunduma land border.
Once you can apply for this tourist visa, all you have to do is fill out the online form and wait for the Tanzanian visa to arrive in your email inbox.
The applicant can use this visa for tourism, holidays, attending conferences, humanitarian and charity activities, or family visits. Jordanian citizens are allowed a stay of maximum 90 days Per Entry in the country.
Tanzania Volunteer e-Visa
Many travelers go to Tanzania to work as volunteers for NGOs or charity organizations. Volunteer work can be a life-changing experience and a great way to learn about another culture.
In this case, the applicant needs to apply for a Tanzania volunteer e-visa. For Jordanian citizens, it's a simple process once they are eligible to apply through the online system.
Tanzania Transit Visa
If Tanzania is a stopover on your travels, why not spend a few days in the country and spend some time exploring? The only thing that Jordanian citizens need for that is a Transit e-Visa.
This Tanzania transit visa allows you to cross the country from one point of entry to another destination. Even if you are going to stay just a few hours in the country but want to leave the airport, you must apply for this visa.
Tanzania visa requirements for Jordanian passport holders
The requirements for citizens of Jordan may differ according to the visa type they are applying for. Most travelers will need a general Tourist eVisa.
The required documents are:
Business registration of the inviting company (if applicable).

Applicant photo, if you don't have one, use the iVisa photo services.

Valid passport not expiring for at least six months from the intended arrival date, with at least 1 blank page. Travelers with dual nationality must ensure they travel with the same passport used to complete the Tanzania visa application.

Credit or debit card to pay the visa fee.

A valid email address to receive the approved application confirmation, and any updates and notifications about the application process.

Airline Confirmation: Immigration authorities may ask passengers to provide proof of return to their origin country or an onward ticket.

Proof of marriage or spousal relationship (if applicable).

Invitation letter from your host in Tanzania (if applicable).
How to apply for the visa for Tanzania online
Ok, now you know what kind of document you need and all the requirements, how can Jordanian citizens apply for the Tanzania e-Visa? The process is quite straightforward.
Simply follow these steps:
First, complete the e-Visa application form, which only takes a few minutes. Fill out your personal details, passport number, travel details, and email address. Then, choose the preferred processing time.

Second, pay the e-Visa fee with a credit or debit card.

Third, upload the necessary documents.
Once approved, you'll receive a confirmation of your travel document by email.
Processing times and costs for the Tanzania e-Visa
iVisa offers three options to process your visa application. Choose the option that best suits your needs and budget.
Standard Processing: This option is the most affordable. It takes up to 15 Business Days for a fee of USD $108.99.

Rush Processing: If you need your Tanzania e-visa a little faster than usual, this option takes up to 13 Business Days for a fee of USD $150.99.

Super Rush Processing: This is the fastest option, you can obtain your Tanzania visa in just 11 Business Days for a fee of USD $197.99.
The costs and processing times for the transit or volunteer visa may differ slightly.
COVID-19 restrictions and requirements in Tanzania
Filling out a health form to visit Tanzania mainland is not required. However, it is still necessary to fill out this form to visit Zanzibar.
Fully vaccinated visitors entering Tanzania
Pre-departure testing is not required for fully vaccinated visitors to Tanzania. Upon arrival, passengers must present a valid vaccination certificate with a QR code, and travelers are advised to bring a printed copy.
Unvaccinated visitors entering Tanzania
It is required that travelers who are not (fully) vaccinated provide a negative COVID-19 PCR test certificate taken within 72 hours before departure along with a QR code.
Transit passengers are exempt from presenting vaccination certificates and meeting COVID-19 testing requirements.
Questions about the Tanzania e-Visa?
If you have questions about applying for the Tanzania e-Visa or another travel document, do not hesitate to reach out to our customer service team via online chat or email at [email protected]. They are available 24/7 to assist you.