Do you want to get to Tanzania but don't know what documents you need? We tell you that there are three visa types for travelers wishing to enter the country. You can apply for a tourist, transit, or volunteer visa depending on the reason you want to travel.
To apply for a Tanzania eVisa as an Iran passport holder, just follow the simple steps that iVisa has for you. The process is straightforward, and our visa experts will advise you throughout the process.
The process has been online since November 2018, when the country's government introduced the online system to reduce in-person interaction and streamline the process.
If you want to know more about these travel documents, keep reading this article.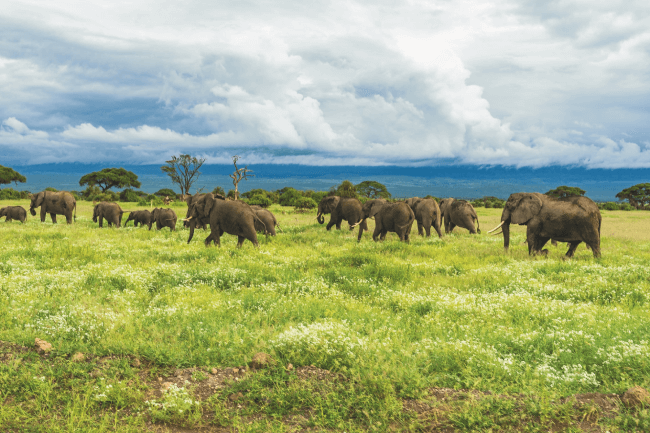 Everything you need to know about the Tanzania eVisa and more.
Continue reading about the types of visas, our processing times, required documents, travel recommendations, and much more.
What is the Tanzania eVisa, and how do I get one?
The Tanzania tourist visa is an electronic document that allows foreign nationals to travel to and within Tanzania, including Zanzibar. The Tanzania e-Visa is valid for tourism and leisure purposes. This includes conference attendance, humanitarian and charity activities, family visits, or health treatment.
This document is ¨valid for 90 days from arrival and allows a single entry into the country.
On the other hand, the Tanzania Transit Visa online is also available. This document allows you to cross Tanzania from one point of entry to another. It is for people whose purpose in entering Tanzania is to pass through without entering the country. It is valid for seven days after arrival and is a Single Entry visa. It is not a multiple-entry visa.
Travelers applying for this type of visa must show a roundtrip airline ticket and a valid visa for the final destination country.
Finally, Tanzania also offers the Tanzania eVisa for Volunteers. This is a permit granted to a foreigner to enter and stay in the United Republic of Tanzania to volunteer for an organization in Tanzania for a maximum period of 90 days Per Entry.
The Tanzania immigration services department does not offer a business visa online. If you need one, please contact the office.
The process for all types of visas is the same and is quite simple to perform.
First, you must fill out the visa application form with your personal information. Next, choose the processing time that best suits your needs. Then you must double-check that the data entered is correct. Otherwise, the process could be rejected. Once it's verified, pay the iVisa service fee. Finally, attach the required documents and press the 'submit' button.
Once approved, we will email you the Tanzania visa. You may then print a copy of the eVisa and present it to the immigration officer at the Tanzanian border control to gain expedited entry into the country.
Does everyone have to apply for this type of visa?
The Tanzania e-visa is only available for travelers whose point of entry is Julius Nyerere International Airport (JNIA), Kilimanjaro International Airport (KIA), Abeid Amani Karume International Airport (AAKIA), or the Namanga or Tunduma land borders.
More than 150 different countries can apply for an electronic visa for Tanzania. The most effective way to determine if you can apply is through our website's visa checker tool.
This document is for all ages, without exception. This includes minors 18 years of age or younger with their passport or older adults. However, minors listed in their parents' passports can be included in their visas.
What documents do I need to apply for the Tanzania Tourist Visa?
To apply for the Tanzania visa as an Iran passport holder, you must meet the following requirements:
Iranian passport - It must be valid for six months from the intended date of arrival and have at least one blank page for entry and exit stamps.

Photograph - All applicants must upload a passport size photo for the visa. If you do not have a recent one, iVisa has a photo service that can help you.

Flight confirmation code - Passengers may be asked to present their round-trip ticket to their home country.

Other documents - Sometimes, depending on the reason for travel, you may be asked for the business registration of the inviting company, proof of marriage or spousal relationship, or a letter of invitation from a host in Tanzania.

Payment method: You can use a credit or debit card for making payments.

Valid email address: It will be used to confirm the Tanzania visa or communicate with you. Here you will get the visa grant notification.
What is the cost of this travel document?
Depending on the type of visa you apply for, processing fees will vary. These are as follows:
Tanzania Tourist Visa – 90 days – Single Entry
Standard Processing Time:

15 Business Days

–

USD $106.99

.
Rush Processing Time:

13 Business Days

–

USD $165.99

.
Super Rush Processing Time:

11 Business Days

–

USD $217.99

.
Tanzania Transit Visa – 7 days – Single Entry
Standard Processing Time:

10 Business Days

–

USD $86.99

.
Rush Processing Time:

7 Business Days

–

USD $145.99

.
Super Rush Processing Time:

5 Business Days

–

USD $197.99

.
Tanzania Volunteer eVisa – 90 days – Single Entry
Standard Processing Time:

15 Business Days

–

USD $106.99

.
Rush Processing Time:

13 Business Days

–

USD $165.99

.
Super Rush Processing Time:

10 Business Days

–

USD $217.99

.
The visa fee includes the government fee and the iVisa services.
What to do in Tanzania while on vacation?
You need to decide which destinations you will travel to when you are in Tanzania. Here, at iVisa, we present a selection of the most popular tourist spots.
The first one is the Serengeti National Park, a dream destination for any nature and wildlife lover. This vast park was founded in 1951 to protect wildlife participating in the Great Migration.
Jeep tours in the Serengeti are the main tourist attraction. The park stretches across miles of savanna, filled with forests and rivers that are the incredible home of elephants, lions, leopards, buffalo, and rhinoceros, as well as other impressive species such as zebras, giraffes, and hyenas.
The sunset views as the animals roam in their natural habitat will be a memorable experience.
Another destination is Zanzibar. This is another remarkable place in Tanzania. This group of islands, composed of Zanzibar Island, Pemba, and a group of smaller islets, is also known as the 'Spice Islands'
Many tourists travel to this destination for the beaches of Nungwi, to dive into the crystal-clear waters, to enjoy the white sandy beaches, or simply to walk around the city. However, if you want to walk around, we recommend Stone Town, the capital and old town declared a World Heritage Site by UNESCO.
COVID-19 Requirements and Restrictions in Tanzania
Currently, it is not necessary to be vaccinated to enter Tanzania. Passports or COVID vaccination certificates are no longer required in the country. However, if you hold a COVID-19 vaccination certificate, you will not need to present a negative PCR test upon entry.
Accepted vaccines are those licensed by the World Health Organization (WHO). And to be considered vaccinated, you must have the full dose, and it must have been 14 days since the last dose. You will have to present proof if you do not meet these requirements.
Unvaccinated travelers must submit a negative PCR test within 72 hours. Other travelers excluded from this requirement are children under 12 years of age and travelers in transit.
There are no quarantine restrictions in the country.
As information can change rapidly, we advise you to follow the latest travel updates days before you travel to Tanzania.
Where can I contact you?
To learn more about the Tanzania tourist visa or any other type of visa, we recommend contacting our customer service team or writing to us at [email protected]. Our visa experts are available 24/7.