If you are traveling from Algeria to Tanzania for vacation, then you will want to apply for a eVisa online at least a week before flying or entering Tanzania. The type of visa Algerian citizens need for Tanzania can be either a single-entry or multiple-entry visa.
In November 2018, Tanzania began issuing e-Visas so that you save time and money planning your trip to Tanzania or Zanzibar. You won't need to go to the embassy to get this document. All you have to do is to follow the instructions below.

Frequently Asked Questions for Algerians Needing a Tanzania Visa
Do I have to apply for a Tanzanian eVisa if I'm from Algeria?
Yes, you have to apply for a Tanzanian eVisa if you're from Algeria. If you opt for this type of visa, you won't have to go to the embassy.
Do I need a valid passport to enter Tanzania?
Yes. Algerian citizens must have a valid Algerian passport that won't expire for at least six months from the time you enter Tanzania.
How many types of Tanzanian eVisas are there?
There are only two:
How long can I stay in Tanzania with an eVisa?
If you apply for a Tourist e-Visa or Volunteer eVisa with single-entry, the maximum stay is 90 days Per Entry. A multiple-entry visa is valid for up to 1 year from arrival, but you must leave periodically at least every 90 days. This means you cannot stay the entire year without leaving.
What documents do I need to apply for a eVisa online?
The online application visa process for Algerian travelers to Tanzania is quite easy. You must have the following documents and information by your side for when you apply for your Tourist e-Visa online:
Valid Passport - Your valid Algerian passport must have at least six months validity from the date of departure from Tanzania.
Flight Plans - You have to prove to Immigration Officials that you will be leaving Tanzania by having a ticket of departure that falls within the

90 days Per Entry

you are allowed in the country.
Passport Scan - You will need to upload a copy of your passport bio page for your e-Visa application, and you will need two recent passport photos to enter Tanzania.
Email Address - Once processed, your Tourist e-Visa will be sent to the valid email address you provide.
Yellow Fever Certificate - If you are from or passing through a country with a risk for yellow fever virus transmission, you will need to present this certificate to the Immigration Officer when you arrive in Tanzania.
Payment Method - We accept various credit and debit cards like Visa and American Express. iVisa also accepts PayPal as a valid payment method.
How many times can I enter Tanzania with a Tourist eVisa?
The Tourist e-Visa allows Multiple Entry.
What is the price and processing times for the Tanzanian eVisa application?
iVisa understands you may need an e-Visa fast, so instead of waiting at the embassy or consulate, get your e-Visa now with these affordable options. We have three different processing times and rates for Algerian travelers. These three options are:
Standard processing - Your e-Visa will arrive by email within

10 Business Days

, and the e-Visa cost will be

USD 100.00

.
Rush processing - Your e-Visa will arrive by email within

7 Business Days

, and the e-Visa cost will be

USD 100.00

.
Super Rush processing - Your e-Visa will arrive by email within

5 Business Days

, and the e-Visa cost will be

USD 100.00

.
How long is my Tourist e-Visa valid for?
From the date of your application, your e-Visa will be valid for 1 year after arrival.
How can I apply?
Once you have the documents required, you can continue and fill in the online form. This is not a difficult task at all, but if you require extra help with these steps, iVisa offers an excellent support service. You can call anytime, and the service is free of charge.
The application form to Tanzania has three steps.
In the first step you must offer your personal information. You need to write your name, address, date of birth, passport info, etc.

In the second step you have to make the payment and you have to review your online form. Be very careful when you send the application, it shouldn't contain any typos. Make sure that the information you give is 100% accurate, and double-check the spelling to avoid any inconvenience.

In the last step you must upload remaining documents if necessary. iVisa lets you know precisely what you have to upload. Once you finish with it, you hit the submit button and that's it!
If you're ready to start, then click here and fill in your information to start your trip!
What can I do once I complete the online application for my Tanzania e-Visa?
Once you complete the application process to travel to Tanzania, you'll receive the e-Visa through an e-mail according to the processing time chosen. And the best part of it is that while you wait, you don't need to deal with the embassy.
How does the Tanzanian Tourist eVisa look like?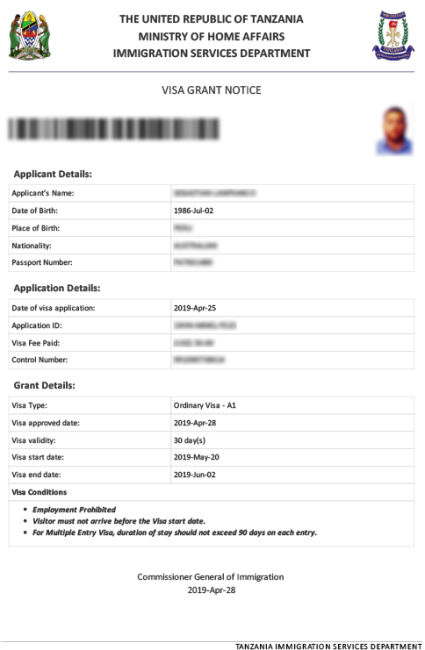 Where can I read more?
If you still have doubts about the Tanzanian e-Visa, you can reach our customer service center here, or enter the Tanzania e-Visa page to read other FAQs that could be useful for your trip.
In today's non-stop society, iVisa knows you need a fast and secure visa application process that will help you visit Tanzania with less to worry about. Join the thousands of satisfied iVisa customers today.